Blog/Market Talk
Posted Dec 7, 2018 by Martin Armstrong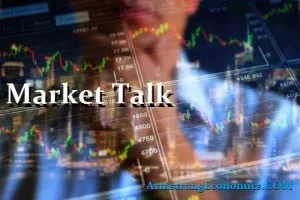 You could probably hear the sighs of relief from Asia, after the US markets bounced from their lows Thursday morning. That certainly helped the region to open positively and manage an almost unchanged day, which was probably not a bad result after the week we have just had! The Nikkei and the SENSEX were the only two exchanges that managed to close at their respective days high, but both were helped by declining currency. The Yen however, is seeing some safe-haven buyers as US stocks wobble yet again and was last seen unchanged on the day at 112.70. The INR does not have that luxury and has weakened even more and now trades mid 71's a 1.15% decline on the day. Ahead of so many potential hurdles (US NFP's, BREXIT, OPEC, German CDU leadership change and a possible weekend of civil unrest in France) it was not surprising Asia failed to take the lead.
Europe tried to recover much of yesterdays numbers, but was hindered by yet more US equity weakness. There is a lot of talk that this could be internationals selling US markets ahead of year end. It would be a reason why currencies have held in against the USD as profits are brought home to supplement poor domestic returns. However, if that is the case then for 2019 there is only one place to be! having seen intraday highs early in the session, the afternoon was spent hitting bids or pulling orders. All core lost ground into the close, but it was the DAX that many talked of as the CDU announced new leadership and we closed at the lows. Late in the day OPEC announced cuts and we saw a 5% rally in WTI, which was reversed into the close and ended the day up 2%. US employment number produced another solid report even though the headline figure failed to live up to expectations.
US futures were all trading positive ahead of the cash open, but soon after we start to see the selling pressure return. At one stage DOW was off over 650 points, but did manage to lift its way off of those levels into the close. Still the talk is possible European liquidation, but also peripheral derivatives (ETF's, Algo's etc.) are being blamed as many cannot reason this weakness. This selling has seen a 1% rally in Gold and that now plays at the $1255 level. Also, worth a quick mention is the price of BITCOIN continues to decline. Today another 10% fall which puts it now around the $3400 level. Big week next week for BREXIT, FED, Inflation data and the latest from the ECB and the plan for 2019's QE programme – if at all!
Japan 0.05%, US 2's closed 2.74% (-2bp), US 10's 2.87% (-2bp), US 30's 3.16% (u/c), Bunds 0.25% (+2bp), France 0.68% (+2bp), Turkey 16.60% (u/c), Greece 4.19% (-2bp), Portugal 1.79% (-1bp), Spain 1.45% (-1bp) and UK Gilts 1.26% (+2bp).