Blog/Market Talk
Posted Dec 6, 2017 by Martin Armstrong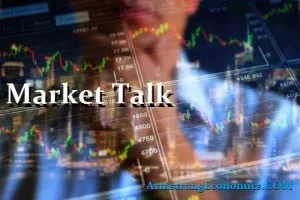 We saw another weak day for Asia with two key exchanges losing over 2%. The Japanese Nikkei and Hong Kong's Hang Seng both lost ground as technology, financials and energy companies continue to give back the years gains. Confidence was already waning but was not helped after Australian growth missed expectation which saw a -0.5% decline in the currency. The Japanese Yen was also under pressure flirting temporarily with the 112 handle but again in fairly light volume. The mood since the US tax reforms has certainly been US Dollar positive even with very few headlines to acknowledge the fact. This was evidenced again during the Asian session by the movement of the US treasury curve, with more and more flattening of the yield curve.
Europe was not so negative but did have the initial wobble in early trading. The DAX, CAC and FTSE MIB all opened lower but managed a recovery for the better part of the day. Both the DAX and MIB still finished the day in the red, down around -0.5% the pair but saw a small positive close for the CAC helped primarily by the Steel and Retailers. It appears that global markets are waking to the fact that the proposed US tax reform is good for the US and means an increase in competition for the rest of the world! The currencies are starting to take this on board with GBP dropping another 0.5% today and is the only reason the FTSE rallied. The DXY (Dollar Index) has bounced from the recent 92.5 low currently trading up at 93.55. With this uncertainty and the declining stock wobble, energy prices are also slipping – obviously not helped by todays EIA release.
Having seen both sessions trade heavy, it was expected the US set a similar theme. However, although we did edge weaker it was reversed eventually as the NASDAQ recovered whilst the rest declined. The VIX again lost 3% closing around 11 with core indices closing -0.3%. There is still news to come this week, with many still waiting US payrolls not to mention a possible government shutdown.
2's closed 1.81% (-1bp), 10's at 2.34% (-1bp) and 30's 2.73% (u/c). Bunds 0.29% (-3bp), France 0.61% (-1bp), Italy 1.71% (+2bp), Greece 4.74% (-1bp), Turkey 11.66% (-2bp), Portugal 1.85% (u/c), Spain 1.42% (+2bp) and Gilts 1.23% (-3bp).