Blog/Market Talk
Posted Dec 5, 2019 by Martin Armstrong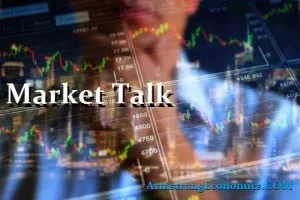 ASIA:
China warned the US that a "price must be paid" for the latest sanctions imposed due to the China's oppression of the people of Uighur decent. It seems this is a step back in the long discussions over the trade war.
Japan, under Prime Minister Abe, has approved a stimulus package worth in excess of 120 billion USD (13 trillion yen) in order to prop up the Japanese economy. Retail sales fell in October by 7.1% as the government raised the sales tax from 8% to 10%. The figure is expected to rise to 25 trillion yen when public spending is included.
The major Asian stock markets had a mixed day today:
Shanghai increased 21.35 points or 0.74% to 2,899.47
Kospi decreased -8.15 points or -0.39% to 2,060.74
ASX 200 increased 76.50 points or 1.16% to 6,683.00
NIKKEI 225 increased 164.86 points or 0.71% to 23,300.09
Hang Seng increased 154.48 points or 0.59% to 26,217.04
SENSEX decreased 70.70 points or -0.17% to 40,779.59
The major Asian currency markets had a negative day today:
AUDUSD decreased 0.0018 or 0.26% to 0.6833
NZDUSD decreased 0.0002 or 0.04% to 0.6547
USDJPY decreased 0.0760 or 0.07% to 108.7570
USDCNY decreased 0.0152 or 0.22% to 7.03840
Precious Metals:
Gold increased 0.3 USD/t oz. or 0.02% to 1,478.48
Silver increased 0.0801 USD/t. oz or 0.47%% to 16.9891
Some economic news from last night:
Japan:
Foreign Bonds Buying decreased from -150.8B to -511.1B
Foreign Investments in Japanese Stocks increased from 131.1B to 394.0B
South Korea:
Current Account (Oct) increased from 7.48B to 7.83B
Australia:
Exports (MoM) (Oct) decreased from 3% to -5%
Imports (MoM) (Oct) decreased from 3% to 0%
Retail Sales (MoM) (Oct) decreased from 0.2% to 0.0%
Trade Balance (Oct) decreased from 7.180B to 4.502B
Some economic news from today:
Indonesia:
Consumer Confidence increased from 118.4 to 124.2
India:
Cash Reserve Ratio remain the same at 4.00%
Interest Rate Decision remain the same at 5.15%
Reverse REPO Rate remain the same at 4.90%
EUROPE/EMEA:
UK PM Boris Johnson assured the public that if he is re-elected that he will get Brexit done as well as a budget within 100 days. The UK elections will take place on the 12th of December, with the Conservatives heavily favorited to be elected again in the third general election in four years.
The European environmental agency says that many of the targets set regarding curbing emission rates will not be met by 2020.
As many as 800,000 people took to the streets in France to march against pension reforms. Today, there were transportation strikes as well which are expected to be extended until Friday due to the same issue regarding pension reforms. The reform will make workers retire later or receive a reduced payout. We wrote about the upcoming pension crisis and how this will be a common theme going forward.
European countries have warned the UN that Iran is capable of building nuclear weapons. A newly tested ballistic missile system from Iran could be equipped with nukes. The Iranian foreign minister dismissed the accusations as lies and said it was a cover up for the EU's failure to deliver the bare minimum to the deal.
The major Europe stock markets had a mixed day today:
CAC 40 increased 1.87 points or 0.03% to 5,801.55
FTSE 100 decreased 50.65 points, or -0.70% to 7,137.85
DAX 30 decreased 85.77 points or -0.65% to 13,054.80
The major Europe currency markets had a mixed day today:
EURUSD increased 0.0016 or 0.15% to 1.1098
GBPUSD increased 0.0047 or 0.36% to 1.31570
USDCHF decreased 0.0008 or 0.08% to 0.9874
Some economic news from Europe today:
Germany:
German Factory Orders (MoM) (Oct) decreased from 1.5% to -0.4%
Spain:
Spanish Industrial Production (YoY) (Oct) decreased from 0.8% to -1.3%
Spanish Consumer Confidence increased from 73.3 to 77.4
Euro Zone:
Employment Change (YoY) (Q3) remain the same at 0.9%
Employment Change (QoQ) (Q3) decreased from 0.2% to 0.1%
Employment Overall (Q3) decreased from 160,170.1K to 160,128.1K
GDP (QoQ) (Q3) remain the same at 0.2%
GDP (YoY) (Q3) remain the same at 1.2%
Retail Sales (YoY) (Oct) decreased from 2.7% to 1.4%
Retail Sales (MoM) (Oct) decreased from -0.2% to -0.6%
US/AMERICAS:
Chinese negotiators reiterated today that they require reduced tariffs to sign phase one of the trade deal. "The Chinese side believes that if the two sides reach a phase one deal, tariffs should be lowered accordingly," ministry spokesman Gao Feng stated. Yesterday, China warned the US not to interfere in their handling of the Uighur population, as the US has accused China of additional human rights violations. The next round of tariffs on Chinese goods will be implemented in ten days.
US home sales will see a significant decline in 2020, according to a new report by realtor.com. Based on their housing data, they foresee housing declining by 1.8% next year while housing prices will increase by 0.8%. The main reason for the decline will be a reduction is supply, despite new construction of single-family homes expected to increase by 6%. American Millennials are expected to flood the housing market next year, accounting for potentially 50% of all mortgages.
New data released by Statistics Canada today corroborates the Bank of Canada's forecast of a strengthening economy. Canada's trade deficit declined in October at $1.1 billion, exceeding analysts' expectations of $1.5 billion. The ongoing political dispute with China was felt in the figures after trade declined by 19.3%. The US remains Canada's strongest trading partner, with Canada posting a surplus of $5.5 billion.
Brazilian President Bolsonaro believes a new culprit is to blame for the wildfires in the Amazon – actor Leonardo DiCaprio. "This Leonardo DiCaprio is a cool guy, right? Giving money to torch the Amazon," Bolsonaro said. DiCaprio, a proponent of climate change, denied the allegations, and admires the Brazilian peoples' "passion needed to save the environment." The incident has put the spotlight back on the Brazilian government, who many accuse of sparking the fires to further agricultural deforestation.
US Market Closings:
Dow advanced 28.01 points or 0.10% to 27,677.79
S&P 500 advanced 4.67 points or 0.15% to 3,117.43
Nasdaq advanced 4.03 points or 0.05% to 8,570.70
Russell 2000 advanced 0.94 of a point or 0.06% to 1,614.83
Canada Market Closings:
TSX Composite declined 42.42 points or -0.25% to 16,854.92
TSX 60 declined 4.13 points or -0.41% to 1,004.87
Brazil Market Closing:
Bovespa advanced 321.34 points or 0.29% to 110,622.27
ENERGY:
Saudi was apparently disappointed at OPEC+ members for failing to comply with production cuts, and they said they are willing to increase production themselves. However, later in the day, the group agreed to further cuts from 1.2 mbpd to 1.7 mbpd which caused the price of oil to jump slightly.
The oil markets had a mixed day today:
Crude Oil increased 0.0732 USD/BBL or 0.13% to 58.4537
Brent increased 0.3179 USD/BBL or 0.50% to 63.4601
Natural gas increased 0.0151 USD/MMBtu or 0.63% to 2.4299
Gasoline increased 0.0114USD/GAL or 0.71% to 1.6241
Heating oil increased 0.0078 USD/GAL or 0.40% to 1.9349
Top commodity gainers: Steel (5.47%),Rubber(3.70%),Oat(3.48%), and Palm Oil(1.76%)
Top commodity losers: Corn(-1.64%), Lean Hogs(-0.79%), Cotton (-0.79%), and Coal (-0.83%)
The above data was collected around 14:45 EST on Thursday.
BONDS:
Japan -0.02%(+3bp), US 2's 1.59% (+0bps), US 10's 1.80%(+2bps), US 30's 2.25%(+2bps), Bunds -0.32% (+3bp), France -0.04% (-7bp), Italy 1.48% (+9bp), Turkey 11.98% (+9bp), Greece 1.58% (-52bp), Portugal 0.43% (+5bp), Spain 0.46% (+1bp) and UK Gilts 0.77% (+3bp).
US 4-Week Bill Auction decreased from 1.620% to 1.500%
US 8-Week Bill Auction decreased from 1.570% to 1.520%
UK 30-Year Treasury Gilt Auction increased from 1.254% to 1.289%
French 10-Year OAT Auction decreased from -0.03% to -0.08%
Spanish 5-Year Bonos Auction increased from -0.106% to -0.085%
Spanish 10-Year Obligacion Auction increased from 0.409% to 0.440%
Japan 30-Year JGB Auction decreased from 0.460% to 0.430%