Blog/Market Talk
Posted Dec 4, 2017 by Martin Armstrong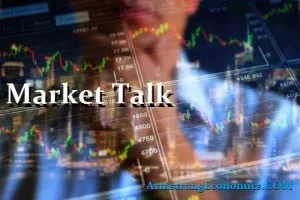 Asian markets were unsure how to respond to the weekend news of the US tax move. Whilst it was assumed the move was positive news for US futures markets, it is not necessarily good news for its competitors. The realisation that cash is now being beckoned by US markets, others realise they will be forced to respond quickly. The Hang Seng and Shanghai off-set one another, but we will have additional significant news events published this week. The Nikkei lost 0.5% reflecting the uncertainty and also saw renewed Yen demand having rejected the 113 level. Much of the talk surrounded US tax and expected cash markets reaction and also the meeting later involving BREXIT announcements.
Europe opened with an optimistic buzz on hopes of a smooth BREXIT announcement, US tax plans and a weaker currency helping assets. However, although we saw 1% gains for most core European indices it was after the European close that news broke of a delay in the markets hopes! What markets have to realise is the US tax proposal is good news for the US stocks – not its competitors. It will interesting to watch markets reactions this week once they start to realise they need to look internally for solutions not the USA. The bond markets reaction is another move flatter with weakness seen at the front end again. Looking like the December move is on the cards whilst the long end benefits from currency accumulation.
US looks as though the old trading adage of buy the rumours sell the news was spot-on once again. For most of the day we watched strong demand following a positive futures session, only to fade into the cash close. We hit contract highs in the morning only to retrace into the close. We still have a lot to play for this week, including the jobs number ion Friday. However, it is this uncertainty at these giddy heights that will probably keep a bid under the long end of the treasury market whilst the FED corrects the short end.
2's closed 1.81% (+3bp), 10's at 2.39% (+2bp), 30's 2.78% (+1bp), Bunds 0.34% (+4bp), France 0.64% (+4bp), Greece 5.25% (-3bp), Turkey 11.72% (-5bp), Portugal 1.87% (+2bp), Spain 1.40% (-1bp), and Gilts 1.28% (+5bp).