Blog/Market Talk
Posted Dec 4, 2019 by Martin Armstrong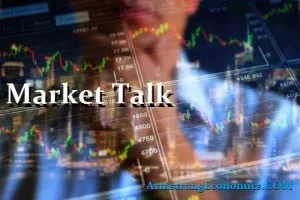 ASIA:
US President Donald Trump sounded a little more optimistic over the trade deal with China today, having stated that current talks are going very well. Yesterday, President Trump sent the market into a slight frenzy suggesting that perhaps it would be better to wait until after the elections in November next year to conclude any deal. Still, there remains pressing issues between the two countries mainly the issue with Hong Kong and the Xinjiang region. Regarding the Xinjiang region, the US passed a bill that can enable sanctions on ministers who are involved with the Chinese treatment of Uighurs.
Japan and the US have now concluded a trade deal that passed through the Japanese upper house today. The initial deal was drawn out at the start of the year when Japanese Prime Minister Shinzo Abe and US President Donald Trump met. Some critics are pointing to a US victory in the deal as a 2.5% tariff remains on any Japanese cars exported to the US.
India has passed a Citizenship Act Amendment Bill which will allow many Sikhs, Hindus, and other religious minorities who have fled Pakistan, Bangladesh, and Afghanistan to take refuge in India. There was some criticism of the bill as it omitted those of the Muslim faith, however, President Modi's camp said that those of the Muslim faith would not be required to use the bill as they can take refuge in Islamic nations across the globe.
The major Asian stock markets had a mixed day today:
Shanghai decreased 6.58 points or -0.23% to 2,878.12
Kospi decreased -15.18 points or -0.73% to 2,068.89
ASX 200 decreased 105.80 points or -1.58% to 6,606.50
NIKKEI 225 decreased 244.58 points or -1.05% to 23,135.23
Hang Seng decreased 328.74 points or -1.25% to 26,062.56
SENSEX increased 174.84 points or 0.43% to 40,850.29
The major Asian currency markets had a mixed day today:
AUDUSD decreased 0.0003 or -0.05% to 0.68459
NZDUSD increased 0.0012 or 0.18% to 0.6528
USDJPY increased 0.1910 or 0.18% to 108.8240
USDCNY decreased 0.0182 or 0.26% to 7.0502
Precious Metals:
Gold decreased 3.40 USD/t oz. or -0.23% to 1,475.32
Silver decreased 0.26 USD/t. oz or -1.50%% to 16.9318
Some economic news from last night:
China:
Caixin Services PMI (Nov) increased from 51.1 to 53.5
Chinese Composite PMI (Nov) increased from 52.0 to 53.2
Japan:
Services PMI (Nov) increased from 49.7to 50.3
South Korea:
FX Reserves – USD (Nov) increased from 406.32B to 407.46B
Hong Kong:
Manufacturing PMI (Nov) decreased from 39.3 to 38.5
Australia:
AIG Services Index (Nov) decreased from 54.2 to 53.7
Services PMI decreased from 50.1 to 49.7
GDP (YoY) (Q3) increased from 1.4% to 1.7%
GDP (QoQ) (Q3) dccreased from 0.5% to 0.4%
GDP Capital Expenditure (Q3) increased from -1.7% to -0.2%
GDP Chain Price Index (Q3) decreased from 1.2% to 0.7%
GDP Final Consumption (Q3) decreased from 1.0% to 0.3%
New Zealand:
ANZ Commodity Price Index (MoM) increased from 1.2% to 4.3%
Some economic news from today:
India:
Nikkei Services PMI (Nov) increased from 49.2 to 52.7
EUROPE/EMEA:
Latest in the UK Brexit case is that UK PM Boris Johnson is seemly failing to rule out leaving the EU on WTO terms. The UK Foreign Secretary Dominic Raab backed the PM by saying he is absolutely right to be leaving a "no-deal" outcome on the table during negotiations. During questioning, the PM failed to criticise Raab but said, "We have a great deal. It's going to allow us to come out smoothly and efficiently on 31 January." A leaked document by the Conservatives shows that they are considering that the Brexit negotiations could lead on for years even with the withdrawal agreement passed. Labour and Lib Dem members were quick to comment on the leaked document, stating that PM Boris Johnson could not be trusted and that a realistic trade deal cannot be passed as quickly as they promise.
The situation in Iran is apparently getting worse as there was a major crackdown on protesters yesterday. A human rights organization believes that at least 208 people have now died since the protests began. Still, the country has an internet blackout after the government raised prices and placed quotas on petroleum. Meanwhile, Iran has announced a joint naval exercise with Russia and China in the Indian Ocean, which is expected to commence at the end of the year.
Turkey has lowered their opposition to the NATO Baltic plan, as they have now agreed to support the deal which will bolster the defences of the Baltic states and Poland against Russia. Initially, Turkey was against such a deal as they received a hard time with regards to their battle with the YPG in Syria.
France is battling internally with transportation strikes as they brace for potentially the worst strike in decades. The strikes are expected to commence tomorrow on the 5th of December with the country expected to be forced to a standstill.
The major Europe stock markets had a green day today:
CAC 40 increased 72.47 points or 1.27% to 5,799.68
FTSE 100 increased 29.74 points, or 0.42% to 7,188.50
DAX 30 increased 151.28 points or 1.16% to 13,140.57
The major Europe currency markets had a green day today:
EURUSD increased 0.00089 or 0.08% to 1.10899
GBPUSD increased 0.01107 or 0.85% to 1.31077
USDCHF increased 0.0014 or 0.14% to 0.9885
Some economic news from Europe today:
Norway:
Current Account (Q3) decreased from 26.5B to 23.9B
House Price Index (YoY) (Nov) increased from 2.4% to 3.1%
Spain:
Spanish Services PMI (Nov) increased from 52.7 to 53.2
Italy:
Italian Composite PMI (Nov) decreased from 50.8 to 49.6
Italian Services PMI (Nov) decreased from 52.2 to 50.4
France:
French Markit Composite PMI (Nov) decreased from 52.6 to 52.1
French Services PMI (Nov) decreased from 52.9 to 52.2
Germany:
German Composite PMI (Nov) increased from 48.9 to 49.4
German Services PMI (Nov) increased from 51.6 to 51.7
Euro Zone:
Markit Composite PMI (Nov) remain the same at 50.6
Services PMI (Nov) decreased from 52.2 to 51.9
UK:
Composite PMI (Nov) decreased from 50.0 to 49.3
Services PMI (Nov) decreased from 50.0 to 49.3
US/AMERICAS:
The NATO summit in London wrapped up today, and it appears progress has been made between NATO members. Members have agreed to increase their annual spending by a combined $130 billion and that figure is expected to increase to $400 billion by 2024. Currently, only nine members are meeting their 2% of GDP spending requirement. Britain, Poland, Estonia, Latvia, Lithuania, Greece, Bulgaria, Romania, and the US are all expected to meet their spending requirements this year.
Expected controversies occurred during the event. French, Canadian, and UK leaders were secretly recorded on a hot mic mocking US President Trump. During a press conference with Germany's Merkel, Trump responded to the incident by calling Canadian PM Trudeau "two-faced" and upset that Canada failed to meet the 2% spending requirement. The incident likely worsened relations between Macron and Trump after their spat on Tuesday. However, the White House called France "a partner of the United States in many key ventures."
President Trump came out in favor of the Iranian protesters, much to the dismay of the Iranian authorities. Yesterday, Iran declared that the US owes them $130 billion to compensate for losses due to sanctions.
The Bank of Canada (BoC) announced this Wednesday that they will hold the current benchmark rate at 1.75%. Unlike the majority of central banks who have opted to lower rates, the BoC has continued to stick to the course. Canada's central bank sees an uptick in the overall global economy as well as future growth in the upcoming years. "Financial markets have been supported by central bank actions and waning recession concerns, while being buffeted by news on the trade front. Indeed, ongoing trade conflicts and related uncertainty are still weighing on global economic activity, and remain the biggest source of risk to the outlook. In this context, commodity prices and the Canadian dollar have remained relatively stable," the bank said in their official statement.
Third quarter growth in Canada met analysts' expectations at 1.3%. Unlike its neighbor to the north, Canada has successfully maintained its core inflation target of around 2%. The BoC foresees inflation remaining close to target for the next two years. In addition to monitoring volatile global trade, the bank is honing in on consumer spending and housing activity in advance of the next policy decision.
US Market Closings:
Dow advanced 146.97 points or 0.53% to 27,649.78
S&P 500 advanced 19.56 points or 0.63% to 3,112.76
Nasdaq advanced 46.03 points or 0.54% to 8,566.67
Russell 2000 advanced 11.27 points or 0.70% to 1,613.90
Canada Market Closings:
TSX Composite advanced 5.16 or 0.03% to 16,897.34
TSX 60 advanced 0.04 of a point or 0% to 1,009.00
Brazil Market Closing:
Bovespa advanced 1,344.91 points or 1.23% to 110,300.93
ENERGY:
The EIA reported a crude oil inventory draw of 4.9 million barrels for the week to November 29th, which caused crude to move up by nearly 4%. Analyst had expected there to be a slight build in Crude. The OPEC+ meeting is due to happen this week in Vienna where Iraq's oil minister told reporters that a deep cut to production is "preferred by a number of key members."
The oil markets had a mixed day today:
Crude Oil increased 2.0708 USD/BBL or 3.67% to 58.5672
Brent increased 2.154 USD/BBL or 3.52% to 63.3932
Natural gas decreased 0.059 USD/MMBtu or -2.41% to 2.3899
Gasoline increased 0.0477USD/GAL or 3.04% to 1.6151
Heating oil increased 0.0496 USD/GAL or 2.63% to 1.9386
Top commodity gainers: Ethanol (4.79%),Crude Oil(3.67%),Brent(3.52%), and Gasoline(3.04%)
Top commodity losers: Cheese (-5.67%), Milk (-5.05%), Steel (-4.18%), and Natural Gas (-2.41%)
The above data was collected around 11:25 am EST on Wednesday.
BONDS:
Japan -0.02%(+3bp), US 2's 1.56% (+2bps), US 10's 1.74%(+3bps), US 30's 2.20%(+5bps), Bunds -0.35% (-7bp), France -0.04% (-7bp), Italy 1.37% (-4bp), Turkey 12.00% (+11bp), Greece 1.58% (-50bp), Portugal 0.37% (-1bp), Spain 0.43% (-0bp) and UK Gilts 0.71% (+4bp).
German 10-Year Bund Auction decreased from -0.290% to -0.330%