Blog/Market Talk
Posted Dec 31, 2019 by Martin Armstrong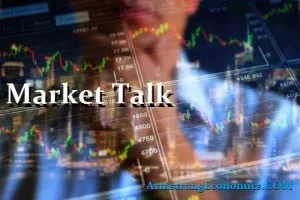 We would like to wish our readers across the globe a happy new year!
Market Talk will resume on January 2, 2020.
ASIA:
With the year coming to a close, it is the Chinese stock market that performed the best in the region with the Shenzhen Composite rising 35%! The Japanese Nikkei also performed well, moving 18% higher. The DJ Global Dow US moved up 18%, as it was a successful year for equities.
There are still mixed messages from media as to when the trade deal will actually be signed. Sources say that Chinese top negotiator Liu He is expected to fly to Washington this week to sign phase one. However, some other reports emerging from the Washington Post suggests there are still large holes in the deal, such as Chinese business subsides as being an issue for the US.
There was no let-off for the Hong Kong protesters as they are ringing in the new year with a fresh wave of protests. The chief executive of Hong Kong Carrie Lam said 2020 was all about restoring "order and harmony".
Taiwan has passed a law that enables them to defend against what may seem as threats from China to influence politics in Taiwan. The law is under the anti-infiltration act, and it will monitor the funding of politicians and media in order to avoid the public being swayed by mainland China.
Kerala Assembly today passed a resolution demanding the new Citizenship Amendment Act which is causing mass protests across the country to be scrapped. The party head said it is not possible to have passed the original CAA bill as it was against the law.
The major Asian stock markets had a mixed day today:
Shanghai increased 10.10 points or 0.33% to 3,050.12
Kospi closed
ASX 200 decreased 120.80 points or -1.78% to 6,684.10
NIKKEI 225 closed
Hang Seng decreased 129.64 points or -0.46% to 28,189.75
SENSEX decreased 304.26 points or -0.73% to 41,253.74
The major Asian currency markets had a mixed day today:
AUDUSD increased 0.0017 or 0.25% to 0.7016
NZDUSD increased 0.0002 or 0.02% to 0.6733
USDJPY decreased 0.2230 or 0.20% to 108.6440
USDCNY decreased 0.0204 or 0.29% to 6.9637
Precious Metals:
Gold increased 2.51 USD/t oz. or 0.17% to 1,517.97
Silver decreased 0.0511 USD/t. oz or -0.29%% to 17.8713
Some economic news from last night:
South Korea:
Manufacturing BSI Index (Jan) increased from 74 to 75
CPI (YoY) (Dec) increased from 0.2% to 0.7%
CPI (MoM) (Dec) increased from -0.6% to 0.2%
China:
Chinese Composite PMI (Dec) decreased from 53.7 to 53.4
Manufacturing PMI (Dec) remains the same at 50.2
Non-Manufacturing PMI (Dec) decreased from 54.4 to 53.5
Singapore:
Bank Lending (Nov) increased from 689.4B to 692.7B
Some economic news from today:
Hong Kong:
M3 Money Supply (Nov) increased from 2.7% to 3.1%
Indonesia:
M2 Money Supply (YoY) (Nov) increased from 6.30% to 7.10%
India:
Federal Fiscal Deficit (Nov) increased from 7,204.45B to 8,078.34B
Balance of Payments (USD) (Q3) decreased from 14.000B to 5.100B
Current Account % of GDP (QoQ) (Q3) increased from -2.00% to -0.90%
Current Account (USD) (Q3) increased from -14.30B to -6.30B
Trade Balance (USD) (Q3) increased from -46.200B to -38.100B
Infrastructure Output (YoY) (Nov) increased from -5.8% to -1.5%
EUROPE/EMEA:
As the year comes to a close, it is the Greeks whom performed the best as their economy is starting to show signs of recovery. The index rose just shy of 50% this year. Other notable performers were the Russian RTS Index, which rose 45% albeit denominated in Russian Rubles and the euro region as a whole rose 23.18% as measured by the Euro Stoxx.
The EU seems to be forcing the UK to dismiss the hard transition period by the end of 2020, with the new EU trade commissioner Phil Hogan suggestion that PM Boris Johnson must renege on his commitment.
German Counselor Angela Merkel promoted the idea of climate action in her new year's message. She did more than promote the agenda by stating that "everything humanly possible" must be done in order to tackle climate change. "The warming of our Earth is real. It is threatening. It and the crises arising from global warming were caused by humans," she said. "So we must do everything humanly possible to deal with this challenge for humanity. That is still possible." It seems as the German government will take steps in adding taxes, such as a tax on long-distance rail tickets, in order to promote more environmentally conscious methods of transport.
In Iraq, pro-Iranian militia supporters today attacked the US embassy with Trump blaming the Iranian government for such actions. Meanwhile, President Rouhani said that the US sanctions have cost Iran upward of 200 billion USD.
The major Europe stock markets had a negative day today:
CAC 40 decreased 4.15 points or -0.07% to 5,978.06
FTSE 100 decreased 44.61 points, or -0.59% to 7,542.44
DAX 30 closed
The major Europe currency markets had a mixed day today:
EURUSD increased 0.0014 or 0.12% to 1.1216
GBPUSD increased 0.0129 or 0.98% to 1.3241
USDCHF decreased 0.0009 or 0.09% to 0.9676
US/AMERICAS:
The bull market of 2019 was unforeseen just one year ago when the December 2018 sell-off began the year on a bearish tone. All three major US indexes peaked to new highs in 2019 despite ongoing volatility caused by a 17-month trade war and monetary policy changes. The benchmark S&P 500 had its best annual performance since 2013 and advanced 28.9%. The tech-heavy Nasdaq rose 35.2%, also falling just shy of its 2013 rally. The Dow advanced 22.3% this year, marking the index's strongest performance since 2017.
After raising rates in 2018, the Federal Reserve changed course in 2019 repeatedly lowered its target rate. The Federal Open Market Committee (FOMC) raised rates four times last year, claiming it was a necessary measure after the economy recovered from the Great Recession. Fed Chairman Jerome Powell began the year by taking a "patient" approach to lowering rates. Over the course of the year, the FOMC voted to lower the benchmark rate three times. During the final December meeting, the committee voted to hold rates, citing "sustained expansion of economic activity, strong labor market conditions, and inflation near the Committee's symmetric 2 percent objective."
The ongoing US-China trade war shook the marketplace this year. Ongoing tariffs, blacklisted companies, and mass confusion in media reporting led to heightened volatility. However, today President Trump announced that phase one of the trade deal will be officially signed on January 15. "I will be signing our very large and comprehensive Phase One Trade Deal with China on January 15. The ceremony will take place at the White House. High level representatives of China will be present. At a later date I will be going to Beijing where talks will begin on Phase Two!" President Trump tweeted.
This year marked the slowest rate of population growth in the US this century, according to data released by the Census Bureau. The population grew by only 1.5 million in 2019, bringing the total number of citizens to 328 million. This is the slowest rate of growth since 1917-1918 when the US was involved with World War I. The number of births minus the number of deaths brought the total population growth to under one million. Women are having fewer children in the US, which is largely due to a cultural and economic shift. The aging baby boomer population has contributed to the higher death toll as well. In addition to a decline in the birth rate, immigration has drastically slowed over the past year. This is also the first year that the US has accepted more foreign immigrants from China rather than neighboring Mexico.
US Market Closings:
Dow advanced 76.30 points or 0.27% to 28,538.44
S&P 500 advanced 9.49 points or 0.29% to 3,230.78
Nasdaq advanced 26.61 points or 0.30% to 8,972.60
Russell 2000 advanced 4.32 points or 0.26% to 1,668.47
Canada Market Closings:
TSX Composite declined 35.13 points or -0.21% to 17,063.43
TSX 60 declined 2.15 points or -0.21% to 1,014.92
Brazil Market Closing:
Bovespa declined 888.64 points or -0.76% to 115,645.34
ENERGY:
With the year closing, WTI crude managed to increase by 33.94% amid a year of OPEC+ negotiations, agreeing to cut supplies, the attack on the Saudi Aramco plant, as well as the ongoing US-China trade feud.
The oil markets had a negative day today:
Crude Oil decreased 0.5149 USD/BBL or -0.84% to 60.7570
Brent decreased 0.4803 USD/BBL or -0.72% to 66.2195
Natural gas decreased 0.0163 USD/MMBtu or -0.75% to 2.1480
Gasoline decreased 0.0285USD/GAL or -1.64% to 1.7066
Heating oil decreased 0.0158 USD/GAL or -0.78% to 2.0222
Top commodity gainers: Cocoa(3.13%),Orange Juice(2.21%),Palladium(1.85%), and Bitumen(1.75%)
Top commodity losers: Milk(-10.61%), Coffee(-1.85%), Gasoline (-1.64%), and Palm Oil(-1.60%)
The above data was collected around 15.51  EST on Tuesday.
BONDS:
Japan -0.02%(-1bp), US 2's 1.57% (-0bps), US 10's 1.92%(+2bps); US 30's 2.39%(+4bps), Bunds -0.19% (-1bp), France 0.12% (-0bp), Italy 1.43% (+1bp), Turkey 12.00% (+0bp), Greece 1.48% (-41bp), Portugal 0.45% (+1bp), Spain 0.47% (-1bp) and UK Gilts 0.83% (-4bp).