Blog/Market Talk
Posted Dec 3, 2019 by Martin Armstrong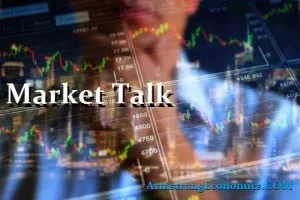 ASIA:
US President Trump has suggested that the trade deal with China might have to wait until after the 2020 election in November. "I have no deadline, no. In some ways, I think I think it's better to wait until after the election with China," Trump told reporters at a NATO meeting in London. This caused a sell-off in global markets after his statement was reported. China also expressed concern over the US' media handling of the Xinjiang issue, stating that they are considering banning all US diplomatic passport holders from the region.
The Chinese auto industry has targets set for them by the industry ministry for 2025. A quarter of the cars they produce will be electric by that date. Sales of electric vehicles have plummeted by 34 percent year-over-year from September.
North Korea has opened a new town in which they call the "epitome of modern civilization." The town is able to hold up to 4,000 families and features a ski slope. Local media has hailed this as a "utopia town under socialism."
India's economic growth is expected to remain subdued in the near future as the slowdown has deepened and is likely to remain extended for a longer duration than previously anticipated. According to a Dun & Bradstreet report, a pick-up in the industrial production will only be gradual as investment remains subdued and rural sector demand is likely to remain affected by the recent floods and lower agricultural output.  Besides, most of the sectors from auto to real estate are under stress and this is reflected in the profit margins of the corporate and revenue collections of the government. According to a report to address the current issue, both the Centre and the state governments should gear up to execute the infrastructure projects in the pipeline.
The major Asian stock markets had a mixed day today:
Shanghai increased 8.89 points or 0.31% to 2,884.70
Kospi decreased -7.85 points or -0.38% to 2,084.07
ASX 200 decreased 150.00 points or -2.19% to 6,712.30
NIKKEI 225 decreased 149.69 points or -0.64% to 23,379.81
Hang Seng decreased 53.42 points or -0.20% to 26,391.30
SENSEX decreased 126.72 points or -0.31% to 40,675.45
The major Asian currency markets had a mixed day today:
AUDUSD increased 0.00235 or 0.34% to 0.68395
NZDUSD increased 0.0026 or 0.40% to 0.6521
USDJPY decreased 0.3300 or 0.30% to 108.6520
USDCNY increased 0.02576 or 0.37% to 7.06876
Precious Metals:
Gold increased 13.85 USD/t oz. or 0.95% to 1,478.99
Silver increased 0.2107 USD/t. oz or 1.24%% to 17.1439
Some economic news from last night:
Japan:
Monetary Base (YoY) increased from 3.1% to 3.3%
South Korea:
GDP (QoQ) (Q3) decreased from 1.0% to 0.4%
GDP (YoY) (Q3) remain the same at 2.0%
Australia:
Current Account (Q3) increased from 5.9B to 7.9B
Net Exports Contribution (Q3) decreased from 0.6% to 0.2%
RBA Interest Rate Decision (Dec) remain the same at 0.75%
Some economic news from today:
Singapore:
Manufacturing PMI (Nov) remain the same at 49.8
New Zealand:
GlobalDairyTrade Price Index decreased from 1.7% to -0.5%
EUROPE:
An early indicative poll has been conducted of the UK elections showing that the Conservatives could be as much as 12 points ahead of the Labour Party. The polls show that the voters under the age of 55 would vote significantly more pro-Labour with the outcome being 3 points in Labour's favor. Labour's campaign lately has been surrounding Conservatives' wish to sell parts of the NHS to the US. However, US President Trump today stated this was incorrect with Trump stating even if you handed the NHS on a "silver platter" he still wouldn't take it. He also took the time to promote UK PM Boris Johnson for the UK.
A YouGov poll according to German media outlet DW has shown that Germans are in favor of reducing reliance on the US and opening up ties with Russia rather than the current strategy of alienating them. Another poll suggests that 55% of Germans believe that NATO should protect themselves without the help of the US. Germany through Angela Merkel has agreed to increase the defense spending to the NATO target of 2% of GDP. With the German economy struggling of late, it was the farmers who were the latest group to protest over new regulations in the industry. Angela Merkel yesterday met with them to ease their concerns over the recent targets set by the government to reduce pesticides in food and ban the controversial weed killer glyphosate by 2023.
US President Trump and French President Macron had a small sparing match with words, the main topic was to Trump's argument that most of the terrorists today are originating from Europe. Macron responded that it is the failure of the US not finishing what they had started. They also had differences on the definition of terrorists, with Macron saying that Turkey is currently fighting is the European allies.
The major Europe stock markets had a mixed day today:
CAC 40 decreased 59.52 points or -1.03% to 5,727.22
FTSE 100 decreased 127.18 points, or -1.75% to 7,158.76
DAX 30 increased 24.61 points or 0.19% to 12,989.29
The major Europe currency markets had a mixed day today:
EURUSD increased 0.0007 or 0.06% to 1.1083
GBPUSD increased 0.00632 or 0.49% to 1.30022
USDCHF decreased 0.0040 or 0.41% to 0.9874
Some economic news from Europe today:
Swiss:
CPI (MoM) (Nov) increased from -0.2% to -0.1%
CPI (YoY) (Nov) increased from -0.3% to -0.1%
France:
French Government Budget Balance (Oct) increased from -109.0B to -107.7B
Spain:
Spanish Unemployment Change decreased from 97.9K to 20.5K
UK:
Construction PMI (Nov) increased from 44.2 to 45.3
BRC Retail Sales Monitor (YoY) (Nov) decreased from 0.1% to -4.9%
Euro Zone:
PPI (MoM) (Oct) remain the same at 0.1%
PPI (YoY) (Oct) decreased from -1.2% to -1.9%
US/AMERICAS:
Equities faltered in early trading this Tuesday after President Trump announced that the trade deal with China may have to wait until after the 2020 US presidential election. Trump maintains that China would like to make a deal, but stated that he has no set deadline. A few short weeks ago, nearly every media agency claimed that phase one of the deal was near completion. US Commerce Secretary Wilbur Ross told CNBC that the president does not want the Chinese to believe they have leverage to rush into a less than desirable deal with the US prior to the upcoming election. Ross also stated that he did not want the election to be "a distraction that can detract from our negotiating position."
French President Macron and US President Trump exchanged harsh words today in an argument stemming from France's adoption of a digital tax. "France's Digital Services Tax (DST) discriminates against U.S. companies, is inconsistent with prevailing principles of international tax policy, and is unusually burdensome for affected U.S. companies," according to a statement by the US Trade Representative. Trump threatened to place 100% tariffs on $2.5 billion worth of French products in retaliation.
Today marked the first day of the 70th NATO summit in London where the argument between the two leaders continued. Macron has previously stated that he does not trust the US as a NATO ally and questioned whether the US would come to France's aid in the event of an attack. Trump has criticized France's failure to meet its 2% GDP spending requirement. At the summit, Trump criticized Europe's loose border policies, believing they are to blame for the increase in terrorists entering the US. Macron pointed the finger at the US, saying that meddling in the Middle East is to blame for the increase in terrorism. Trump called Macron "the greatest non-answers I've ever heard," and it appears relations between the two countries are only worsening with each interaction.
Kamala Harris has officially dropped out of the race to become the 2020 Democratic presidential nominee. "I've taken stock and looked at this from every angle, and over the last few days have come to one of the hardest decisions of my life. My campaign for president simply doesn't have the financial resources we need to continue," Harris stated.
US Market Closings:
Dow declined 280.23 points or 1.01% to 27,502.81
S&P 500 declined 20.67 points or -0.66% to 3,093.20
Nasdaq declined 47.34 points or -0.55% to 8,520.64
Russell 2000 declined 4.95 points or -0.31% to 1,602.63
Canada Market Closings:
TSX Composite declined 89.29 points or -0.53% to 16,892.18
TSX 60 declined 6.18 points or -0.61% to 1,008.96
Brazil Market Closing:
Bovespa advanced 28.19 points or 0.03% to 108,956.02
ENERGY:
All eyes will be on this weeks meeting in Austria which is due to kick on the 5th and be completed on the 6th of December. Expect some volatility in the markets as OPEC countries and Russia discuss oil output in 2020. The general consensus will be that OPEC needs to make some cuts, otherwise, there will be an oversupply in the market and thus downward pressure on the price.
The oil markets had a mixed day today:
Crude Oil decreased 0.1942 USD/BBL or -0.35% to 55.9865
Brent decreased 0.2983 USD/BBL or -0.49% to 60.6341
Natural gas increased 0.0623 USD/MMBtu or 2.65% to 2.4119
Gasoline decreased 0.0221USD/GAL or -1.40% to 1.5560
Heating oil decreased 0.0098 USD/GAL or -0.52% to 1.8814
Top commodity gainers: Natural Gas (2.65%),Silver(1.24%),Steel(1.18%), and Rubber(1.14%)
Top commodity losers: Ethanol(-4.75%), Cotton(-1.58%), Gasoline (-1.40%), and Copper(-0.78%)
The above data was collected around 9:45 am EST on Tuesday.
BONDS:
Japan -0.08%(+1bp), US 2's 1.57% (-4bps), US 10's 1.77%(-5bps), US 30's 2.24%(-2bps), Bunds -0.28% (+7bp), France -0.04% (+1bp), Italy 1.44% (-1bp), Turkey 12.00% (-18bp), Greece 1.62% (-41bp), Portugal 0.40% (-6bp), Spain 0.45% (-4bp) and UK Gilts 0.73% (-2bp).
Japan 10-Year JGB Auction increased from -0.099% to -0.042%
US 52-Week Bill Auction decreased from 1.565% to 1.525%
Spanish 6-Month Letras Auction increased from -0.477% to -0.448%
Spanish 12-Month Letras Auction increased from -0.457% to -0.456%