Blog/Market Talk
Posted Dec 29, 2017 by Martin Armstrong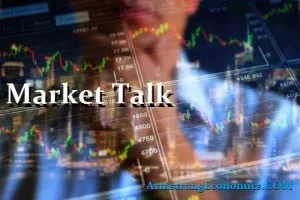 Year end book squaring outweighed yet more positive economic data to close the Nikkei a tad weaker on the day, but closes up 34% on the year. Earlier positives were lost onto the close but probably the result of a stronger Yen trading stronger towards the 112 handle. Both Shanghai and the Hang Seng closed better today and 20% and 35% on the year respectively. The KOPSI also closed on a strong note adding an additional 1.2% on the day.
Volumes predictably a shadow of their former but the last session ahead of the long weekend and Year End is understandable. However, the UK's FTSE closed on a more optimistic note up +0.8% and a record highs in what appeared to be a last minute surge. The DAX and CAC were both negative closing down -0.5% on the day, while the Italian FTSE MiB, suffered due to renewed political uncertainties. This closes the FTSE +11% YTD, DAX 14% YTD, CAC 10% YTD, Spanish IBEX roughly a 7% YTD return and the Italian MiB 13% YTD. Oil traded better on the surprise output drop adding a near 1% today on top of the 13% YTD rally.
US stocks have drifted on the last trading day of the year, but closes a positive year for all core indices. The mood next week will be set from early trading with all eyes looking to see if we open 2018 with a contract high. DOW closes a near 26% YTD better, S+P +20% and NASDAQ over 30% higher. Never ceases to amaze me how the gold is attracted to the month/quarter and year end
number in what could be its final test in this move; could fit quite nicely for the New Year.
Lots to look forward to in 2018 so we wish all Health and Happiness to all for the New Year.
2's closed 1.89% (-2bp), 10's 2.41% (-2bp), 30's 2.74% (-2bp), Bunds 0.42% (u/c), 0.77% (+1bp), Italy 2% (+6bp), Turkey 11.30% (-10bp), Portugal 1.87% (+4bp), Spain 1.56% (+6bp) and Gilts 1.19% (u/c).