Blog/Market Talk
Posted Dec 28, 2017 by Martin Armstrong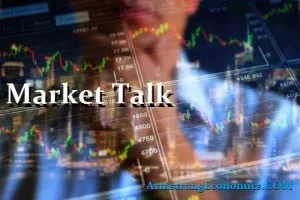 Although not all markets closed positive, the overall theme certainly was. Shanghai and Hang Seng were both strong with gains made from Tech, Consumers and Energy all adding to the near 1% gains. Volumes were again very disappointing with todays HSI around 70% of the previous 30 days average. Much has ben talked of the US Dollars weakness assisting metals and oil to exceed 2yr highs, but whilst many continue to talk precious metals it is the industrial metals that have gained. The Nikkei was one market that closed lower, a move made in the final hour of trading. Ending the day -0.6%, but we did see a 0.5% bounce in the Yen which now puts us trading mid 112's. A few headlines, late in the day suggesting China may have sold oil to North Korea, but that seems to be playing-out in media reports as we go to post.
European trading was also subdued and in light volume but was left until late in the day and selling appeared into the close. Talk that Italian elections are imminent and the government being dissolved created renewed uncertainty into the close. Concerns are that the March elections could result in a hung parliament creating a period of political upheaval. Even though this was downplayed in the annual news conference, it will be rarely out of the news come the New Year. Most core markets closed -0.75% lower on the day. BREXIT was not such a storey in todays trading but prepare yourselves for January as Trade Talks start so will be rarely out of the headlines.
News that South Korea is taking steps, which may include closing exchanges, as the fear that speculation has been taken too far! We saw a decline upon the news and this evening sees a decline of 8% on the day.
US markets closed on a strong note and at days highs, even though the price appreciation was only +0.2% it still created contract highs. Again volumes were light but to be expected in a holiday shortened week. As we close the continued performance surrounds information technology and even for the year that sector is up around 40%. Todays data was again better than forecast and so we are closing the year on a high note. Tomorrows session will again be light and so its possible we could see another historic close.
2's closed 1.91% (+1bp), 10's closed 2.43% (+2bp), 30's 2.76% (+1bp), Bunds 0.42% (+5bp), France 0.76% (+5bp), Italy 1.94% (+3bp), Turkey 11.40% (-18bp), Portugal 1.83% (+3bp), Spain 1.50% +6bp), Gilts 1.19% (+2bp). Interesting that both core and peripheral bond markets lost ground today despite weakness in equity markets. Talk is that year end funding was in-play but especially expensive to find US Dollars. At one stage the bid went to implied 10% versus Euro over the turn. As tomorrow is the last day, you can probably expect it to go bedtastic again before returning to normal in January.