Blog/Market Talk
Posted Dec 27, 2017 by Martin Armstrong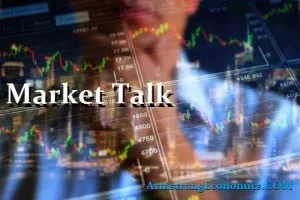 As can be expected during holiday shortened session, volumes were extremely low and movement similar. The same could not be said for the Euro on Christmas Day though, a large order sent the currency down 3% at one point, only for it to bounce make minutes later. That is often the problem during holiday sessions; a large order can push the market quite extensively. The Japanese Nikkei hit new recent record levels on Monday (supported again by the strong economic data) and added small again today breaching the mid 1996 peaks. Setting-up nicely for 2018 but keep your eye on the Yen. This remains comfortable, trading in the mid 113's but looks to be continuing the weaker theme in 2018. After the PBOC altered Yuan mid-point today, we saw selling on the Shanghai exchange in the final hour of trading. The result was a 1% decline on the day, probably FX and profit-taking the main reason for the weakness.
Spain and the Catalan issue remains market focus as rumours Spanish banks are offered again. Most core were little changed, but did tend to drift weaker after, what seemed, a positive start. The UK is rumoured to be suffering from lower "Sales" numbers than usual as talk of empty shops and early pre-Christmas sales are weighing on confidence. Midday talks that the new IPhone sales numbers are lower than expected started to hit sentiment as well as the Tech sector and early highs were rejected.
After an initial opening rally, Tech weighed on sentiment and we closed on the days lows. Volumes are understandably low and as we approach the year end, prices tended to drift in lacklustre trading. The Tax reform rally has run its course and now the market looks for fresh incentives in-order its maintains its strong tone. The cash flow will be the proof many are looking for, but as this builds it will become obvious the larger it grows.
2's closed 1.90% (+1bp), 10's closed 2.41% (-8bp), 30's 2.75% (-9bp), Bunds 0.37% (-5bp), France 0.71% (-2bp), Italy 1.91% (+1bp), Turkey 11.58% (-5bp), Portugal 1.80% (+3bp), Spain 1.44% (-1bp), Gilts 1.17% (-7bp).