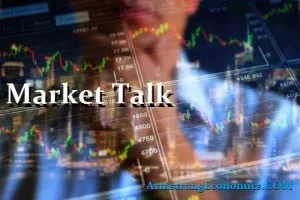 ASIA:
Chinese leaders who attended the Central Economic Work Conference from Dec. 16 to 18 were buoyant about China's relative successes, while remaining cautious on major changes to stimulus policies, CNBC reported according to state media. The annual gathering sets development priorities for the upcoming year. Analysts who followed the meeting said it provided little in the way of policy changes or new information. Chinese state media coverage of the meeting played up the country's recent successes but also warned about the changes wrought by the pandemic and uncertainties abroad. While this year's economic targets focused on the fight against poverty and pollution, the plans for 2021 – announced weeks after the authorities published the blueprint for the latest five-year plan – appear to be more strategic with a focus on boosting innovation, self-reliance in the supply chain and domestic demand.
India plans to set tough financial targets for state-run firms to try to improve their valuations ahead of a push by Prime Minister Narendra Modi to privatize some companies, according to a draft government document and sources. The government, which is trying to rein in its fiscal deficit, wants state-run firms to focus on improving market capitalization and dividend payouts from the 2021/22 fiscal year, starting April, as well as ramping up the sale of non-core assets, a business daily reported. After regaining power in 2019, Modi's government prepared a plan to raise as much as 3.25 trillion rupees ($44 billion) over 5 years by selling down its stakes in companies including Oil and Natural Gas Corp, Indian Oil Corp, NMDC Ltd, Coal India, Bharat Heavy Electricals Ltd and BEML Ltd.
The Reserve Bank of India's monetary policy committee held a meeting and is likely to maintain its accommodative monetary policy stance but a faster-than-expected recovery in growth is limiting the scope for further rate cuts. The MPC left key interest rates unchanged this month amid persistently high inflation but said it would ensure ample liquidity to stressed sectors to keep India's nascent economic recovery on track. The Indian economy contracted by a smaller-than-expected 7.5% in the September quarter while retail inflation eased to 6.93% in November but stayed well above the RBI's mandated 2%-6% target range.
The major Asian stock markets had a mixed day today:
NIKKEI 225 decreased 48.97 points or -0.18% to 26,714.42
Shanghai increased 25.67 points or 0.76% to 3,420.57
Hang Seng decreased 191.92 points or -0.72% to 26,306.68
ASX 200 decreased 5.60 points or -0.08% to 6,669.90
Kospi increased 6.47 points or 0.23% to 2,778.65
SENSEX decreased 1406.73 points or -3.00% to 45,553.96
Nifty50 decreased 432.15 points or -3.14% to 13,328.40
The major Asian currency markets had a mixed day today:
AUDUSD decreased 0.00474 or -0.62% to 0.75747
NZDUSD decreased 0.00483 or -0.68% to 0.70899
USDJPY increased 0.15 or 0.15% to 103.44
USDCNY increased 0.01814 or 0.28% to 6.53394
Precious Metals:
Gold decreased 1.16 USD/t oz. or -0.06% to 1,879.50
Silver increased 0.472 USD/t. oz or 1.83% to 26.240
Some economic news from last night:
China:
PBoC Loan Prime Rate reman the same at 3.85%
New Zealand:
Credit Card Spending (YoY) increased from -6.0% to -5.6%
Some economic news from today:
Indonesia:
Motorbike Sales (YoY) (Nov) decreased from -46.90% to -56.70%
Hong Kong:
CPI (YoY) (Nov) remain the same at -0.20%
EUROPE/EMEA:
The United Kingdom stood shut off from the rest of Europe on Monday after allies cut transport ties over fears of a new coronavirus strain, sowing chaos for families, truckers, and supermarkets just days before the Brexit cliff edge. Johnson will chair an emergency response meeting on Monday to discuss international travel, in particular the flow of freight in and out of Britain. EU officials are due to hold a meeting at 1000 GMT on coordinating their response.
Problems increased Monday in the bid to put a trade deal between the European Union and the United Kingdom on the rails before a Brexit transition period ends on New Year's Day, with the EU legislature insisting ever more it will not have time to vet and approve an agreement. British and EU negotiators were still deadlocked over fishing rights on Monday with only 10 days to go before a trade deal becomes official between the two sides. Hundreds of thousands of jobs are at stake throughout the economies of both sides if no deal is found but Britain is still insisting its sovereignty trumps concessions granting EU vessels rights in UK waters, while the EU is refusing to open its lucrative single market to the UK unless it commits to play by EU rules, a leading online news agency reported.
Germany is considering banning flights from Britain and South Africa to prevent the spread of a new, more infectious coronavirus strain circulating in the two countries, a source close to the German health ministry told AFP on Sunday.
France will start its COVID-19 vaccination program next Sunday, Health Minister Olivier Veran wrote on his Twitter feed. Europe's medicines regulator the European Medicines Agency is meeting Monday to consider approving a coronavirus vaccine developed by BioNTech and Pfizer that would be the first to be authorized for use in the European Union. If EMA scientists conclude that the vaccine is safe, officials at the Amsterdam-based agency are expected to give conditional approval for it to be used across the 27-nation bloc.
EUROPE/EMEA:
The major European stock markets had a negative day:
CAC 40 decreased 134.50 points or -2.43% to 5,393.34
FTSE 100 decreased 112.86 points or -1.73% to 6,416.32
DAX 30 decreased 384.21 points or -2.82% to 13,246.30
The major European currency markets had a mixed day today:
EURUSD decreased 0.00126 or -0.10% to 1.22441
GBPUSD decreased 0.01563 or -1.16% to 1.33709
USDCHF increased 0.00175 or 0.20% to 0.88485
Some economic news from Europe today:
UK:
CBI Distributive Trades Survey (Dec) increased from -25 to -3
Italy:
Italian Trade Balance Non-EU (Nov) decreased from 7.16B to 6.68B
Euro Zone:
Consumer Confidence (Dec) increased from -17.6 to -13.9
US/AMERICAS:
US Congress agreed to a new $900 billion coronavirus stimulus package after months of stalemate. Failure to complete a deal would have resulted in a government shutdown this Monday. Smaller than the initial $2 trillion Cares Act, the $900 billion bill will provide relief to individuals and businesses. The bill will provide an additional $284 billion in Paycheck Protection Program (PPP) loans and will direct an additional $20 billion in small business grants and $15 billion to live event venues. The federal unemployment supplement will be reactivated to the tune of $300 per week, down from the $600 allocated during the CARES Act. The plan will allocate $82 billion to reopen US schools as well.
Direct stimulus checks, a point of contention, will be directly distributed to a portion of Americans for $600 or half of what was allocated during the first round of stimulus checks. Treasury Secretary Steven Mnuchin said that the direct stimulus checks could be sent out as soon as next week. "The good news is this is a very, very fast way of getting money into the economy. Let me emphasize: People are going to see this money at the beginning of next week," Mnuchin told reporters at CNBC. He hopes that the funds will recirculate in the economy, assisting businesses, and result in more Americans returning to work.
One out of every six restaurants in the US has closed due to the coronavirus, according to the National Restaurant Association. That accounts for over 110,000 stores, mostly mom and pop styled restaurants. Now some restaurants are complaining that prior PPP loans went to large conglomerates instead of small restaurants. One such conglomerate, owned by a single family, received $1 billion in loans for the "510 Burger Kings, 290 Popeyes Fried Chicken restaurants, and others totaling 1,100 individual locations" they own. Certain chains have returned their PPP money to the government amid criticism, such as Shack Shack who gave back $10 million. Despite government aid, continued lockdowns and restrictions on restaurants will cause the industry to decline continually.
Part of the new COVID-19 stimulus package will allocate $1.9 billion to remove Huawei Technologies Co and ZTO Corp from America, after the Federal Communications Commission (FCC) branded the Chinese companies national security threats. "This overreach puts US citizens at risk in the largely underserved rural areas – during a pandemic – when reliable communication is essential," a Huawei representative stated weeks ago. Still, lawmakers are allocated $3.2 billion to provide emergency broadband services to low-income Americans and $7 billion to increase broadband access across the nation.
US Market Closings:
Dow advanced 37.4 points or 0.12% to 30,216.45
S&P 500 declined -14.49 points or -0.39% to 3,694.92
Nasdaq declined 13.12 points or -0.1% to 12,742.52
Russell 2000 advanced 0.34 of a point or 0.02% to 1,970.33
Canada Market Closings:
TSX Composite declined 33.74 points or -0.19% to 17,500.89
TSX 60 declined -2.54% or -0.24% to 1,042.4
Brazil Market Closing:
Bovespa declined 2,201.1 points or -1.86% to 115,822.57
ENERGY:
The oil markets had a negative day today:
Crude Oil decreased 1.37 USD/BBL or -2.79% to 47.7300
Brent decreased 1.46 USD/BBL or -2.79% to 50.8000
Natural gas decreased 0.005 USD/MMBtu or -0.19% to 2.6950
Gasoline decreased 0.0427 USD/GAL or -3.06% to 1.3529
Heating oil decreased 0.0411 USD/GAL or -2.72% to 1.4719
The above data was collected around 14:08 EST on Monday
Top commodity gainers: Silver (1.83%), Lumber (3.49%), Rubber (6.57%), and Cocoa (2.27%)
Top commodity losers: Gasoline (-3.06%), Crude Oil (-2.79%), Bitumen (-3.59%), and Brent (-2.79%)
The above data was collected around 14:10 EST on Monday.
BONDS:
Japan 0.02%(+1bp), US 2's 0.12%(-0.002%), US 10's 0.94%(-1bps); US 30's 2.00%(-0.02%), Bunds -0.60% (-3bp), France -0.35% (-2bp), Italy 0.55% (+1bp), Turkey 12.59% (+7bp), Greece 0.66% (+1bp), Portugal 0.05% (+1bp); Spain 0.06% (+1bp) and UK Gilts 0.21% (-4bp).
US 3-Month Bill Auction increased from 0.075% to 0.090%
US 6-Month Bill Auction increased from 0.085% to 0.090%
US 20-Year Bond Auction increased from 1.422% to 1.470%