Blog/Market Talk
Posted Dec 21, 2017 by Martin Armstrong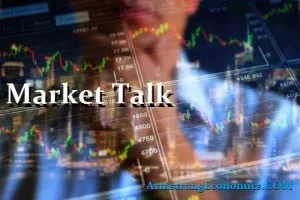 It really does feel as though Christmas is being used an excuse not to do anything! Volumes have been poor for a while but recent trading questions whether we really need to open five days a week. No-one expected the BOJ to light the fuse and that was reflected in todays price movement. Early losses were erased by the afternoon resulting in an almost unchanged session for the Nikkei. It was the KOPSI declining 1.7% that focused peoples attention. However, that shouldn't be that much of a surprise given the increasing rhetoric between South Korea and China surrounding THAAD. Worth keeping an eye on the situation as things deveope. Shanghai and Hang Seng both moved better with talk of investments returning domestically.
The UK's FTSE was the top performer for the day (+1%), but probably as GBP declined (reversed in late US trading). However, when cash markets closed sterling was lower but should not take too much away from a strong equity market. Book squaring and last minute plays have resulted in a record close for the FTSE. Financials helped for this index, but was seen as a negative in the DAX after Deutsche Bank announced 1000 job cuts as the Postbank combination plays out. Catalonia is again in the news with polls being held today but did see the IBEX close 1% higher. Results will be out after US markets close, so will be left for Asia to digest.
Another strong move in the DOW as many major components declare they will reinvest in their employees and stock buy-backs. A move into the banks and out of software, looked to be much of the move today (BITCOIN declines noted). Still much of the talk is unsure on how the returning money will be spent, but raising wages will surely be on the agenda. Rates continue to edge higher across the curve which is feeding the sell-off talk in Utilities.
2's closed 1.88% (+2bp), 10's 2.48% (-2bp), 30's 2.84% (-3bp), Bunds 0.41% (+1bp), France 0.73% (+2bp), Italy 1.89% (-3bp), Turkey 11.74% (-2bp), Portugal 1.72% (-2bp), Spain 1.45% (-1bp), Gilts 1.26% (+1bp)