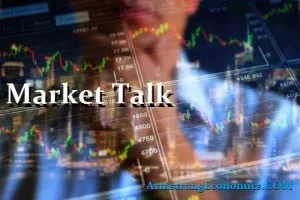 We'd like to wish all of our readers a Merry Christmas and happy holidays!
Market Talk will resume after a brief holiday break on December 30, 2019.
ASIA:
The Peoples Bank of China decided to keep its 1-year and 5-year loan prime rates unchanged at 4.15% and 4.8% respectively. Meanwhile, China has accused the EU of hypocrisy after the EU announced a resolution for sanctions on China for their treatment of the Uighur minority. The EU called for China to immediately stop their use of internment camps in the region.
India's monetary policy committee sounded cautious on inflation and preferred to wait for more data to see for how long price pressure and growth momentum would remain soft, according to minutes of its December 5 meeting published on Wednesday. The six-member committee unanimously decided to leave rates unchanged at the meeting two weeks ago, while staying optimistic on growth. While the Reserve Bank of India (RBI) under the former governor, Urjit Patel, sounded hawkish at the meeting, the panel, under the new chief, Shaktikanta Das, might be more focused on boosting growth and cutting rates after a recent sharp decline in inflation.
An Indian government official announced that the present government will not allow driverless cars in India. India has a shortage of 2.2 million drivers. India's Transport, Highway and Shipping Minister Nitin Gadkari said there was a need for growth of employment as well as industry in the country.
Kathmandu's vegetable markets are not shedding tears over the loss of onion shipments from India. The traders have quickly turned north to China to fulfill the demand for the essential cooking ingredient. The price of onions has risen steeply in the past few months after India imposed a ban on exports, triggering frantic buying and resultant shortages. India slapped a ban on onion exports in September to maintain domestic availability, causing severe shortages throughout Asia, including Nepal.
The major Asian stock markets had a mixed day today:
Shanghai decreased 12.13 points or -0.40% to 3,004.94
Kospi increased 7.62 points or 0.35% to 2,204.18
ASX 200 decreased 16.80 points or -0.25% to 6,816.30
NIKKEI 225 decreased 48.22 points or -0.20% to 23,816.63
Hang Seng increased 70.86 points or 0.25% to 27,871.35
SENSEX increased 7.62 points or 0.02% to 41,681.54
The major Asian currency markets had a mixed day today:
AUDUSD increased 0.0015 or 0.21% to 0.6903
NZDUSD decreased 0.0005 or 0.08% to 0.6605
USDJPY increased 0.0820 or 0.07% to 109.4530
USDCNY increased 0.0011 or 0.02% to 6.9995
Precious Metals:
Gold decreased 0.7 USD/t oz. or -0.05% to 1,480.54
Silver increased 0.0868 USD/t. oz or 0.51%% to 17.1811
Some economic news from last night:
Japan:
CPI, n.s.a (MoM) (Nov) decreased from 0.3% to 0.1%
National Core CPI (YoY) (Nov) increased from 0.4% to 0.5%
National CPI (YoY) (Nov) increased from 0.2% to 0.5%
China:
PBoC Loan Prime Rate remain the same at 4.15%
South Korea:
PPI (YoY) (Nov) increased from -0.7% to -0.1%
PPI (MoM) (Nov) increased from -0.2% to -0.1%
New Zealand:
Credit Card Spending (YoY) increased from 2.3% to 4.5%
Some economic news from today:
India:
Bank Loan Growth decreased from 8.0% to 7.9%
Deposit Growth increased from 9.7% to 10.3%
FX Reserves, USD increased from 453.42B to 454.49B
HongKong:
CPI (YoY) (Nov) decreased from 3.10% to 3.00%
EUROPE/EMEA:
UK members of Parliament have backed Prime Minister Boris Johnson's plan for the UK to leave the EU on 31 January. They voted 358 to 234 for the Withdrawal Agreement Bill. The second step will now be assessing the bill in Parliament. A UK exit at the end of January is becoming more of a probability.
The Polish Parliament has gone against the EU by passing a law which gives them the ability to fire judges who go against the judicial reforms set by the government. Previously, the EU warned that this could force Poland out of the EU.
Iranian President Rouhani met with Japanese President Shinzo Abe in an attempt to mend global ties after the US stepped out of the nuclear deal last year. "The nuclear deal is an extremely important agreement, and that's why I strongly condemn the United States' one-sided and irrational withdrawal," Rouhani said, further adding, "We hope that Japan and other countries in the world will make efforts toward maintaining the agreement."
Meanwhile, the US has found new evidence after analyzing weapon debris at the Saudi facility that suggests the strike likely came from the north, putting more likelihood that Iran was behind the attacks.
The major Europe stock markets had a green day today:
CAC 40 increased 49.26 points or 0.82% to 6,021.53
FTSE 100 increased 8.66 points, or 0.11% to 7,582.48
DAX 30 increased 106.94 points or 0.81% to 13,318.90
The major Europe currency markets had a mixed day today:
EURUSD decreased 0.0046 or 0.41% to 1.1079
GBPUSD decreased 0.0003 or 0.02% to 1.3013
USDCHF increased 0.0035 or 0.36% to 0.9817
Some economic news from Europe today:
UK:
GfK Consumer Confidence (Dec) increased from -14 to -11
Steel Production (Metric Ton) (Nov) decreased from 610.40K to 550.20K
Business Investment (QoQ) (Q3) increased from -0.4% to 0.0%
Business Investment (YoY) (Q3) increased from -0.6% to 0.5%
Current Account (Q3) increased from -24.2B to -15.9B
GDP (QoQ) (Q3) increased from 0.3% to 0.4%
GDP (YoY) (Q3) increased from 1.0% to 1.1%
Public Sector Net Borrowing (Nov) decreased from 8.26B to 4.88B
Public Sector Net Cash Requirement (Nov) increased from 0.354B to 9.862B
Euro Zone:
Consumer Confidence (Dec) decreased from -7.2 to -8.1
Current Account (Oct) increased from 28.2B to 32.4B
Current Account n.s.a. (Oct) increased from 35.8B to 41.0B
Germany:
GfK German Consumer Climate (Jan) decreased from 9.7 to 9.6
France:
French Consumer Spending (MoM) (Nov) decreased from 0.2% to 0.1%
French PPI (MoM) (Nov) increased from -0.1% to 1.1%
Italy:
Italian Business Confidence (Dec) increased from 99.0 to 99.1
Italian Consumer Confidence (Dec) increased from 108.6 to 110.8
Italian Trade Balance Non-EU (Nov) decreased from 5.97B to 4.16B
Italian PPI (YoY) (Nov) increased from -2.9% to -2.5%
Italian PPI (MoM) (Nov) decreased from 0.0% to -0.2%
Norway:
Unemployment Change (Dec) increased from 76.67K to 76.68K
Unemployment Rate n.s.a. (Dec) increased from 2.10% to 2.20%
Spain:
Spanish Trade Balance increased from -4.26B to -2.58B
US/AMERICAS:
Wall Street closed this historic week in the green after the Dow, S&P 500, and Nasdaq all reached record highs yet again. The Dow is up 2.1% for the week, advancing 0.28% in Friday's session and closing at 28,455.09. Verizon's 1.88% boost led the Dow's daily advancement followed by a few China trade-sensitive stocks: Merck (1.73%), 3M (1.63%), and Caterpillar (1.57%). The S&P 500 advanced more than 1.5% during its fourth consecutive week of expansion. Today's performance in the S&P 500 was led by Carnival's 7.55% advancement, followed by Mosaic (5.39%), and Newell Brands (4.8%). The Nasdaq rose 1.2% this week with Western Digital (3.98%), Workda (3.46%), and AMD (3.08%) performing best this Friday.
President Trump announced that he had "a very good talk" with Chinese President Xi today regarding phase one of the trade deal. China has begun to purchase large sums of US agricultural products, which was a key factor for the US in passing the first phase of the deal. Treasury Secretary Steven Mnuchin also voiced optimism about the trade deal officially passing in the near-term. "It's just going through what I would consider to be a technical, legal scrub, and we'll be releasing the document and signing it in the beginning of January," Mnuchin told reporters at CNBC.
US consumer index sentiment rose in December to 99.3, outpacing a Reuters estimate of 99.2, according to the University of Michigan's Surveys of Consumers. Consumer sentiment stood at 96.8 in November. The monthly figure is derived from a national survey that polls 500 households. Upper-income households primarily contributed to December's growth. Furthermore, consumers polled see inflation declining to an annualized rate of 2.2% which is the slowest growth forecast on record.
Consumer spending rose last month by 0.4%, aided by the start of the holiday shopping season. The figures presented offset November's weak retail sales report that some blame on the later than usual Thanksgiving holiday that pushed Cyber Monday into December. The PCE inflation gauge advanced 0.2% last month, raising the level of inflation to 1.5% which is still beneath the Fed's 2% target.
US Market Closings:
Dow advanced 78.13 points or 0.28% to 28,455.09
S&P 500 advanced 15.85 points or 0.49% to 3,221.22
Nasdaq advanced 37.74 points or 0.42% to 8,924.96
Russell 2000 advanced 4.81 points or 0.29% to 1,671.90
Canadian Market Closings:
TSX Composite advanced 54.40 points or 0.32% to 17,118.44
TSX 60 advanced 3.74 points or 0.37% to 1,021.01
Brazil Market Closing:
Bovespa declined 10.17 points or -0.01% to 115,121.08
ENERGY:
Aramco's IPO dipped for the third day in a row, moving down 6% from the stock peak since initiated on the Saudi exchange. Despite the move down it is still over 10% greater than the offer price.
The oil markets had a mixed day today:
Crude Oil decreased 1.07 USD/BBL or -1.75% to 60.2683
Brent decreased 1.4484 USD/BBL or -2.18% to 65.2299
Natural gas increased 0.03 USD/MMBtu or 1.13% to 2.3170
Gasoline decreased 0.01USD/GAL or -0.30% to 1.7011
Heating oil decreased 0.0192 USD/GAL or -0.95% to 2.0142
Top commodity gainers: Ethanol(12.15%),Coffee(2.83%),Soybeans(1.54%), and Natural Gas(1.13%)
Top commodity losers: Palladium(-4.79%), Oat(-2.21%), Brent (-2.18%), and Platinum(-1.97%)
The above data was collected around 15.41  EST on Friday.
BONDS:
Japan 0.02%(+3bp), US 2's 1.63% (+1bps), US 10's 1.92%(+1bps); US 30's 2.34%(-0bps), Bunds -0.25% (-1bp), France 0.06% (-1bp), Italy 1.44% (+4bp), Turkey 12.20% (-19bp), Greece 1.47% (-37bp), Portugal 0.41% (-0bp), Spain 0.47% (-0bp) and UK Gilts 0.77% (-3bp).