Blog/Market Talk
Posted Dec 20, 2017 by Martin Armstrong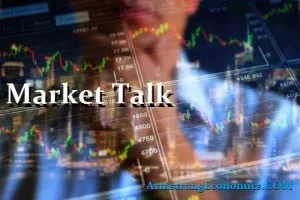 Its that time of year again, when volumes are less than comfortable and many just working half-days. We saw a mixed Asian response to the US tax reforms, but to be fair we have seen plenty of upside already. Most core indices edged lower even with currency also losing ground. The Nikkei did managed a small positive return, but considering the Yen is trading near +0.6% weaker, there is probably a little room for the Nikkei cash tomorrow. The one key mover today has been in the currency markets and namely, the US Dollar. In late US trading we are starting to see the DXY edge better, reclaiming much of the recent declines.
Although the Euro was the stronger of the core basket, the same could not be said of the exchanges. The DAX (-1.1%) suffered as declines in exporters, technology and financials all traded today as the currency performed initially. The CAC held in a little (-0.5%), but again volumes were so low you could probably see a large decline on a small market sell order. GBP traded heavy late in the day as talks of slower growth and resignations hit the screens. The UK's growth target was reduced from 1.7% to 1.6% which weighed on both currency and stocks. The BITCOIN euphoria lost a little hype today with a 10% decline into the close of US trading. Catalonia goes to the polls again Thursday but not really with much anticipation it is rumoured.
After a positive opening the US markets dipped into the close, but even here volumes were extremely light. The Tax Reforms almost seem like old news now, with much apparently priced-in. As we continue to state this is good news for the US and its infrastructure and this appears not yet to have dawned on many. 2018 could very well be the year of the US markets helped primarily by capital flow. Look for this to be a key theme as we enter the New Year.
2's closed 1.86% (+1bp), 10's close 2.50% (+4bp), 30's 2.87% (+6bp), Bunds 0.4% (+3bp), Italy 1.92% (+2bp), Greece 4% (-1bp), Turkey 11.76% (-6bp), Portugal 1.74% (-4bp), Spain 1.46% (-1bp), Gilts 1.25% (+5bp).