Blog/Market Talk
Posted Dec 19, 2019 by Martin Armstrong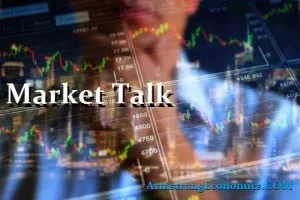 ASIA:
A report from China suggests that capital flows are fleeing from the region at a record pace. The State Administration of Foreign Exchange commented that the situation is critical in order to maintain market stability.
The Chinese ambassador to Australia has said that Australia must abandon criticism of China. The ambassador wishes to improve bilateral relations and urged Australia to and understand the opportunities of its largest trading partner.
India's Union Finance Minister Nirmala Sitharaman held her fourth pre-budget consultations with agro-processing sectors ahead of the forthcoming general budget for 2020-21 this week. The minister and the stakeholders discussed agricultural marketing reforms, organic and natural farming, agricultural commodity markets, futures trading, storage infrastructure for agricultural produce, animal husbandry, agro-processing industry, and ideas for reducing food subsidy. The stakeholders of the agro-processing and rural development sectors submitted significant suggestions to attract heftier investments in the agricultural sector and make markets more accessible to farmers.
Cyrus Mistry, who has been embroiled in a legal battle with Tata Group since being ousted in 2016, won backing from a tribunal to be reinstated as executive chairman of its holding company, lawyers said on Wednesday. The ruling is a setback for the Tata group, one of India's largest and oldest conglomerates with interests stretching from technology and steel to automobiles. Tata Sons said the company would take appropriate legal recourse.
The major Asian stock markets had a mixed day today:
Shanghai increased 0.02 points or 0.00% to 3,017.07
Kospi increased 1.80 points or 0.08% to 2,196.56
ASX 200 decreased 18.30 points or -0.27% to 6,833.10
NIKKEI 225 decreased 69.58 points or -0.29% to 23,864.85
Hang Seng decreased 83.72 points or -0.30% to 27,800.49
SENSEX increased 115.35 points or 0.28% to 41,673.92
The major Asian currency markets had a mixed day today:
AUDUSD increased 0.0022 or 0.31% to 0.6876
NZDUSD increased 0.0003 or 0.05% to 0.6586
USDJPY decreased 0.0350 or 0.03% to 109.5240
USDCNY increased 0.0024 or 0.03% to 7.0041
Precious Metals:
Gold increased 4.35 USD/t oz. or 0.29% to 1,479.05
Silver increased 0.07 USD/t. oz or 0.38%% to 17.1444
Some economic news from last night:
Australia:
Employment Change (Nov) increased from -19.0K to 39.9K
Full Employment Change (Nov) increased from -10.3K to 4.2K
Participation Rate (Nov) remain the same at 66.0%
Unemployment Rate (Nov) decreased from 5.3% to 5.2%
New Zealand:
Exports (Nov) increased from 5.01B to 5.23B
GDP (QoQ) (Q3) increased from 0.1% to 0.7%
GDP (YoY) (Q3) increased from 2.1% to 2.3%
GDP Annual Average (Q3) decreased from 2.8% to 2.7%
GDP Expenditure (QoQ) (Q3) increased from 0.5% to 0.6%
Imports (Nov) decreased from 6.05B to 5.98B
Trade Balance (MoM) (Nov) increased from -1,039M to -753M
Trade Balance (YoY) (Nov) increased from -5,070M to -4,820M
Japan:
Foreign Bonds Buying increased from 235.7B to 511.9B
Foreign Investments in Japanese Stocks increased from -200.3B to -52.1B
BoJ Interest Rate Decision remain the same at -0.10%
Some economic news from today:
Indonesia:
Interest Rate Decision remain the same at 5.00%
Deposit Facility Rate (Dec) remain the same at 4.25%
Lending Facility Rate (Dec) remain the same at 5.75%
EUROPE/EMEA:

Talks of Scottish independence are resurfacing after the conservatives won the election. There are also reports that Scotland wishes to remain in the EU and could leave the UK. A second referendum could occur in 2020 according to Scottish First Minister Nicola Sturgeon.
Russian President Putin took part in a four-hour conference where he addressed the state. He commented on relations with Belarus and how they are becoming closer, but stayed away from suggesting to become part of a union. He also touched upon climate change and how it could be a disaster for the northern territories. He was also unsure about current relations with Ukraine, stating that there is no direct dialogue between the two. In the meantime, Russia has planned to appeal against the four-year doping ban. "It's unjust, doesn't correspond to common sense and the law," President Vladimir Putin said.
The EU's court has ruled that the Spanish imprisonment of Catalan separatist Oriol Junqueras was unruly as he was covered by MEP immunity at the time.
Iranian President Hassan Rouhani said that the country is testing new centrifuges that will enable them to enrich uranium at a far greater level. This move is said to breach the 2015 nuclear agreement. Meanwhile, US Secretary of State Mike Pompeo has imposed more sanctions on Iran due to their handling of the protests.
The major Europe stock markets had a mixed day today:
CAC 40 increased 12.68 points or 0.21% to 5,972.28
FTSE 100 increased 33.07 points, or 0.44% to 7,573.82
DAX 30 decreased 10.20 points or -0.08% to 13,211.96
The major Europe currency markets had a mixed day today:
EURUSD increased 0.0007 or 0.06% to 1.1124
GBPUSD decreased 0.0072 or 0.55% to 1.3011
USDCHF decreased 0.0021 or 0.22% to 0.9780
Some economic news from Europe today:
Swiss:
Trade Balance (Nov) increased from 3.536B to 3.915B
France:
French Business Survey (Dec) remain the same at 102
Norway:
Interest Rate Decision remain the same at 1.50%
UK:
Core Retail Sales (YoY) (Nov) decreased from 2.7% to 0.8%
Core Retail Sales (MoM) (Nov) decreased from -0.1% to -0.6%
Retail Sales (YoY) (Nov) decreased from 3.1% to 1.0%
Retail Sales (MoM) (Nov) decreased from -0.1% to -0.6%
CBI Distributive Trades Survey (Dec) increased from -3 to 0
BoE MPC vote cut (Dec) remain the same at 2
BoE MPC vote hike (Dec) remain the same at 0
BoE MPC vote unchanged (Dec) remain the same at 7
BoE QE Total (Dec) remain the same at 435B
BoE Interest Rate Decision (Dec) remain the same at 0.75%
US/AMERICAS:
The Dow, S&P 500, and Nasdaq all rose to new highs this Thursday. The S&P 500 surpassed the 3,200 mark midday for the very first time. The Dow closed at 28,376.96 this Thursday after advancing by 0.49%; Cisco (2.55%), 3M (1.85%), and Johnson & Johnson (1.22%) were the best performers among the 30 stock index today. ConAgra Foods' impressive 16.42% increase spurred the rally in the S&P 500, followed by Netflix (3.44%), and Ecolab (3.18%). Netflix also helped the Nasdaq advance to new highs, as did Liberty Global (2.76%), and Micron Technology (2.75%).
President Trump has become the third president in US history to be impeached. Yesterday, the House agreed on two articles of impeachment: 1) obstruction of Congress, and 2) abuse of power. The vote will now be passed to the Senate where the president's ultimate fate will be decided. House Speaker Pelosi plans to hold off on sending the articles to the Senate in order to further build a case against President Trump. Senate Minority Leader Chuck Schumer said Speaker Pelosi "exactly characterizes my view" and plans to push the impeachment agenda. Senate Majority Leader Mitch McConnell will meet with Schumer to discuss the outline of the Senate trial that will likely take place in January.
The US Department of Justice may accept a settlement deal from Goldman Sachs as a penalty for their involvement in the 1MDB scandal. Goldman Sachs allegedly misused funds from the $6.5 billion 1MDB investment fund that was intended to encourage economic growth in Malaysia. Goldman Sachs initially tried to use two employees as scapegoats, but now it seems they are offsetting the responsibility to a smaller Asian subsidiary branch. Bloomberg reported that the US government may accept a penalty fee of $2 billion, which is relatively small compared to most analysts' estimates of around $5 billion.
Ontario is experiencing a shortage of skilled laborers, according to Economic Development Minister Vic Fedeli. Fedeli is now asking Federal Immigration Minister Marco Mendicino to nearly double the amount of economic immigrants relocated to Ontario. This year, Ontario accepted 7,000 economic immigrants but Fedeli would like to see that number reach 13,300 in two years. The Canadian government plans to increase the overall number of immigrants accepted into the nominee program by 27,000 and will give the provinces the ability to select which immigrants meet their labor needs.
US Market Closings:
Dow advanced by 137.68 points or 0.49% to 28,376.96
S&P 500 advanced by 14.23 points or 0.45% to 3,205.37
Nasdaq advanced by 59.48 points or 0.67% to 8,887.22
Russell 2000 advanced by 5.36 points or 0.32% to 1,667.09
Canada Market Closings:
TSX Composite advanced by 32.06 points or 0.19% to 17,064.04
TSX 60 advanced 1.69 points or 0.17% to 1,017.27
Brazil Market Closing:
Bovespa advanced 816.60 points or 0.71% to 115,131.25
ENERGY:
Beijing stated today that it had removed six chemicals and oil derivatives from its list of tariffed US imports.
The oil markets had a mixed day today:
Crude Oil increased 0.32 USD/BBL or 0.52% to 61.1685
Brent increased 0.3483 USD/BBL or 0.53% to 66.4964
Natural gas decreased 0.003 USD/MMBtu or -0.13% to 2.2854
Gasoline increased 0.0152USD/GAL or 0.90% to 1.7069
Heating oil increased 0.006 USD/GAL or 0.30% to 2.0309
Top commodity gainers: Ethanol(9.70%),Lumber(2.24%),Orange Juice(2.10%), and Cotton(1.45%)
Top commodity losers: Baltic Dry(-5.73%), Coffee(-3.42%), Rubber (-0.97%), and Cocoa(-2.83%)
The above data was collected around 15.11  EST on Thursday.
BONDS:
Japan -0.01%(-1bp), US 2's 1.65% (+2bps), US 10's 1.91%(-2bps); US 30's 2.38%(+3bps), Bunds -0.24% (+2bp), France 0.07% (+2bp), Italy 1.40% (+6bp), Turkey 12.39% (+7bp), Greece 1.43% (+9bp), Portugal 0.42% (+3bp), Spain 0.45% (+2bp) and UK Gilts 0.81% (+3bp).
US 4-Week Bill Auction decreased from 1.540% to 1.510%
US 5-Year TIPS Auction decreased from 0.054% to 0.020%
US 8-Week Bill Auction increased from 1.540% to 1.560%