Blog/Market Talk
Posted Dec 19, 2017 by Martin Armstrong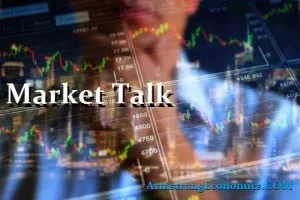 The Nikkei found it tough to follow other core Asian markets and closed with a small loss. Volumes were again light and even a declining currency didn't help sentiment. The index had opened on a positive note, but the continued scandal surrounding some construction companies resulted in a lack of follow-through. Closing on its low for the day, even with the Yen flirting with the 113 handle. Insurance and Financials were the reason the Hang Seng and Shanghai did well today, adding to yearly gains. The HSI is up over 30% this year which is an impressive performance considering volumes have been so light. Even todays volume was only around 75% of the yearly average. Even so, the core indices including the SENSEX, all closed around +0.8% higher on the day.
Europe was a different case with most core indices closing on their days lows. The FTSE was the only core not to follow but that was probably the result of a weaker GBP. The DAX and CAC both closed -0.75% and a few were speculating that money is leaving Europe as interestingly, the bond markets also lost ground (prices down, yields up), after new of US tax reforms. Maybe, the penny has dropped that this is although good news for the USA it is not good news for Europe! The DAX has rallied around 15% this year so will be interesting to see how it fares once the ECB steps away.
Although the core US markets never managed a positive print after the initial 30 minutes trading, they did manage to remain steady and not fade as European indices did. By the end of the day, core had fallen on average around -0.35%. Volumes, as you expect for this time of year, remain light as we approach festivities and Year end. Nerves and large orders will push the markets around this time of year, so probably best not get too excited about any of these moves. Yes, we have seen a great rally this year and there is lots more in store for 2018. Currencies could be the board to watch next year but, lets see where year end numbers are so that we do not have to guess.
2's closed 1.85% (+2bp), 10's 2.46% (+7bp), 30's 2.81% (+7bp), Bunds 0.37% (+7bp), France 0.7% (+8bp), Italy 1.90% (+11bp), Greece 4.01% (+14bp), Turkey 11.82% (-1bp), Portugal 1.78% (+4bp), Spain 1.47% (+5bp) and Gilts 1.20% (+5bp).