Blog/Market Talk
Posted Dec 18, 2019 by Martin Armstrong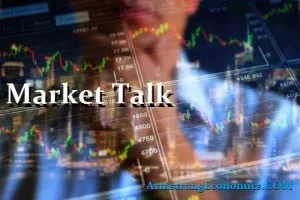 ASIA:
A special envoy from the US is visiting China at the end of the week to discuss the possibility of curbing Russia's and China's attempts to lift some UN sanctions on North Korea. The US claims that North Korea is not backing down with creating nuclear options.
The Indian government is planning to trim personal income tax rates and cut the tax on long-term capital gains from equity investments in its next budget in a bid to spur economic growth. Government officials are also debating whether to offer more help to troubled financial services and whether to increase import duties to boost private investments and domestic manufacturing.
A Pakistani special court sentenced former military dictator and President Pervez Musharraf to death in absentia, ending a six-year-long high treason case against him and delivering a historic verdict against the country's powerful army. The verdict — a two-to-one majority — drew a strong reaction from the military. Musharraf, who served for over 40 years and fought wars in the defense of the country "can surely never be a traitor," according to a statement released Tuesday evening by military spokesman General Asif Ghafoor.
Japan has urged Russia to release five captured boats with fishermen onboard immediately and called the actions "unacceptable." The boats were taken by Russia border control off one of the disputed Russian-held islands off Hokkaido.
The major Asian stock markets had a mixed day today:
Shanghai decreased 5.38 points or -0.18% to 3,017.04
Kospi decreased 0.92 points or -0.04% to 2,194.76
ASX 200 increased 4.10 points or 0.06% to 6,851.40
NIKKEI 225 decreased 131.69 points or -0.55% to 23,934.43
Hang Seng increased 40.50 points or 0.15% to 27,884.21
SENSEX increased 206.40 points or 0.50% to 41,558.57
The major Asian currency markets had a green day today:
AUDUSD increased 0.0001 or 0.01% to 0.6853
NZDUSD increased 0.0007 or 0.11% to 0.6577
USDJPY increased 0.0560 or 0.05% to 109.5670
USDCNY increased 0.0059 or 0.08% to 7.0026
Precious Metals:
Gold increased 0.2 USD/t oz. or 0.01% to 1,478.66
Silver increased 0.008 USD/t. oz or 0.05%% to 17.0452
Some economic news from last night:
Australia:
MI Leading Index (MoM) increased from -0.2% to -0.1%
New Zealand:
Current Account (YoY) (Q3) decreased from -10.23B to -10.28B
Current Account (QoQ) (Q3) decreased from -1.11B to -6.35B
Current Account % of GDP (Q3) increased from -3.40% to -3.30%
Japan:
Exports (YoY) (Nov) increased from -9.2% to -7.9%
Imports (YoY) (Nov) decreased from -14.8% to -15.7%
Trade Balance (Nov) decreased from 15.7B to -82.1B
Some economic news from today:
India:
M3 Money Supply increased from 9.8% to 10.7%
EUROPE/EMEA:
Newly appointed European Commission President Ursula von der Leyen has criticized the UK's decision to block any extension option for the Brexit transitional period. Brexit is due to occur on January 31st with 11 months of transition period available for both sides to work out the finer details. EC President Ursula von der Leyen said perhaps the 11 months was not enough time to work out the complex matters. "In case we cannot conclude an agreement by the end of 2020 we will face again a cliff-edge situation and this would clearly harm our interests but it will impact the UK more than us as the EU will continue benefiting from its single market its customs union and the 70 international agreements we signed with our partners – but it's clearly not in our interest." she said.
The new Brexit bill allows more British judges to move away from previous rulings of EU courts. This will allow the UK to be more autonomous. "We will take back control of our laws and disentangle ourselves from the EU's legal order just as was promised to the British people," the UK PM said.
The French strikes have entered into the third week as protests are demanding the pension reforms are scrapped. The French PM will meet with workers' unions today in order to come up with a compromise.
According to an Israeli defense expert, Israel needs 360 degrees of defense in order to avoid potential Iranian attacks. Meanwhile, the US has indited Indonesia for breaking the Iranian sanctions. Three companies and an individual have been charged with breaking sanctions after they were found exporting US-origin goods to Tehran.
The major Europe stock markets had a mixed day today:
CAC 40 decreased 8.66 points or -0.15% to 5,959.60
FTSE 100 increased 15.47 points, or 0.21% to 7,540.75
DAX 30 decreased 65.67 points or -0.49% to 13,222.16
The major Europe currency markets had a mixed day today:
EURUSD decreased 0.0034 or -0.31% to 1.1118
GBPUSD decreased 0.00441 or -0.34% to 1.30849
USDCHF increased 0.0002 or 0.02% to 0.9801
Some economic news from Europe today:
Germany:
German PPI (YoY) (Nov) decreased from -0.6% to -0.7%
German PPI (MoM) (Nov) increased from -0.2% to 0.0%
German Business Expectations (Dec) increased from 92.3 to 93.8
German Current Assessment (Dec) increased from 98.0 to 98.8
German Ifo Business Climate Index (Dec) increased from 95.1 to 96.3
UK:
Core CPI MoM (MoM) (Nov) increased from 0.1% to 0.2%
Core CPI (YoY) (Nov) remain the same at 1.7%
Core PPI Output (MoM) (Nov) remain the same at -0.1%
Core PPI Output (YoY) (Nov) decreased from 1.3% to 1.1%
Core RPI (MoM) (Nov) decreased from -0.2% to 0.2%
Core RPI (YoY) (Nov) increased from 2.1% to 2.3%
CPI (YoY) (Nov) remain the same at 1.5%
CPI (MoM) (Nov) increased from -0.2% to 0.2%
CPI, n.s.a (Nov) increased from 108.30 to 108.55
PPI Input (YoY) (Nov) increased from -5.0% to -2.7%
PPI Input (MoM) (Nov) increased from -1.1% to -0.3%
PPI Output (MoM) (Nov) decreased from -0.1% to -0.2%
PPI Output (YoY) (Nov) decreased from 0.8% to 0.5%
RPI (YoY) (Nov) increased from 2.1% to 2.2%
RPI (MoM) (Nov) increased from -0.2% to 0.2%
Euro Zone:
Construction Output (MoM) (Oct) decreased from 1.11% to -1.01%
Core CPI (MoM) (Nov) remain the same at -0.5%
Core CPI (YoY) (Nov) increased from 1.1% to 1.3%
CPI (YoY) (Nov) increased from 0.7% to 1.0%
CPI (MoM) (Nov) decreased from 0.1% to -0.3%
CPI ex Tobacco (YoY) (Nov) increased from 0.6% to 0.9%
CPI ex Tobacco (MoM) (Nov) decreased from 0.1% to -0.4%
HICP ex Energy & Food (YoY) (Nov) decreased from 1.5% to 1.4%
HICP ex Energy and Food (MoM) (Nov) decreased from 0.1% to -0.4%
US/AMERICAS:
The Nasdaq and S&P 500 peaked to all-time intraday highs, with the latter losing its five-day earnings streak after closing down -0.04%. FedEx declined -10.07% this Wednesday after a weak earnings report, aiding the slight decline in the S&P 500. Wynn Resorts rose 3.9%, leading the way for the Nasdaq, followed by Tesla (3.74%), Liberty Globa (2.53%), and Skyworks Solutions (2.45%).
FedEx CFO Alan Graf called the company's earnings report "horrific" after earnings from September-November fell 40% year-on-year. FedEx's Ground operations decreased to $342 million from $590 million year-on-year, accounting for a large portion of overall lost revenue. Amazon recently announced that they will no longer allow FedEx to ship Prime two-day deliveries, citing an unreliable performance. Graf claims FedEx "will start lapping Amazon" in the years to come but did not mention specifics.
The House is currently deliberating on the fate of US President Donald Trump. House Republicans collectively disapprove of the two impeachable articles under question, but are overshadowed by the Democrats who have the majority. If the House does vote to impeach President Trump, the vote will go to the Senate. Senate leader Mitch McConnell confirmed that the Republican-led Senate will vote against impeachment if the issue reaches the Senate floor. "The House made a partisan political decision to impeach. I would anticipate we will have a largely partisan outcome in the Senate. I'm not impartial about this at all," McConnel stated.
The US government filed a lawsuit against CVS and its Omnicare unit for fraudulently charging Medicare and Medicaid. The Department of Justice accused CVS of violating the False Claims Act by illegally dispensing prescription drugs to patients who did not have a valid prescription. Omnicare allegedly forged prescription numbers or assigned to refill scripts without a doctor's approval.
Canada currently has the lowest debt to GDP ratio among the G7 nations, despite the government's revised forecast for added debt in the upcoming years. The government's forecast for the federal deficit for 2019-2020 now sits at $26.6 billion, revised from the original forecast of $19.8 billion. The 2020-2021 forecast set by the Canadian government puts the deficit around $28.1 billion. Finance Canada foresees the nation having the second-highest growth in 2020 among the G7 nations behind the US.
US Market Closings:
DIJA declined 27.88 points or -0.10% to 28,239.28
S&P 500 declined 1.38 points or -0.04% to 3,191.14
Nasdaq advanced 4.38 points or 0.05% to 8,827.74
Russell 2000 advanced 4.17 points or 0.25% to 1,661.73
Canada Market Closings:
TSX Composite declined 43.22 points or -0.25% to 17,031.98
TSX 60 declined 3.20 points or -0.31% to 1,015.58
Brazil Market Closing:
Bovespa advanced 1,698.99 points or 1.51% to 114,314.65
ENERGY:
The EIA pushed markets up slightly after there was an inventory draw for the week of December 13. The draw came in at 1.1 million barrels compared to a build of 800k.
India aims to invest in producing oil and gas fields abroad to compensate for falling domestic output and to help reduce the impact of oil price volatility, the oil minister said on Tuesday, adding that the eastern part of Russia was an area "we are concentrating on." India, the world's third biggest oil consumer, imports about 80% of its oil needs, making it highly susceptible to crude price swings. Indian firms have invested in foreign oil and gas assets, but many of these assets are still under exploration or not hitting production goals.
The oil markets had a mixed day today:
Crude Oil increased 0.256 USD/BBL or 0.42% to 60.8148
Brent increased 0.2893 USD/BBL or 0.44% to 66.2516
Natural gas decreased 0.0296 USD/MMBtu or -1.28% to 2.2886
Gasoline increased 0.0145USD/GAL or 0.87% to 1.6855
Heating oil decreased 0.0048 USD/GAL or -0.24% to 2.0206
Top commodity gainers: Ethanol(1.87%),Sugar(1.13%),Gasoline(0.87%), and Cotton(0.50%)
Top commodity losers: Oat(-1.87%), Coffee(-1.82%), Palladium (-1.58%), and Cocoa(-1.46%)
The above data was collected around 15:45 EST on Wednesday.
BONDS:
Japan -0.02%(-1bp), US 2's 1.63% (+0bps), US 10's 1.92%(+3bps); US 30's 2.35%(+4bps), Bunds -0.25% (+4bp), France 0.06% (+6bp), Italy 1.37% (+9bp), Turkey 12.32% (+12bp), Greece 1.33% (-8bp), Portugal 0.40% (+4bp), Spain 0.43% (+3bp) and UK Gilts 0.78% (+2bp).