Blog/Market Talk
Posted Dec 18, 2017 by Martin Armstrong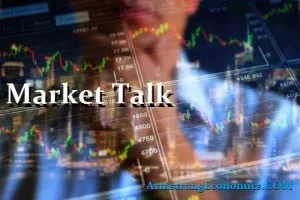 A solid session across the board and all time zones, for the final week ahead of Christmas. The results heard on Friday that the US corporate tax could be reduced to 21% from high 30's gave a huge boost to confidence and incentive. Although the US Dollar suffered the DOW futures followed Fridays DOW cash adding an additional triple digit gains. The Nikkei rallied even as the Yen saw support, but then all core Asian indices returned a good day. The Nikkei closed up over 1.5% with Tech, Energy and Electrical Manufacturing leading much of the gains. In Shanghai we saw just a small improvement but the Hang Seng did rally 1% as Financials and Engineering helped where the Housing numbers didn't.
Much of todays talk centred again on the US tax reforms and is seen as negative for the US Dollar. Talking to many FX desks the feeling is this move refocuses attention domestically and many question even if it will work! They fail to see any optimism that small businesses create jobs and are relying more on the multinationals. The competitiveness with which the US could create for itself will offer much to investors worldwide. One of the reasons the stock markets are rallying is capital flow and the refreshing new view offering business opportunities. The DAX, CAC and FTSE MiB were all around 1.5% higher on the day. The UK's FTSE lagged a little (+0.6%) but then the currency did add an additional +0.4% for foreign investors. One hot talking point in Europe surrounds the ECB being sued by Janis Varoufakis (the former Greek Finance Minister) and a German Parliamentarian for the disclosure of a legal opinion directed in 2015. The result of which restricted funding to Greek banks but may have over steeped its mark restricting liquidity. We shall cover this in more detail in the coming days.
From the opening bell, all core markets were bid with a general rally across the sectors. The NASDAQ broke the 7k mark, even with no fresh news on the Tax Reform expected until tomorrow. The euphoria looks to be gaining strength into year end even with valuations at stretched levels. It finally appears people are looking at capital flow rather than technical's (RSI's), valuations and domestic data.
2's closed 1.83% (-1bp), 10's 2.39% (+3bp), 30's 2.74% (+5bp), Bunds 0.3% (u/c), France 0.62% (u/c), Italy 1.79% (-1bp), Greece 3.87% (-2bp), Turkey 11.83% (-26bp), Portugal 1.74% (-2bp), Spain 1.42% (-3bp) and Gilts 1.15% (u/c.