Blog/Market Talk
Posted Dec 16, 2019 by Martin Armstrong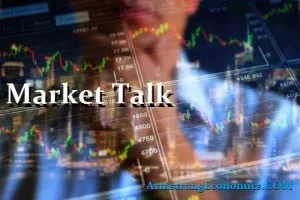 ASIA:
Senior advisers to Washington have hailed the recent "phase one" deal between the US and China as "remarkable" for the US. The deal is expected to double American exports to China by 2021. The agreement touched upon IP rights, currency issues, financial services as well as an agreement from China to purchase more agricultural products next year. Still, they warned that there is a lot more to cover in phase two of the deal. As the US has halted the tariffs which were to be in effect last weekend, China also suspended tariffs on cars and agricultural products from the US. Still, tariffs remain, as there is a 25% levy on 250 billion USD worth of Chinese goods.
The Reserve Bank of India is suspected to be buying dollars in the market via state-run banks to prevent appreciation in the rupee above the 70.50 per dollar level, four traders said on Friday. By 0425 GMT, the partially convertible rupee was at 70.61 per dollar. Earlier in the session, the rupee touched 70.51, its strongest level since Sept. 30. The currency closed at 70.83 on Thursday.
Data released by India's Commerce and Industry Ministry showed a further spike in inflation for primary food articles to a 71-month high at 11.1%. This drove up India's wholesale inflation to 0.58% in November, arresting the downward trend in the previous two months. Wholesale price inflation was 0.16% in October. Inflation in onions rose a whopping 172.3% last month while that in vegetables was up 45.32%. Inflation in manufactured products remained unchanged at -0.84 % during the month under review while that in fuel and power was -7.32%. The primary food inflation is likely to track a volatile trend that will remain elevated in December before correcting rapidly in the next quarter as vegetable prices normalize.
In a major boost to India's efforts in tackling terror activities from across the border, the Nepalese National Paramilitary Force has assured cooperation in checking doubtful "third country" operatives on its soil. The landmark" decision was inked during the fourth India-Nepal coordination meeting held between Indian border guarding force SSB and its Nepalese counterpart APF at Pokhara during November 20-22.
The major Asian stock markets had a mixed day today:
Shanghai increased 16.72 points or 0.56% to 2,984.39
Kospi decreased 2.10 points or -0.10% to 2,168.15
ASX 200 increased 110.00 points or 1.63% to 6,849.70
NIKKEI 225 decreased 70.75 points or -0.29% to 23,952.35
Hang Seng decreased 179.67 points or -0.65% to 27,508.09
SENSEX decreased 70.99 points or -0.17% to 40,938.72
The major Asian currency markets had a mixed day today:
AUDUSD increased 0.0018 or 0.25% to 0.6890
NZDUSD increased 0.0010 or 0.14% to 0.6600
USDJPY increased 0.2830 or 0.26% to 109.6230
USDCNY decreased 0.0091 or 0.13% to 6.9915
Precious Metals:
Gold decreased 1.15 USD/t oz. or -0.08% to 1,472.65
Silver increased 0.0946 USD/t. oz or 0.56%% to 17.0163
Some economic news from last night:
China:
House Prices (YoY) (Nov) decreased from 7.8% to 7.1%
Fixed Asset Investment (YoY) (Nov) remain the same at 5.2%
Industrial Production (YoY) (Nov) increased from 4.7% to 6.2%
Chinese Industrial Production YTD (YoY) (Nov) remain the same at 5.6%
Retail Sales (YoY) (Nov) increased from 7.2% to 8.0%
Chinese Retail Sales YTD (YoY) (Nov) remain the same at 8.05%
Chinese Unemployment Rate remain the same at 5.1%
Japan:
Tertiary Industry Activity Index (MoM) decreased from 2.3% to -4.6%
Manufacturing PMI (Dec) decreased from 48.9 to 48.8
Services PMI increased from 50.3 to 50.6
Indonesia:
Export Growth (YoY) (Nov) increased from -6.13% to -5.67%
Import Growth (YoY) (Nov) increased from -16.39% to -9.24%
Trade Balance (Nov) decreased from 0.16B to -1.33B
Australia:
Manufacturing PMI  decreased from 49.9 to 49.4
Services PMI  decreased from 49.7 to 49.5
Some economic news from today:
New Zealand:
Westpac Consumer Sentiment (Q4) increased from 103.1 to 109.9
India:
WPI Food (YoY) (Nov) increased from 9.80% to 11.08%
WPI Fuel (YoY) (Nov) increased from -8.27% to -7.32%
WPI Inflation (YoY) (Nov) increased from 0.16% to 0.58%
WPI Manufacturing Inflation (YoY) (Nov) remain the same at -0.84%
EUROPE:
With Canadian born Mark Carney's tenure reaching an end as head of the BOE in February 2020, an Egyptian born economist, Dame Minouche Shafik, is expected to be the top woman for the job. This will be the first time in the bank's history that a woman has been elected for the position. Dame Minouche Shafik led the IMF's effort to develop Arab countries after the Arab Spring in 2011.
The recent UK election was good for the Conservatives as they gained 80 seats. Boris Johnson welcomed the new electorates to take their seats in the Parliament. The next task will be to vote on the Withdrawal Agreement Bill, which previously was difficult to pass through Parliament, but the Conservatives are hoping their majority will help push it through. The Parliament will officially be open on Thursday with the Queen presenting the legislative program. In addition, there is expected to be a cabinet reshuffle ahead of the Withdrawal Bill vote which is expected at the end of the week.
A Russian tech company Rambler is suing Amazon's Twitch for a record 2.87 billion USD for illegal streaming. The Russian company is saying Twitch users pirated broadcasts of English Premier legislative matches for a reported 7 million euros this year. On the topic of football (soccer), Arsenal Football Star Mesut Ozil spoke out against the treatment of Chinese Uighurs which sparked a row with China who said he was deceived by fake news. Arsenal Football Club has distanced itself from the matter.
Germany is trying to attract skilled workers from outside the EU as German Chancellor Angela Merkel warns that the critical lack of talent is threatening Germany's future. She claimed the 2.5 million residents from outside the EU was not enough to fulfill the shortage in skilled labor. Merkel said, "So it is essential to look for skilled workers further afield. German citizens are already divided about the current migrant crises and the levels of immigration into the country. We must make every effort to recruit enough specialists, otherwise companies will have to migrate and of course we don't want that."
Iran's President Rouhani will visit Japan in order to discuss ongoing concerns and negotiations with the US. This will be the first visit in over 20 years. Meanwhile, the EU is discussing what implications the Iranian government should receive after an estimated death toll of 304 protesters was announced by Amnesty International.
The major Europe stock markets had a green day today:
CAC 40 increased 72.64 points or 1.23% to 5,991.66
FTSE 100 increased 165.61 points, or 2.25% to 7,519.05
DAX 30 increased 124.94 points or 0.94% to 13,407.66
The major Europe currency markets had a mixed day today:
EURUSD increased 0.0024 or 0.21% to 1.1143
GBPUSD decreased 0.0008 or 0.06% to 1.3326
USDCHF decreased 0.0009 or 0.09% to 0.9830
Some economic news from Europe today:
UK:
Rightmove House Price Index (MoM) increased from -1.3% to -0.9%
Composite PMI decreased from 49.3 to 48.5
Manufacturing PMI decreased from 48.9 to 47.4
Services PMI decreased from 49.3 to 49.0
Norway:
Trade Balance (Nov) increased from 5.9B to 18.8B
France:
French Manufacturing PMI (Dec) decreased from 51.7 to 50.3
French Markit Composite PMI (Dec) decreased from 52.1 to 52.0
French Services PMI (Dec) increased from 52.2 to 52.4
Germany:
German Composite PMI (Dec) remain the same at 49.4
German Manufacturing PMI (Dec) decreased from 44.1 to 43.4
German Services PMI (Dec) increased from 51.7 to 52.0
Italy:
Italian CPI (YoY) (Nov) decreased from 0.4% to 0.2%
Italian CPI (MoM) (Nov) decreased from -0.1% to -0.2%
Italian CPI Ex Tobacco (MoM) (Nov) remain the same at 0.1%
Italian HICP (YoY) (Nov) decreased from 0.4% to 0.2%
Italian HICP (MoM) (Nov) decreased from -0.1% to -0.3%
Euro Zone:
Manufacturing PMI (Dec) decreased from 46.9 to 45.9
Markit Composite PMI (Dec) remain the same at 50.6
Services PMI (Dec) increased from 51.9 to 52.4
Wages in euro zone (YoY) (Q3) decreased from 2.8% to 2.6%
Labor Cost Index (YoY) (Q3) decreased from 2.8% to 2.6%
Reserve Assets Total (Nov) decreased from 816.51B to 808.04B
US/AMERICAS:
US indexes reached all-time highs this Monday in the afterglow of Friday's US-China trade deal truce announcement that boosted confidence. UnitedHealth led the rally in the Dow after advancing 2.36% from Friday's session, followed by Pfizer (2.17%), and Apple (1.69%). Tesla uptick of 5.58% paved the way for the Nasdaq's rally, followed by Western Digital (4.39%), and Biomarin Pharmaceuticals (3.95%). Under Armour stocks continue to spur the S&P 500 higher (UA 4.76%, UAA 4.58%) as did Cabot Oil & Gas (4.81%).
Boeing will halt the production of the grounded 737 MAX in January. The Federal Aviation Administration (FAA) announced last week that it would not approve the aircraft for flights before 2020. The formerly popular plane was grounded in March after two separate crashes claimed the lives of 346 people. It is estimated that the grounding has cost Boeing $9 billion in losses, however, halting production could easily lead the company into a worse situation. Boeing's stock declined -4.27% today.
Turkey is contemplating shutting down its Incirlik airbase that houses US nuclear weapons. The US recently threatened Turkey with harsh sanctions after Turkey launched an attack against the Kurds in Syria who were former US-allies. Turkey retreated before the sanctions were placed. Shortly thereafter, the US legally voted to acknowledge the Armenian genocide which greatly angered the Turkish government. "If they are threatening us with the implementation of these sanctions, of course we will be retaliating," President Erdogan said.
In Brazil, investor confidence is on the rise as expected risk declines. President Bolsonaro tweeted over the weekend, "During the 2015 recession, Risk Brazil, an index that tracks investor confidence, reached nearly 500 points. Yesterday the Risk reached 100.89 points, the lowest level since 2012, and the stock market closed above 112 thousand points, renewing its historical high."
US Market Closings:
DJIA advanced 100.51 points or 0.36% to 28,235.89
S&P 500 advanced 22.65 points or 0.71% to 3,191.45
Nasdaq advanced 79.35 points or 0.91% to 8,814.23
Russell 2000 advanced 11.96 points or 0.73% to 1,649.94
Canada Market Closings:
TSX Composite advanced 53.23 points or 0.31% to 17,056.36
TSX 60 advanced 2.47 points or 0.24% to 1,017.96
Brazil Market Closing:
Bovespa declined 668.82 points or 0.59% to 111,896.04
ENERGY:
Iran has demanded that South Korea pay them six billion USD due to oil deliveries they made over the past few years, but failed to receive payment due to the US sanctions.
A 10-year agreement that has enabled Russia to supply gas through Ukraine is about to come to end as of December 31 this year. The two state-owned companies Gazprom and Naftogaz are currently in talks about renewing such a deal, even with opposition and threat of sanctions from the US. This is a deal we certainly want to keep an eye on with the current political implications that could happen. Russia, meanwhile, is attempting to finish a new pipeline that will travel through Germany and could bypass Ukraine.
The oil markets had a green day today:
Crude Oil increased 0.3727 USD/BBL or 0.62% to 60.2643
Brent increased 0.6311 USD/BBL or 0.97% to 65.5351
Natural gas increased 0.0666 USD/MMBtu or 2.90% to 2.3635
Gasoline increased 0.014USD/GAL or 0.85% to 1.6655
Heating oil increased 0.0259 USD/GAL or 1.31% to 2.0140
Top commodity gainers: Oat(9.01%),Corn(6.16%),Wheat(4.92%), and Coffee(4.91%)
Top commodity losers: Steel(-0.78%), Cocoa(-4.32%), Sugar (-1.56%), and Rubber(-0.57%)
The above data was collected around 13.30 EST on Monday.
BONDS:
Japan -0.02%(-0bp), US 2's 1.64% (+4bps), US 10's 1.88%(+6bps); US 30's 2.30%(+4bps), Bunds -0.29% (+0bp), France 0.01% (+1bp), Italy 1.29% (-5bp), Turkey 12.20% (+13bp), Greece 1.40% (-49bp), Portugal 0.38% (-3bp), Spain 0.42% (-1bp) and UK Gilts 0.82% (-0bp).
US 3-Month Bill Auction increased from 1.520% to 1.540%
US 6-Month Bill Auction increased from 1.520% to 1.550%