Blog/Market Talk
Posted Dec 15, 2017 by Martin Armstrong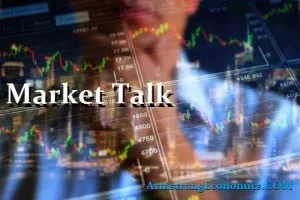 Asia drifted with prices for core all closing around -0.5% lower for the day. Volumes were light but the lack of conviction as well as year end book-squaring were the key discussion topics. The Dollars decline did not help Exporters within the Nikkei, but that has been an issue for a few days this week. However, late in the US trading day, we have seen a reversal of these declines with the DXY clawing back some earlier losses and is happy playing high 112's against the Yen. Stocks had opened weak and did well to recover into positive territory at one stage probably the result of a good Tankan print. However, that was lost again at the cash close. Late in US trading we see futures back up but lets see how cash opens again on Monday. The Hang Seng suffered most with a little over 1% decline. This was due mainly to property and financials trading heavy.
Draghi's comments were less than helpful for the retail sector yesterday and with major stores sales declines, it was no surprise that this was the sector that lead markets lower. Financials were also heavy after any sign of a near term move in rates were well and truly on the back-burner. We did see a bounce upon news of the US tax reforms but then it seemed that the news was probably only beneficial for US markets and so Europe headed lower once again. UK's FTSE did well today (+0.6%), but when considering the GBP performance it isn't actually that good! Cable declined -0.9% after news the UK Prime Minister, Theresa May, stated she is on par to deliver BREXIT. Rumours that potential trade deals are also imminent helped sentiment for a defiant UK government. The weekend press will be full of BREXIT as usual, but this week could strike a more optimistic tone if external deals are rumoured.
Again, the tax reforms were front and centre and again we witnessed new contract highs on core indices. The plan sounds to be all but done and the euphoria is clear to see. Whether this leads to any signs of inflation is something else but that is certainly not being priced into the bond market. Mainstream still content to talk this programme down but the evidence is in the stock market and the capital flow into the US.
2's closed 1.84% (+3bp), 10's 2.36% (+1bp), 30's 2.69% (-3bp), Bunds 0.3% (u/c), France 0.62% (-2bp), Italy 1.80% (+2bp), Greece 3.89% (-14bp), Turkey 12.09% (+12bp), Portugal 1.76% (-3bp), Spain 1.45% (+1bp), and Gilts 1.15% (-2bp).