Blog/Market Talk
Posted Dec 14, 2020 by Martin Armstrong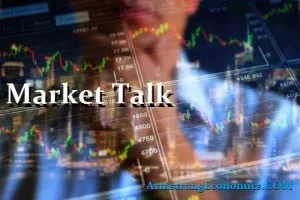 ASIA:
Despite claims of an economic recovery, Chinese state-owned companies are defaulting on their debts. A string of missed debt repayments by major firms has shaken local as well as global markets. State firms defaulted on a record $6.1 billion worth of bonds between January and October, according to Fitch Ratings. That's about as much as the last two years combined. The development has rattled China's nearly $4 trillion corporate debt market, of which state-owned enterprises are estimated to account for more than half. At least 20 firms suspended plans for new debt issues totaling $2.4 billion, all citing recent market turmoil. The mounting non-payment of debt payments is getting worse in recent weeks. A slew of major companies, including German automaker BMW's Chinese partner Brilliance Auto Group, top smartphone chipmaker Tsinghua Unigroup, and Yongcheng Coal and Electricity declared bankruptcy or defaulted on their loans in November. According to Reuters, the Huachen Automotive Group Holdings Co, the parent of German automaker BMW's Chinese joint venture partner, defaulted late last month exemplifying opaque risks, underdeveloped pricing mechanisms and investor naivety in China's corporate bond market.
The Indian economy could grow at over 11 percent in the 2022 financial year, as it has rebounded spectacularly after the initial loss of production due to COVID-19 this year, said N Chandrasekaran, Chairman, Tata Sons. India's GDP had contracted by 7.5 percent in the second quarter, a significant improvement from the unprecedented 23.9 percent plummet in the first quarter. More recent economic numbers show further improvement. India's index of industrial output in October was 3.6 percent, against 0.5 percent in September, as per the Index of Industrial Production (IIP) data released by the government on December 11. The IIP growth was an eight-month high.
Japanese business sentiment improved at the fastest pace in nearly two decades in October-December, a key central bank survey showed, a welcome sign for the economy as it emerges from the initial hit of the coronavirus pandemic. The headline index for big manufacturers' sentiment improved to minus 10 in December from minus 27 in September, the Bank of Japan's "tankan" survey showed on Monday, still a negative reading but marking the second straight quarter when companies were less pessimistic about business conditions.
The major Asian stock markets had a mixed day today:
NIKKEI 225 increased 79.92 points or 0.30% to 26,732.44
Shanghai increased 21.93 points or 0.66% to 3,369.12
Hang Seng decreased 116.35 points or -0.44% to 26,389.52
ASX 200 increased 17.60 points or 0.26% to 6,660.20
Kospi decreased 7.86 points or -0.28% to 2,762.20
SENSEX increased 154.45 points or 0.34% to 46,253.46
Nifty50 increased 44.30 points or 0.33% to 13,558.15
The major Asian currency markets had a mixed day today:
AUDUSD decreased 0.0001 or -0.01% to 0.75340
NZDUSD increased 0.0005 or 0.07% to 0.70828
USDJPY decreased 0.0090 or -0.01% to 104.01
USDCNY decreased 0.0095 or -0.15% to 6.52930
Precious Metals:
Gold decreased 10.12 USD/t oz. or -0.55% to 1,828.91
Silver decreased 0.051 USD/t. oz or -0.21%% to 23.861
Some economic news from last night:
China:
House Prices (YoY) (Nov) decreased from 4.3% to 4.0%
Japan:
Tankan All Big Industry CAPEX (Q4) decreased from 1.4% to -1.2%
Tankan All Small Industry CAPEX (Q4) increased from -16.1% to -13.9%
Tankan Big Manufacturing Outlook Index (Q4) increased from -17 to -8
Tankan Large Manufacturers Index (Q4) increased from -27 to -10
Tankan Large Non-Manufacturers Diffusion Index (Q4) increased from -11 to -6
Tankan Large Non-Manufacturers Index (Q4) increased from -12 to -5
Tankan Small Manufacturers Diffusion Index (Q4) increased from -38 to -26
Tankan Small Manufacturing Index (Q4) increased from -44 to -27
Tankan Small Non-Manufacturers Diffusion Index (Q4) increased from -27 to -20
Tankan Small Non-Manufacturing Index (Q4) increased from -22 to -12
Capacity Utilization (MoM) (Oct) decreased from 6.4% to 6.0%
Industrial Production (MoM) (Oct) increased from 3.9% to 4.0%
Tertiary Industry Activity Index (MoM) decreased from 2.3% to 1.0%
New Zealand:
External Migration & Visitors (Oct) decreased from -96.70% to -96.80%
Permanent/Long-Term Migration (Oct) increased from 595 to 884
Visitor Arrivals (MoM) decreased from 9.0% to 5.9%
Some economic news from today:
India:
WPI Food (YoY) (Nov) decreased from 6.37% to 3.94%
WPI Fuel (YoY) (Nov) increased from -10.95% to -9.87%
WPI Inflation (YoY) (Nov) increased from 1.48% to 1.55%
WPI Manufacturing Inflation (YoY) (Nov) increased from 2.12% to 2.97%
CPI (YoY) (Nov) decreased from 7.61% to 6.93%
New Zealand:
Westpac Consumer Sentiment (Q4) increased from 95.1 to 106.0
EUROPE/MIDDLE EAST:
London and Brussels agreed on Sunday to "go the extra mile" in coming days to try to reach an elusive trade agreement despite missing their latest deadline to avert a turbulent exit for Britain from the European Union's orbit at the end of the month. British Prime Minister Boris Johnson and the president of the EU's executive Commission, Ursula von der Leyen had given negotiators a Sunday deadline to find a way to resolve an impasse on arrangements that would guarantee Britain zero-tariff and zero-quota access to the EU's single market.
British Prime Minister Boris Johnson has hailed the "incredible things" being done by India in the solar energy sector as he warned that the emergency facing the world from climate change was far more destructive than even the coronavirus pandemic. Johnson said this in his address to the Climate Ambition Summit this weekend, co-hosted by the UK to mark the fifth anniversary of the Paris climate agreement.
The French economy will rebound next year as coronavirus restrictions are lifted although not as fast as previously expected, the central bank forecast on Monday. After contracting about 9% this year, the euro zone's second biggest economy will post growth around 5% in 2021 and 2022 before easing to slightly more than 2% in 2023, the Bank of France forecast in its quarterly outlook. The rebound has been knocked back after a second lockdown had to be imposed at the end October following a new outbreak of infections which is gradually coming under control. Prior to the second wave, the bank had forecast in September a contraction of 8.7% this year and growth of 7.4% in 2021 and 3% in 2022.
The major European stock markets had a mixed day today:
CAC 40 increased 20.29 points or 0.37% to 5,527.84
FTSE 100 decreased 14.92 points, or -0.23% to 6,531.83
DAX 30 increased 108.86 points or 0.83% to 13,223.16
The major European currency markets had a mixed day today:
EURUSD increased 0.00352 or 0.29% to 1.21472
GBPUSD increased 0.01021 or 0.77% to 1.33211
USDCHF decreased 0.00267 or -0.30% to 0.88686
Some economic news from Europe today:
Germany:
German WPI (MoM) (Nov) increased from -0.2% to 0.1%
German WPI (YoY) (Nov) increased from -1.9% to -1.7%
Euro Zone:
Industrial Production (YoY) (Oct) increased from -6.3% to -3.8%
Industrial Production (MoM) (Oct) increased from 0.1% to 2,1%
US/AMERICAS:
Pfizer is in negotiations with the US government to supplement the nation with an additional 100 million vaccinations in 2021. President Trump had already purchased 100 million doses under his program "Operation Warp Speed." Pfizer CEO Albert Bourla announced this Monday that he foresees the second shipment becoming available in Q2. Vaccines were shipped to all 50 states over the weekend, and nursing homes, with nursing homes and health care workers receiving the first vaccinations. The US government has said that it will provide the vaccinations to Americans free of cost.
Peloton is poised to join the Nasdaq 100 index after the company rallied over 300% year to date with a market value nearing $35 billion. The Nasdaq exchange reconstructs its listings each December, and will restructure on December 21, 2020. In addition to Peloton, Match Group, Okta, Atlassian, American Electric Power, and Marvell Technology Group are set to join the index. The six companies likely to be removed from the index are Ulta, Expedia, Take-Two Interactive Software, BioMarin Pharmaceuticals, Citrix Systems, and Liberty Group.
New York City mayor Bill de Blasio stated this Monday that he may need to fully shut down the "city that never sleeps" once again. "We're seeing the kind of level of infection with the coronavirus we haven't seen since May and we have got to stop that momentum, or else our hospital system will be threatened," de Blasio said. A ban on indoor dining went into effect today. Governor Cuomo would need to approve of a full shutdown, but for now, the mayor is calling the new vaccination "a shot of hope."
Quebec and Ontario will begin to roll out Pfizer vaccinations today. The government stated that they will only distribute a "pretty small" number of vaccines today. As of Saturday, the nation experienced 454,852 coronavirus cases. Health officials in Canada are calling upon the government to implement stricter restrictions.
US Market Closings:
Dow declined 184.82 points or -0.62% to 29,861.55
S&P 500 declined 15.97 points or -0.44% to 3,647.49
Nasdaq advanced 62.17 points or 0.5% to 12,440.04
Russell 2000 advanced 2.16 points or 0.11% to 1,913.86
Canada Market Closings:
TSX Composite declined 161.52 points or -0.92% to 17,387.4
TSX 60 declined 10.6 points or -1.01% to 1,035.91
Brazil Market Closing:
Bovespa declined 516.88 points or -0.45% to 114,611.12
ENERGY:
The oil markets had a green day today:
Crude Oil increased 0.42 USD/BBL or 0.90% to 46.9900
Brent increased 0.33 USD/BBL or 0.66% to 50.3000
Natural gas increased 0.067 USD/MMBtu or 2.59% to 2.6580
Gasoline increased 0.0136 USD/GAL or 1.04% to 1.3213
Heating oil increased 0.0183 USD/GAL or 1.27% to 1.4552
Top commodity gainers: Rubber (3.18%), Coal (3.20%), Bitumen (3.45%), and Coffee (4.25%)
Top commodity losers: Cocoa (-1.24%), Sugar (-2.08%), Palladium (-1.16%), and Orange Juice (-1.72%)
The above data was collected around 16:33 EST on Monday.
BONDS:
Japan 0.02%(+0bp), US 2's 0.12% (-0.002%), US 10's 0.90%(+1bps);US 30's 1.63%(+0.009%), Bunds -0.62% (+2bp), France -0.38% (+1bp), Italy 0.51% (-1bp), Turkey 12.90% (+4bp), Greece 0.60% (-0bp), Portugal -0.02% (+1bp), Spain 0.00% (-0bp) and UK Gilts 0.22% (+5bp).
US 3-Month Bill Auction decreased from 0.080% to 0.075%
US 6-Month Bill Auction decreased from 0.090% to 0.085%
French 3-Month BTF Auction decreased from -0.706% to -0.743%
French 6-Month BTF Auction decreased from -0.682% to -0.719%
French 12-Month BTF Auction decreased from -0.676% to -0.692%