Blog/Market Talk
Posted Dec 14, 2016 by Martin Armstrong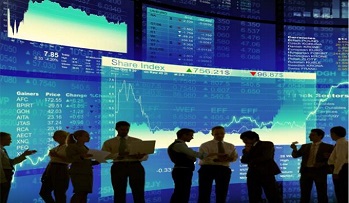 The key conversation was always going to be surrounding the Federal Reserve rate decision today despite any data releases. In Japan we saw the release of the Tankan (sentiment survey) which, at 10, repeated the same level as previous release as the Nikkei closed almost unchanged on the day. The Hang Seng was a similar picture also closing around unchanged. Whilst in the Shanghai we lost 0.45% on the day reversing a little of yesterday gain. The HSI lost 0.75% in US futures trading.
Europe spent the day treading water but a 0.2% decline in the Industrial Production number to +0.6% certainly did not help sentiment. All core indices closed lower as we awaiting the evening decision by the FED but at European close clearly dealers were running low books through fear of overnight volatility. The oil price fell around 2% in late afternoon trading when US oil inventories were released higher than anticipated. We have the BOE in play tomorrow just after the release of the UK Retail Sales (5.6% expected).
Just ahead of the release we are seeing US stocks trading with small losses and a pick-up in the VIX (last seen at 12.8 +0.65%). As you would expect all the action will start from 7PM (London) and 2PM EST with almost everyone anticipating a 25bp hike; possibly the second hike in 10yrs.
After the FED decision:
And so we have the 25bp rate increase as was widely anticipated. Initially, stocks took it in their stride with a small sell-off then immediately recovering. Then, the market realised the FED was talking three hikes in 2017 and not two; indicated by the "Dot Plots"! This hit stocks, bonds, oil and gold with the US Dollar hitting the days highs pricing the DXY up over 1% at 102.15. All currency took a hit with losses of over 1% seen in Euro, Yen and GBP but it is emerging market currencies that will feel the heat especially currencies that have large US Dollar debt issuance. All indices closed lower with the exception of the Nikkei which benefitted as the Yen depreciated.
The bond market saw a huge drop after they worked out the projections but with interesting curve movement. We have started to see some bear flattening (larger weakness in the front and belly) after the press address with 2's and 5's the worst performers. 2's lost 10bp and 13bp in 5's (2.03%) whilst the 10yrs lost just 8bp (2.55%) and 4bp (3.17%) in 30's. This closes 2/10 at +129bp.10yr Bunds closed 0.30% (+8bp) closing the spread at +225bp. Peripherals closed too early so expect the change to come in tomorrows market. Italy 1.79%, Greece 6.97%, Turkey 11.11%, Portugal 3.74% and UK Gilts 10yrs at 1.38%.