Blog/Market Talk
Posted Dec 13, 2018 by Brittany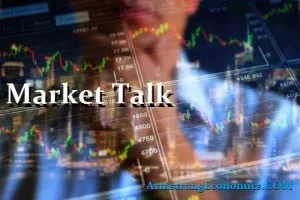 A solid day for the Asian region with gains of 1.25% for core Shanghai and the Hang Seng and was closely mirrored by the Nikkei (+1%). Continued optimism surrounding the China-US trade negotiations is restoring confidence, as the constructive headlines begin to appear. We have seen both parties conceding consolatory ground as evidenced by strong equity movements on either side and not to mention the Soya market. These market did take time to get into their stride, but eventually, money was put to work and closed well. However, that said the performance by the SENSEX was less than impressive whilst closing up +0.4%. The days highs were hit in early afternoon trading, but looked we could close negative an hour ahead of the bell as prices were at the days lows. Some positive moves seen for the INR and CNY although there was talk of a little help along the way. The Yen trades at the days low 113.70 as we approach the US close.
No significant moves in core European indices as we spent the morning waiting for Mario Draghi to speak. We heard at the ECB press conference that QE is ending this month, but it remains a tool that may be used again. This ends the official programme but it will still reinvest the proceeds of maturing debt. Given the poor data seen recently and the continued lack of growth, many are convinced they may very well find themselves opening that tool box again next year! The QE programme started for the ECB in March of 2015 and was expected to run only until end Q3 2016. However, don't forget the "Whatever it Takes" speech was delivered in London the summer of 2012; it took three years for them to activate. Since then they have spent around €2.5tln (20% of the gov'y market) to pushing yields to the point where pensions struggle, risk models have broken and credit markets dried to dust. Given 2018 performance of equity, currency and bond markets it will be extremely challenging, if not desperately hopeful that similar money will be around to support values. Given that any US investors has lost over 20% this year in core European indices, it will need something spectacular to f=draw those investors back and that would be without a BREXIT event.
After losing a 200 point gain the DOW simply meandered in a lifeless stroll. Core indices remained in a narrow trading range thereafter, but the excitement was seen elsewhere. The Russell 2k lost over 1.5% after talk that some strategists had published some negative notes for 2019. Small Caps are down over 6% YTD which compares to a flat performance for both the DOW and S+P whilst the NASDAQ has returned 2.5%. Oil has had a better day than recent, bouncing over 3.5% on signs supplies maybe dwindling. Late news that Adobe beat street estimates ($1.90 v's $1.88 EPS est.) managed to lift futures after hours, so we may mange to see a rally for the weekend tomorrow. DXY is back up with a 97 handle as demand for year end Dollars increases.
Japan 0.05%, US 2's closed 2.76% (-1bp), US 10's 2.91% (u/c), US 30's 3.16% (+1bp) Auction reasonably well received, Bunds 0.28% (u/c), France 0.73% (u/c), Turkey 17.49% (-1bp), Greece 4.19% (-4bp), Portugal 1.66% (-5bp), Spain 1.42% (u/c) and Gilts 1.29% (+2bp).