Blog/Market Talk
Posted Dec 13, 2017 by Martin Armstrong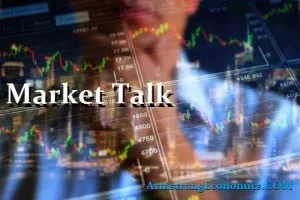 We saw a bit of a rebound in Asia today, after yesterdays decline. Shanghai and Hang Seng both up around 1%, Shanghai outperforming the HSI. Markets were keen to see rallies for the US markets and especially ahead of the much expected FED rate rise, due later today. We are seeing yields in US treasuries creeping higher (10's last 2.42%) with expectations that Janet Yellen will comment o the level of stock markets, but much is in discussion surrounding inflation. It is also rumoured she may comment on BITCOIN and its relevance towards its overall relevance on banks. It sis doubtful she will comments on that relationship, but we would expect some comment on weather it is money or a commodity. We remember Greenspan inferring gold was not money, many years ago. So, if she does comment along those lines you would see a retracement in the price. The Nikkei declined with the Yens appreciation but we did see another low volume day, it will be interesting to watch global equity performance upon todays FED decision.
It was a rather dull day for European markets albeit a weaker tone. DAX and CAC are both down around -0.5%, whilst peripheral markets suffer a little more with losses closer to 1%. What is visible is that even on quiet days the capital flows are evident. Prior to the US CPI release, bond markets were edging weaker (lower price/higher yield) but the data eroded these declines and even focused attention back onto the flatten yield curves. Gold also saw a small bounce on this news but we really were in a holding pattern awaiting the Central Banks play. Don't forget after the FED this evening we have SNB, BOE and ECB due Thursday.
US markets were all about the FED and the announced 25bp hike. Stocks opened well trading on the back of an almost complete tax reform rumour. The DOW hit +150 points ahead of the hike, but edged ahead even after the hike announcement. The disappointment, if you can call it that, was the dollar (DXY) itself. Losing ground against the majors with the noticeable move being against the Yen hitting the 112 level again. This probably would have been better controlled had the CPI number manage to match the October's 1.8%. Still a busy couple of days left for this week, so lets see what we hear from the other Central Banks.
2's closed 1.78% (-5bp), 10's 2.34% (-6bp), 30's 2.73% (-4bp), Bunds 0.31% (u/c), France 0.65% (+1bp), Italy 1.78% (+9bp), Greece 4.21% (-9bp), Turkey 11.85% (+11bp), Portugal 1.85% (+5bp), Spain 1.49% (+4bp), Gilts 1.21% (-1bp).