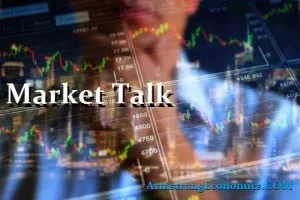 Asian markets were a little nervous in todays trading, ahead of FED decision. Despite the strength seen in oil, markets saw prices lower loose their early strength as the day wore on. in China the loans nominal grew from an expected 800bn to 1.1tln and hinder any further progress and even turned sentiment negative in late trading. Mainland Shanghai closed the day down over 1.2% whereas the Hong Kong index held in a little better declining 0.6%. Not that encouraging really as both indices closed the day on their lows. The Nikkei also lost ground but held in relatively well considering, eventually closing down just 0.3%. The Yen continues to drift in choppy two-way flow, but the a break north here could see 114.20 quite quickly. Resources helped the ASX initially but then after a brief dip saw a healthy +0.25% steady close. SENSEX drifted much with the mood closing -0.7% with the index looking heavy for year end.
A different tone for Europe with strong gains made in the Tech and Energy sectors. All core finished around +0.65% as we watched oil breach the psychological $65 mark, the first time in nearly two years. News that the Forties North Sea pipeline certainly helped Brent towards the close. UK's inflation number hit over 3% today (six yr high), but failed to lend a hand to the ever sagging cable rate. A trade through 1.33 in US hours will probably promote a few nerves as we approach year end. The ECB later this week but, as always, it will be the Q+A that moves markets – we can usually rely on Draghi to provide a couple of market movers.
US markets were strong from the open and never really looked back. A solid session for the DOW and S+P but we did see a slight decline for the NASDAQ and Russell with both closing at their days lows. Renewed optimism over the tax reforms helped the day, but with tomorrow FED move already priced-in the stock euphoria looks ready to continue. After this week the volumes will die even more, so best put the books away and start signing those Christmas cards.
2's closed 1.83% (+1bp), 10's at 2.40% (+2bp), 30's 2.77% (u/c), Bunds 0.31% (+2bp), France 0.64% (+2bp), Italy 1.69% (+5bp), Greece 4.30% (-12bp), Turkey 11.74% (+8bp), Portugal 1.80% (+4bp), Spain 1.45% (+5bp) and Gilts 1.22% (+2bp).