Blog/Market Talk
Posted Dec 11, 2020 by Martin Armstrong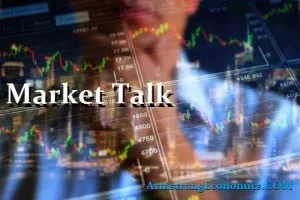 ASIA:
The US Federal Communications Commission (FCC) said on Thursday it began revoking China Telecom's authorization to operate in the United States as it took further steps to crack down on China's role in US telecommunications. FCC Chairman Ajit Pai noted several US government agencies had recommended the revocation citing national security concerns. In April, the FCC had warned it might shut down the US operations of three state-controlled Chinese telecommunications companies, citing national security risks, including China Telecom Americas as well as China Unicom Americas, Pacific Networks Corp, and its wholly owned subsidiary ComNet (USA) LLC.
India, the world's biggest vaccine maker, is getting set for the massive global blitz to contain the coronavirus pandemic. Its pharmaceutical industry and partners free up capacity and accelerate investments even without firm purchase orders. India manufactures more than 60% of all vaccines sold across the globe, and while its $40 billion pharmaceutical sector is not yet involved in the production of the expensive Pfizer Inc and Moderna shots, the nation will play a pivotal role in immunizing much of the world. Indian companies are set to produce eight, more affordable vaccines designed to fight COVID-19, including AstraZeneca's Covishield, called the "vaccine for the world here" by its developers. Serum Institute of India (SII), the world's biggest vaccine maker, has already stockpiled more than 50 million doses of the AstraZeneca shot, even as it awaits emergency-use approvals from both British and Indian authorities.
Walmart Inc's Indian e-commerce firm Flipkart and digital payments business PhonePe have room for other investors and could raise money in several ways including stock market listings, the US retail giant's CEO said on Thursday. Flipkart, based in India's tech hub of Bengaluru, is preparing for an initial public offering (IPO) overseas as early as 2021, which could value the firm at up to $50 billion, Reuters has reported previously.
The major Asian stock markets had a mixed day today:
NIKKEI 225 decreased 103.72 points or -0.39% to 26,652.52
Shanghai decreased 26.08 points or -0.77% to 3,347.19
Hang Seng increased 95.28 points or 0.36% to 26,505.87
ASX 200 decreased 40.50 points or -0.61% to 6,642.60
Kospi increased 23.60 points or 0.86% to 2,770.06
SENSEX increased 139.13 points or 0.30% to 46,099.01
Nifty50 increased 35.55 points or 0.26% to 13,513.85
The major Asian currency markets had a mixed day today:
AUDUSD increased 0.00042 or 0.06% to 0.75296
NZDUSD decreased 0.0014 or -0.20% to 0.70777
USDJPY decreased 031 or -0.29% to 103.92
USDCNY increased 0.00202 or 0.03% to 6.53882
Precious Metals:
Gold increased 6.84 USD/t oz. or 0.37% to 1,842.15
Silver increased 0.081 USD/t. oz or 0.34% to 24.030
Some economic news from last night:
China:
China Thomson Reuters IPSOS PCSI (Dec) increased from 70.97 to 71.23
Japan:
Thomson Reuters IPSOS PCSI (Dec) decreased from 38.98 to 38.29
New Zealand:
Business NZ PMI (Nov) increased from 51.7 to 55.3
FPI (MoM) (Nov) decreased from -0.7% to -0.9%
Some economic news from today:
India:
FX Reserves, USD increased from 574.82B to 579.35B
Cumulative Industrial Production (Oct) increased from -21.10% to -17.50%
Industrial Production (YoY) (Oct) increased from 0.2% to 3.6%
Manufacturing Output (MoM) (Oct) increased from -0.6% to 3.5%
EUROPE/EMEA:
British Prime Minister Boris Johnson said on Thursday there was "a strong possibility" Britain and the EU would fail to strike a new trade deal, but vowed to do whatever he could to avoid a tumultuous split in three weeks. The European Union and Britain are at loggerheads over fishing rights, economic fair play and dispute settlement, despite months of talks to cover trade from Jan. 1 when the United Kingdom finally exits the bloc's orbit. The two sides have set a deadline of Sunday to find agreement and prevent a chaotic break. After a meeting with his senior ministers, Johnson said the treaty on the table did not work for Britain.
German Chancellor Angela Merkel advocated tougher restrictions on public life and pleaded with her compatriots to cut down on socializing as the country reported its highest single-day death toll of the coronavirus pandemic on Wednesday. The national disease control center, the Robert Koch Institute, reported 590 deaths related to COVID-19 over the past 24 hours — more than 100 higher than the week-old previous record.
Sweden's economy has been harder hit by the Covid crisis than is reflected in the latest official forecasts, according to the governor of the country's central Bank – Riksbank, Stefan Ingves. The Riksbank's latest official forecast, from September, shows Sweden's economy shrinking 3.6% this year. The estimate was an improvement on the bank's previous prediction for a 4.5% contraction 2020. The Riksbank also raised its guidance for 2021 slightly in September, to growth of 3.7% from 3.6% previously in 2020. The Riksbank also raised its guidance for 2021 slightly in September, to growth of 3.7% from 3.6% previously. Inflation stagnated at 0.3% in October, well below the Riksbank's 2% target, according to data published on Thursday by Statistics Sweden. The Riksbank's benchmark interest rate has been zero since Ingves ended half a decade of negative rates last year. He's since made clear the Riksbank will rely on bond purchases, not rates, to support the economy.
The major Europe stock markets had a negative day:
CAC 40 decreased 42.10 points or -0.76% to 5,507.55
FTSE 100 decreased 53.01 points or -0.80% to 6,546.75
DAX 30 decreased 181.43 points or -1.36% to 13,114.30
The major Europe currency markets had a mixed day today:
EURUSD decreased 0.00244 or -0.20% to 1.21167
GBPUSD decreased 0.00762 or -0.57% to 1.3224
USDCHF increased 0.0040 or 0.45% to 0.89007
Some economic news from Europe today:
Germany:
German CPI (YoY) (Nov) decreased from -0.2% to -0.3%
German CPI (MoM) (Nov) decreased from 0.1% to -0.8%
German HICP (MoM) (Nov) decreased from 0.0% to -1.0%
German HICP (YoY) (Nov) decreased from -0.5% to -0.7%
Spain:
Spanish CPI (MoM) (Nov) decreased from 0.5% to 0.2%
Spanish CPI (YoY) (Nov) remain the same at -0.8%
Spanish HICP (MoM) (Nov) decreased from 0.3% to 0.1%
Spanish HICP (YoY) (Nov) increased from -0.9% to -0.8%
Italy:
talian Industrial Production (MoM) (Oct) increased from -5.1% to 1.3%
Italian Industrial Production (YoY) (Oct) increased from -4.9% to -2.1%
Italian Quarterly Unemployment Rate increased from 8.4% to 9.8%
UK:
Inflation Expectations decreased from 2.8% to 2.7%
US/AMERICAS:
Producer prices in the US slightly increased in November, according to data released today by the Labor Department. The Producer price index increased by 0.3% in October and rose an additional 0.1% in November, which marks the least significant gain since April 2020. The PPI rose 0.8% YoY, with a 0.5% spike in October. The price of goods accounted for an 0.4% increase. Food prices spike 2.4% in October, rising an additional 0.5% last month. Gasoline was one of the only sectors to decline (-1.9%). Inflation remains beneath the Federal Reserve's target of 2%, although consumer prices rose 0.2% in November.
Canada's national net worth increased during the third quarter to C$13,236.9 billion. Accord to Statistics Canada, that marks a C$572.5 billion increase from Q2. Per capita, national net worth rose to C$344,816 to C$331,732. Foreign assets advanced C$94.4 billion to C$1,170.1 billion, largely due to higher equity prices "moderated by the revaluation effect from fluctuations in exchange rates as well as net borrowings from abroad." National wealth, factoring in the value of non-financial assets, increased 4.1% to C$12,066.8 billion during Q3 as well.
Canadian household sector saving came in at $56.8 billion in Q3, well beneath the record-setting C$90.1 billion experienced during Q2. Statistics Canada reported a 50% reduction in employment insurance benefits, with employment rising to only 3.7% above pre-pandemic levels. Household disposable income fell 3.1%, as income compensation failed to offset government assistance. The record Q2 savings rate of 27.5% decreased in Q3 to 14.6%.
Credit market borrowing in Canada rose to C$38.4 billion during Q3 compared to C$7.2 billion in Q2, according to Statistics Canada. Non-mortgage debt rose C$9.7 billion last quarter, with the demand for mortgages rising to a high or C$28.7 billion. Credit market debt reached C$2,417.4 billion last quarter, with mortgage debt totaling C$1,627.8 billion. Non-mortgage loans came in at C$789.5 billion.
US Market Closings:
Dow advanced 47.11 points or 0.16% to 30,046.37
S&P 500 declined 4.65 points or -0.13% to 3,663.45
Nasdaq declined 27.94 points or -0.23% to 12,377.87
Russell 2000 declined 11.01 points or -0.57% to 1,911.7
Canada Market Closings:
TSX Composite declined 44.42 points or -0.25% to 17,548.92
TSX 60 declined 2.84 points or -0.27% to 1,046.51
Brazil Market Closing:
Bovespa declined -0.63 of a point or 0% to 115,128
ENERGY:
The oil markets had a mixed day today:
Crude Oil decreased 0.16 USD/BBL or -0.34% to 46.6200
Brent decreased 0.2 USD/BBL or -0.40% to 50.0500
Natural gas increased 0.037 USD/MMBtu or 1.45% to 2.5900
Gasoline decreased 0.0071 USD/GAL or -0.54% to 1.3093
Heating oil decreased 0.0045 USD/GAL or -0.31% to 1.4312
The above data was collected around 13:15 EST on Friday
Top commodity gainers: Natural Gas (1.45%), Wheat (2.33%), Cocoa (2.04%), and Feeder Cattle (1.22%)
Top commodity losers: Orange Juice (-3.93%), Sugar (-1.71%), Rubber (-3.01%), and Copper (-1.43%)
The above data was collected around 13:20 EST on Friday.
BONDS:
Japan 0.01%(-1bp), US 2's 0.12%(-0.020%), US 10's 0.89%(-2bps); US 30's 1.63%(-0.009%), Bunds -0.61% (-1bp), France -0.38% (-2bp), Italy 0.53% (+0bp), Turkey 13.02% (+5bp), Greece 0.60% (-2bp), Portugal -0.03% (-1bp); Spain 0.01% (-2bp) and UK Gilts 0.17% (-3bp).