Blog/Market Talk
Posted Dec 10, 2018 by Martin Armstrong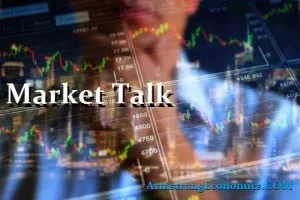 More disappointment today for Asian stocks following the release of yet another weak economic data point. This morning markets responded to the poor trade data for November release as a 5.4% release was way below the double digits expected. Australia ASX had the first opportunity to respond and although held openings levels for a while, was soon to feel the pressure when other markets started trading. The AO's eventually closed on the lows of the day (-2.26%) with the A$ also falling back against a healthy USD. Japan's Nikkei and the SENSEX were two other markets that lost over 2%, but also with their currencies trailing against the Dollar. India's CB Governor Urjit Patel resigns stating "personal reasons", but reports that tensions have been growing between the CB and the government have long been in the news. INR is off around 1.6% in late US trading. Interesting that even this evening in US hours the flight to safety is not there for the Yen as we see it trading with a 113 handle. Both the Hang Seng and Shanghai played around 1% lower for most of the day, but we did see the CNY back with a 6.91 range, a loss on the day of just over 0.5%.
European markets were already lower without the total mess happening in the UK Parliament. Sterling's meltdown happened just after Theresa May pulled the BREXIT vote that was due to take place Tuesday, rumour is fearing a huge loss! The GBP 1.6% decline did help FTSE initially, then they realised if things are that serious people will liquidate assets regardless if they are cheap. When things get desperate and you need money, you sell what you can and not what you should! On this FTSE closed down nearly 1% and the outlook remains uncertain. Lots of talk of a second referendum…. Central Europe was dodgier still with CAC, DAX, IBEX, BEL and FTSE MIB all off 1.75%. This puts their YTD returns at -10.75%, -17.75%, -13.75%, 17.25% and -15.75% respectively. There is still a lot of market talk that Europeans are selling US exposure to bring and enhance returns back in Europe. Keep in mind they have probably made on both on the asset and the currency; Euro is down 5.25% and GBP 7% against the USD. Talk that they may merge Deutsche Bank and Commerzbank again – and the assumptions are; it can't be that great!
US cash opened marginally positive and then the selling resumed and gradually took the majors down around 1.5%. However, afternoon trading seemed to settle-down and gradually support took first the NASDAQ and then others back into positive territory. Interesting core indices trade lower in the mornings, then firmer in the afternoons. A good recovery for US stocks and certainly restores confidence for that side of the pond anyway! Obviously, so much more to be done on the other side and so capital remains US bound for a while yet. With only the US markets showing signs of stability, we continue to see oil trade lower. This evening it loses another 3.5%, but manages a close with a $50 handle still.
Japan 0.03%, US 2's closed 2.72% (-2bp), US 10's closed 2.86% (-1bp), US 30's 3.14% (-2bp), Bunds 0.24% (-1bp), France 0.69% (+1bp), Turkey 16.70% (+10bp), Greece 4.21% (+2bp), Portugal 1.78% (-1bp), Spain 1.44% (-1bp) and UK Gilts 1.19% (-7bp).