Blog/Market Talk
Posted Aug 8, 2016 by Martin Armstrong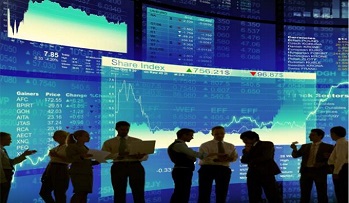 The Asian cash markets just could not wait to open this morning after the huge Payrolls number on Friday. Admittedly, it took a little time and a better than expected Trade Surplus number (52.31 v's and estimated 47.6) for the Shanghai market to join the excitement, but they eventually did to close +0.9% firmer. The Nikkei and the Hang Seng however, were euphoric from the start and with JGB's trading lower (less yield from -0.1% to -0.05%) this also encouraged a weaker Yen. Nikkei closed +2.4% and the HSI +1.5% Asian futures have maintained their gains in late US trading.
Cash markets in Europe hit their days highs in the morning session and spent the rest of the day trying to hold those gains. FTSE closed above the 6800 level but then that should be no surprise given the continued weakness in sterling. Better than expected Sentiment data (4.2 against an expected 3 in August where previous was 1.7 for Sentix Investor Confidence) helped the market but was in thin summer trading. Markets are looking for the excuse to do nothing and the chances are they will get that this week with little data expected other than some Bond auctions.
Talk late in the day is that Italy are planning on holding their own referendum to overhaul the current political system. More uncertainty is certainly not what markets are looking for and so this will have yet another negative impact on BTP's but also the Euro.
Having seen the rally on Friday following the jobs data, today was time for the markets to reflect on their recent performance and evaluate the price action. Many expected consolidation to be key today and that is what we saw. Even with the gains seen for oil today there was no commitment from core indices to act upon it, so summer trading is certainly confirmed and we could expect a quiet week. We will probably have to wait until Friday (Retail Sales) before the market attempts its next move.
As the US Treasury market watched the DOW play around unchanged, so we saw bonds recoup some of Fridays losses. Yields did bounce a small amount but it really was a tight trading range after Fridays steep decline. 2/10's closed +86bp with 10's closing at 1.59%. In Europe it was not until late in the day that the peripheral market started to play and even then it was a little late. German 10yr Bund closed -0.07% closing the spread at +166bp. Italy closed 1.12% (but may move tomorrow given the political uncertainty. Greece 10's closed 8.14% (+2bp), Turkey 9.50% (-16bp), Portugal 2.8% (-4bp) and UK Gilt 10yr closed -6bp at 0.61%. The fall in Gilt prices is a knock-on effect from the TFS (Term Funding Scheme) that the BOE will provide funding for banks at interest rates close to the BOE main rate.