Blog/Market Talk
Posted Aug 8, 2019 by Martin Armstrong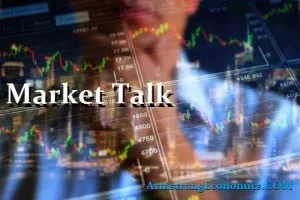 ASIA:
A lot of economic news emerging from China and some is somewhat surprising too. The 3.3% rise in exports YoY overpowered the memories of a 1.3% decline in June, the data from State Customs has revealed. This shows that China could perhaps outlast any tariffs and issues the US throws its way. Unsurprisingly, overall Chinese imports of American goods plunged in July as the trade war heated up. The imports of US goods declined by almost 20 percent from a year prior to $10.9 billion, which is significant as already we had a 31.4-percent fall in the month of June. Exports to the United States declined 6.5 percent to $38.8 billion.
The Japanese government has given the go ahead for exports of a semiconductor material — which are essential for items such as smartphones —to South Korea. This is the first sign of easing tensions between the two countries as this was the first approval since the export ban occurred after the earlier spat regarding war compensation.
UN Secretary General Antonio Guterres today came out appealing to India and Pakistan against changing the status of Jammu and Kashmir and backed Security Council resolutions. Stephane Dujarric as spokesperson for the UN said, "The Secretary General calls on all parties to refrain from taking steps that could affect the status of Jammu and Kashmir. The position of the United Nations on this region is governed by the Charter of the United Nations and applicable Security Council resolutions." While calling for maximum restraint, "the Secretary General is also concerned over reports of restrictions on the Indian-side of Kashmir, which could exacerbate the human rights situation in the region," he added.
The major Asian stock markets had a green day today:
Shanghai increased 25.87 points or 0.93% to 2,794.55
Kospi increased 10.90 points or 0.57% to 1,920.61
ASX 200 increased 48.60 points or 0.75% to 6,568.10
NIKKEI 225 increased 76.79 points or 0.37% to 20,593.35
Hang Seng increased 123.74 points or 0.48% to 26,120.77
SENSEX increased 636.86 points or 1.74% to 37,327.36
The major Asian currency markets had a mixed day today:
AUDUSD increased 0.0056 or 0.83% to 0.6811
NZDUSD increased 0.0038 or 0.58% to 0.6482
USDJPY decreased 0.2070 or 0.19% to 106.0530
USDCNY decreased 0.0153 or 0.22% to 7.0664
Precious Metals:
Gold decreased 3.5 USD/t oz. or -0.23% to 1,495.06
Silver decreased 0.168 USD/t. oz or -0.98% to 16.9429
Some economic news from last night:
Japan:
Adjusted Current Account increased from 1.31T to 1.94T
Bank Lending (YoY) (Jul) remain the same at 2.3%
Current Account n.s.a. (Jun) decreased from 1.595T to 1.211T
Foreign Bonds Buying increased from -161.5B to 286.2B
Foreign Investments in Japanese Stocks decreased from 36.7B to -339.9B
China:
Exports (YoY) (Jul) increased from -1.3% to 3.3%
Imports (YoY) (Jul) increased from -7.3% to -5.6%
Trade Balance (USD) (Jul) decreased from 50.98B to 45.06B
Some economic news from today:
Indonesia:
Retail Sales (YoY) (Jun) decreased from 7.7% to -1.8%
Japan:
Economy Watchers Current Index (Jul) decreased from 44.0 to 41.2
Singapore:
Retail Sales (MoM) (Jun) remain the same at -2.2%
Retail Sales (YoY) (Jun) decreased from -2.0% to -8.9%
EUROPE/EMEA:
UK PM Boris Johnson says he hopes the EU will show "common sense" and agree to change the Brexit withdrawal deal. He urged the UK that the agreement in place by his predecessor Theresa May was unacceptable and vowed that "there is a good deal to be done" if changes to the backstop can be agreed. Meanwhile, some figures are emerging from the UK that the number of wealthy residents who pay no UK tax on their offshore accounts has fallen to its lowest level ever, according to Treasury figures. Last year, there were 78,300 non-domiciled taxpayers, or "non-doms", in the UK compared with 98,500 in 2016-17 and the £9.5bn they paid to the taxman in 2016/17 fell to £7.5bn last year.
Former Conservative party leader Iain Duncan Smith Urged that Conservative party must make Brexit their highest priority as they must act to deliver on the referendum result and let the UK leave the European Union.
U.S. President Donald Trump said today that no one is authorized to speak to Iran on behalf of the United States, as he accused French President Emmanuel Macron of sending "mixed signals" to Iran over the direction of possible talks. "I know Emmanuel means well, as do all others, but nobody speaks for the United States but the United States itself," Trump said on twitter.
The UAE is feeling the pressure of Iranian sanctions, not only is trade hitting them hard, but real estate has slumped 24% this year, a year prior to the well-expected 2020 expo.
The major Europe stock markets had a green day today:
CAC 40 increased 121.45 points or 2.31% to 5,387.96
FTSE 100 increased 87.20 points, or 1.21% to 7,285.90
DAX increased 195.26 points or 1.68% to 11,845.41
The major Europe currency markets had a mixed day today:
EURUSD increased 0.0010 or 0.09% to 1.1207
GBPUSD decreased 0.0006 or -0.05% to 1.21345
USDCHF increased 0.0001 or 0.01% to 0.9753
Some economic news from Europe:
Norway:
Manufacturing Production (MoM) (Jun) decreased from 0.3% to -1.0%
Spain:
Spanish Industrial Production (YoY) (Jun) increased from 1.4% to 1.8%
U.S./AMERICAS:
President Trump voiced his dismay over the strong dollar this Thursday, claiming U.S. manufacturers are at a disadvantage. "With substantial Fed Cuts (there is no inflation) and no quantitative tightening, the dollar will make it possible for our companies to win against any competition," the president stated. Many analysts believe the Federal Reserve will yield to the demands for a further rate cut at the September meeting.
Amazon published a petition this Thursday addressed to the Federal Aviation Administration (FAA) to permit the company to utilize drones for deliveries. Amazon stated that if permitted, it would launch drone deliveries within months. However, there are hesitations and safety concerns in allowing an unmanned drone to fly throughout residential communities. The petition noted that drones will avoid "all known overflight areas such as sensitive government installations, hospitals, open air assemblies." Packages will also have a five-pound weight limit and flight distance will be limited to 15 miles. The company is also hoping to avoid restrictions placed on larger aircrafts such as altitude limitations. Amazon stock rose 2.2% this Thursday.
AMD unveiled their second generation of chip processors, labeled the EPYC server chip, and received a public endorsement from Google. Google openly acknowledged that they employ EPYC server chips for some of their internal data centers. Furthermore, the company plans to implement them in part of their cloud computing later in the year.
U.S. indexes began to recover this Thursday after suffering substantial losses earlier in the week. AMD stock surged by 16.20% and led the way for both the Nasdaq and S&P 500. Symantec was the second largest mover for both indexes as well after rising by 12.30%. Energy stocks contributed to the Dow's daily performance as Chevron (+3.47%) and ExxonMobil (2.67%) both advanced.
U.S. Market Closings:
The Dow advanced 371.12 points or 1.43% to 26,378.19
S&P 500 advanced 54.11 points or 1.88% to 2,938.09
Nasdaq advanced 176.33 points or 2.24% to 8,039.16
Russell 2000 advanced 31.45 points or 2.10% to 1,532.13
Canada Market Closings:
TSX Composite advanced 139.31 points or 0.86% to 16,404.53
TSX 60 advanced 8.3 points or 0.86% to 977.76
Brazil Market Closing:
Bovespa advanced 1,332.86 points or 1.3% to 104,115.23
ENERGY:
News from a Chinese economic report shows that Chinese oil imports rose by 14% last month, although there are reports that it is not solely due to demand as there is said to be a lot of Crude held in storage. Reuters, cited from an oil analyst that "Utilisation rates at refineries are picking up as they have started to see profit margins coming out of the red in recent weeks."
The EIA report released last Tuesday shows that U.S. crude oil production averaged 12.3 million barrels per day, up by 100k bpd from the previous week and up by about 1.5m bpd yoy. This was the second week that the U.S. crude oil production increased after a period of declining production.
The oil markets had a green day today:
Crude Oil increased 1.36 USD/BBL or 2.66% to 52.4727
Brent increased 1.29 USD/BBL or 2.29% to 57.4236
Natural gas increased 0.043 USD/MMBtu or 2.06% to 2.1303
Gasoline increased 0.0322 USD/GAL or 1.99% to 1.6558
Heating oil increased 0.0278 USD/GAL or 1.59% to 1.7834
Top commodity gainers: Crude Oil (2.70%), Brent (2.21%), Natural Gas(2.06%), and Soybeans (1.91%)
Top commodity losers: Bitumen (-1.21 %), Cocoa (-1.12%), Silver (-0.98%), and Steel (-0.95%)
The above data was collected around 13:55 EST on Thursday.
BONDS:
Japan -0.19%(+1bp), US 2's 1.60% (+3bps), US 10's 1.77%(+9bps), US 30's 2.25%(+6bps), Bunds -0.57% (+1bp), France -0.29% (+3bp), Italy 1.57% (+17bp), Turkey 14.57% (-23bp), Greece 2.06% (+6bp), Portugal 0.26% (+8bp), Spain 0.26% (+9bp) and UK Gilts 0.53% (+5bp).
US 30-Year Bond Auction decreased from 2.644% to 2.335%
US 4-Year Bill Auction decreased from 2.080% to 2.065%
US 8-Year Bill Auction decreased from 2.100% to 2.050%