Blog/Market Talk
Posted Aug 7, 2020 by Martin Armstrong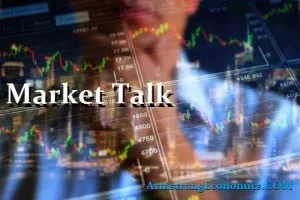 ASIA:
US President Donald Trump announced on Thursday sweeping bans on US transactions with China's ByteDance, owner of video-sharing app TikTok, and Tencent, operator of the WeChat app, starting in 45 days, in a major escalation of tensions with Beijing. Trump said this week he would support the sale of TikTok's US operations to Microsoft Corp if the US government got a "substantial portion" of the sales price but nevertheless said he will ban the service in the United States on Sept 15, 2020. Tencent shares fell 4% on the news. There are 100 million TikTok users in the United States and Republicans have raised concerns about the political fallout of banning the popular app in the United States.
The US Treasury has imposed sanctions on Hong Kong chief executive Carrie Lam, and 10 other top officials from Hong Kong and mainland China. The sanctions were used to target those undermining Hong Kong's autonomy, said Treasury Secretary Steven Mnuchin.
Former Reserve Bank of India governor Raghuram Rajan said on Thursday that the government should not overly focus on what sovereign rating agencies think. This can take one's eyes off what needs to be done for the Indian economy. The government has announced several initiatives to help the poor and small and medium-sized businesses, but actual cash outgo from the government's measures has been estimated at just about 1% of GDP. Several attribute the fiscal prudence to fear of a downgrade after Moody's cut India's rating and outlook in early June followed closely by a change in outlook from Fitch.
The major Asian stock markets had a mixed day today:
NIKKEI 225 decreased 88.21 points or -0.39% to 22,329.94
Shanghai decreased 32.43 points or -0.96% to 3,354.04
Hang Seng decreased 398.96 points or -1.60% to 24,531.62
ASX 200 decreased 37.40 points or -0.62% to 6,004.80
Kospi increased 9.06 points or 0.39% to 2,351.67
SENSEX increased 15.12 points or 0.04% to 38,040.57
Nifty50 increased 13.90 points or 0.12% to 11,214.05
The major Asian currency markets had a mixed day today:
AUDUSD decreased 0.00732 or -1.01% to 0.71592
NZDUSD decreased 0.00812 or -1.21% to 0.66027
USDJPY increased 0.4180 or 0.40% to 105.96
USDCNY increased 0.02321 or 0.33% to 6.96689
Precious Metals:
Gold decreased 38.45 USD/t oz. or -1.86% to 2,030.45
Silver decreased 1.53 USD/t. oz or -5.16%% to 28.146
Some economic news from last night:
China:
Exports (YoY) (Jul) increased from 0.5% to 7.2%
Imports (YoY) (Jul)decreased from 2.7% to -1.4%
Trade Balance (USD) (Jul) increased from 46.42B to 62.33B
Japan:
Average Cash Earnings (YoY) increased from -2.3% to -1.7%
Household Spending (YoY) (Jun) increased from -16.2% to -1.2%
Household Spending (MoM) (Jun) increased from -0.1% to 13.0%
Overall wage income of employees (Jun) increased from -2.3% to -1.7%
Overtime Pay (YoY) (Jun) increased from -26.30% to -24.60%
Foreign Reserves (USD) (Jul) increased from 1,383.2B to 1,402.5B
Australia:
AIG Services Index (Jul) increased from 31.5 to 44.0
Indonesia:
FX Reserves (USD) (Jul) increased from 131.70B to 135.10B
Some economic news from today:
China:
FX Reserves (USD) increased from 3.112T to 3.154T
Hong Kong:
Foreign Reserves (USD) (Jul) increased from 445.90B to 450.00B
Singapore:
Foreign Reserves USD (MoM) (Jul) increased from 312.5B to 321.4B
India:
FX Reserves, USD increased from 522.63B to 534.57B
Japan:
Coincident Indicator (MoM) (Jun) increased from -6.4% to 3.5%
Leading Index increased from 78.4 to 85.0
Leading Index (MoM) (Jun) increased from 0.7% to 6.7%
EUROPE/EMEA:
The UK economy will take longer than expected to recover from the coronavirus pandemic, the Bank of England said Thursday, as it warned of rising unemployment and other risks to its forecast, such as a second wave of infections and Brexit. The central bank said in a statement that UK GDP is projected to shrink by 9.5% this year, its worst slump in 99 years. That is less severe than the 14% slump it predicted in May, which would have been the worst crash in 300 years. But it also warned of a slower recovery. The Bank of England has provided unprecedented support as the UK battles a historic recession, slashing its main interest rate to a record low of 0.1% in March. Its bond buying program has swelled to £745 billion ($979 billion) and economists widely expect another £100 billion ($131.4 billion) of quantitative easing in November.
France and Germany have quit talks on reforming the World Health Organization in frustration at attempts by the United States to lead the negotiations, despite its decision to leave the WHO, three officials told Reuters. The move is a setback for President Donald Trump as Washington, which holds the rotating chair of the G7, had hoped to issue a common roadmap for a sweeping overhaul of the WHO in September, two months before the US presidential election.
The German and French health ministries confirmed to Reuters that the two countries were opposed to the United States leading the talks after announcing their intention to leave the organization. A spokesman for the Italian health ministry said that work on the reform document was still underway, adding, however, that Italy's position was in line with Paris and Berlin.
The major Europe stock markets had a green day today:
CAC 40 increased 4.39 points or 0.09% to 4,889.52
FTSE 100 increased 5.24 points, or 0.09% to 6,032.18
DAX 30 increased 83.20 points or 0.66% to 12,674.88
The major Europe currency markets had a mixed day today:
EURUSD decreased 0.00882 or -0.74% to 1.17860
GBPUSD decreased 0.00812 or -0.62% to 1.30578
USDCHF increased 0.00232 or 0.25% to 0.91256
Some economic news from Europe today:
Germany:
Gemran Current Account Balance n.s.a (Jun) increased from 7.0B to 22.4B
German Exports (MoM) (Jun) increased from 8.9% to 14.9%
German Imports (MoM) (Jun) increased from 3.6% to 7.0%
German Industrial Production (MoM) (Jun) increased from 7.4% to 8.9%
German Trade Balance (Jun) increased from 7.5B to 14.5B
Norway:
Manufacturing Production (MoM) (Jun) increased from -3.0% to 0.4%
Credit Indicator (YoY) (Jun) decreased from 4.6% to 4.5%
France:
French Current Account (Jun) decreased from -8.20B to -8.40B
French Exports (Jun) increased from 27.7B to 32.4B
French Imports (Jun) increased from 35.2 B to 40.4B
French Industrial Production (MoM) (Jun) decreased from 19.9% to 12.7%
French Non-Farm Payrolls (QoQ) (Q2) increased from -2.5% to -0.6%
French Reserve Assets Total (Jul) increased from 197,166.0M to 200,385.0M
French Trade Balance (Jun) decreased from -7.5B to -8.0B
Spain:
Spanish Industrial Production (YoY) (Jun) increased from -24.7% to -14.0%
UK:
Halifax House Price Index (YoY) increased from 2.5% to 3.8%
Halifax House Price Index (MoM) (Jul) increased from -0.1% to 1.6%
Italy:
Italian Trade Balance (Jun) increased from 5.584B to 6.232B
Italian Trade Balance EU (Jun) increased from 1.51B to 1.56B
US/AMERICAS:
The US issued sanctions on Hong Kong Chief Executive Carrie Lam for being "directly responsible for implementing Beijing's policies of suppression of freedom and democratic processes," the US Treasury stated this Friday. The Treasury is holding Lam responsible for implementing "draconian national security legislation" by allowing China to undermine Hong Hong's independence. The Office of Foreign Assets Control (OFAC) could block anything Lam may own in the US, and she will be prohibited from conducting business transactions with US institutions or individual citizens.
Unemployment in the US fell to 10.2% in the US, compared to 11.1% in June, but still falls slightly above the Great Recession uptick in joblessness that peaked at 10%. Still, the figure is a long way from the 3.5% historically low level that Americans experienced prior to the pandemic. Payrolls advanced by 1.76 million positions in July, exceeding analysts' expectations of 1.48 million.
Eric Rosengren, president of the Boston Federal Reserve, anticipates small and mid-sized businesses requiring additional assistance if the coronavirus slowdown continues. Currently, 509 financial institutions have already registered for the Main Street Lending Program equating to over $530 million in active loans. Although small to mid-sized businesses have been slower to take on loans, Rosengren warned that they will soon require aid and the eventual size of the program may be expanded.
Canada announced plans to hit the US with $2.7 billion worth of tariffs in a retaliation after the Trump administration reimplemented tariffs on aluminum. The 10% aluminum tariff had been lifted a year prior, however, President Trump announced on Thursday that the tariffs are going back into effect. "The aluminum business was being decimated by Canada," the US president said. Prime Minister Trudeau announced that Canada will impose "dollar-for-dollar retaliatory tariffs."
US Market Closings:
Dow advanced 46.5 points or 0.17% to 27,433.48
S&P 500 advanced 2.12 points or 0.06% to 3,351.28
Nasdaq declined 97.09 points or -0.87% to 11,010.98
Russell 2000 advanced 24.56 points or 1.59% to 1,569.18
Canada Market Closings:
TSX Composite declined 34.62 points or -0.21% to 16,544.48
TSX 60 declined 1.73 points or -0.17% to 991.1
Brazil Market Closing:
Bovespa declined 1,350.09 points or -1.3% to 102,775.55
ENERGY:
The oil markets had a mixed day today:
Crude Oil decreased 0.42 USD/BBL or -1.00% to 41.5300
Brent decreased 0.45 USD/BBL or -1.00% to 44.6400
Natural gas increased 0.096 USD/MMBtu or 4.45% to 2.2540
Gasoline decreased 0.018USD/GAL or -1.46% to 1.2130
Heating oil decreased 0.0273 USD/GAL or -2.18% to 1.2249
Top commodity gainers: Natural Gas (4.45%),Lean Hogs (2.46%),Bitumen (1.82%), and Coal (2.58%)
Top commodity losers: Copper(-4.09%), Cotton(-4.18%), Silver (-5.16%), and Platinum (-4.56%)
The above data was collected around 16:45 EST on Friday.
BONDS:
Japan 0.01%(-0bp), US 2's 0.13% (+1bps), US 10's 0.55%(+2bps);US 30's 1.22%(+2bps), Bunds -0.51% (+6bp), France -0.21% (+2bp), Italy 1.00% (+1bp), Turkey 14.03% (+12bp), Greece 1.03% (+1bp), Portugal 0.32% (+0bp), Spain 0.29% (+8bp) and UK Gilts 0.14% (+3bp).