Blog/Market Talk
Posted Aug 7, 2019 by Martin Armstrong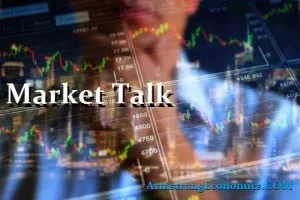 ASIA:
Last week on Thursday, President Trump threatened to add another 10% tariff on an additional 300 billion USD worth of goods coming into the U.S. from China. China responded to President Trump's threat by allowing the Chinese yuan — with the current exchange rate of 7.05 Chinese Yuan to the dollar — sink to the weakest level in over a decade and ordering state-owned companies to stop all of their purchases of U.S. agricultural products for the foreseeable future according to reports. Trump later tweeted that "China dropped the price of their currency to an almost a historic low. It's called "currency manipulation." Are you listening Federal Reserve? This is a major violation which will greatly weaken China over time!"
Meanwhile China is still accusing the U.S. of deliberately destroying international order with protectionism.
Amid rising tensions between South Korea and Japan, South Korea and the US have held a joint annual military exercise. "Our joint exercise to verify capabilities for its envisioned retaking of wartime operational control is being prepared," a South Korean defense ministry official said. North Korea has sent warnings over such military exercises and declares that it threatens nuclear negotiations between North Korea and Washington. As Japan is the U.S.'s closest ally in the region, the current exercises couldn't be doing that relationship any good. Meanwhile, South Korean President Moon Jae-in, surprisingly said that South Korea can overtake Japan economically by cooperating with North Korea. He further mentioned that South Korea needs a "wider view and extraordinary determination" to overtake the Japanese economy.
China is pressing local police in Hong Kong to punish those who break the law with the protests, and warned the police force not to underestimate the strength of the central government. Meanwhile, China said today that it opposes India's decision to revoke the special status of Kashmir, because it undermined China's territorial sovereignty. "India's action is unacceptable and would not have any legal effect," foreign ministry spokeswoman Hua Chunying said in a statement.
Today, more rumors of Chinese government plans to sell US treasuries in order to punish the U.S., China is currently the largest holders of treasuries at 1.1 billion USD. White House economic advisor Larry Kudlow told CNBC, "The Chinese economy is crumbling. It's just not the powerhouse it was 20 years ago." Further adding, "I think China is getting hurt significantly, much more than we are," whilst finishing with, "The American economy is very strong. Theirs is not."
The major Asian stock markets had a mixed day today:
Shanghai decreased 8.88 points or -0.32% to 2,768.68
Kospi decreased 7.79 points or -0.41% to 1,909.71
ASX 200 increased 41.40 points or 0.64% to 6,519.50
NIKKEI 225 decreased 68.75 points or -0.33% to 20,516.56
Hang Seng increased 20.79 points or 0.08% to 25,997.03
SENSEX decreased 286.35 points or -0.77% to 36,690.50
The major Asian currency markets had a mixed day today:
AUDUSD increased 0.00067 or 0.10% to 0.67667
NZDUSD decreased 0.00593 or -0.91% to 0.64637
USDJPY decreased 0.3430 or -0.32% to 106.1270
USDCNY increased 0.0291 or 0.41% to 7.0814
Precious Metals:
Gold increased 29.18 USD/t oz. or 1.98% to 1,505.62
Silver increased 0.701 USD/t. oz or 4.26% to 17.1582
Some economic news from last night:
Australia:
AIG Construction Index (Jul) decreased from 43.0 to 39.1
Home Loans (MoM) (Jun) decreased from 0.0% to -0.9%
Invest Housing Finance (MoM) increased from -1.7% to 0.5%
New Zealand:
RBNZ Interest Rate Decision decreased from 1.50% to 1.00%
Japan:
Foreign Reserves (USD) (Jul) decreased from 1,322.3B to 1,316.5B
Indonesia:
FX Reserves (USD) (Jul) increased from 123.80B to 125.90B
Some economic news from today:
India:
Cash Reserve Ratio remain the same at 4.00%
Interest Rate Decision decreased from 5.75% to 5.40%
Reverse REPO Rate decreased from 5.50% to 5.15%
China:
FX Reserves (USD) decreased from 3.119T to 3.104T
HongKong:
Foreign Reserves (USD) increased from 445.70B to 448.50B
Singapore:
Foreign Reserves USD (MoM) (Jul) decreased from 273.9B to 272.7B
EUROPE/EMEA:
The Chief Brussels envoy said that a no-deal Brexit is UK PM Boris Johnson's "central scenario." With less than 3 months to go, the EU is convinced that the UK is going to crash out of Europe with a no-deal. "It was clear UK does not have another plan," a senior EU diplomat said of the meetings with Frost. "No intention to negotiate, which would require a plan. A no deal now appears to be the UK government's central scenario." However, from a statement from the UK No 10. Stating that the UK was ready to negotiate in "good faith" but will only agree to a deal without the "undemocratic backstop." The EU commission says the current withdrawal agreement is the "best possible agreement" and is not up for negotiation but they are still ready to talk.
Yesterday Michael Gove accused the EU of not being open for negotiations and called the situation "wrong and sad." "We need a new approach and we stand ready to engage with the European Union, to negotiate in good faith to make sure that we can have a friendly relationship in the future," Gove said. "We will put all our energy into making sure that we can secure that good deal but at the moment it is the EU that seems to be saying they are not interested. They are simply saying: 'No, we don't want to talk.' I think that is wrong and sad. It is not in Europe's interests," he commented.
The UK has decided that it will form a maritime coalition in the Gulf with the U.S. in order to protect international shipping amid growing tensions with Iran, the government has announced. A third ship was seized by Iran on Sunday belonging to an Iraqi firm as it was said to be smuggling illegal oil from the region. Meanwhile, Iran's foreign minister has opened up as to why he was sanctioned by the U.S. He said he was invited for White House talks with Donald Trump and threatened with sanctions if he did not attend. Mohammad Javad Zarif told reporters in Tehran, "I didn't accept and was sanctioned."
Iranian Foreign Minister Mohammad Javad Zarif, today tweeted Tuesday that "74 yrs after US became first & ONLY regime to deploy a nuclear weapon—on a city, designed to maximize casualties—it is STILL targeting civilians." He argued, "This time, with #EconomicTerrorism, violating a historic nuclear deal & punishing those who seek to adhere to it." Iran today unveiled precision guided missiles which are able to strike any US base in the region according to the state.
The EU set up force to protect its borders called Frontex has been accused of human rights abuse of migrants. The force has been understood to be using extreme measures to keep migrants out and contained. Cyprus today asked Brussels if they could relocate up to 5,000 immigrants as they are finding it difficult to provide accommodations for them.
Regarding Switzerland the EU partnership deals, the Swiss foreign minister Ignazio Cassis yesterday said it would take a "miracle" for Switzerland and the European Union to clinch a quick deal over a stalled partnership treaty that has disrupted cross-border share trading and strained bilateral ties.
Surprisingly, the EU optimism meter is at its highest it has been in over 10 years, with the Irish topping the list at being 85% optimistic on the future of the EU and UK and Greece at the bottom of the list having less than 50% optimistic results.
The major Europe stock markets had a green day today:
CAC 40 increased 31.86 points or 0.61% to 5,266.51
FTSE 100 increased 27.01 points, or 0.38% to 7,198.70
DAX increased 82.19 points or 0.71% to 11,650.15
The major Europe currency markets had a mixed day today:
EURUSD increased 0.00164 or 0.15% to 1.12144
GBPUSD decreased 0.00194 or -0.16% to 1.21466
USDCHF decreased 0.00291 or -0.30% to 0.97339
Some economic news from Europe:
Germany:
German Industrial Production (MoM) (Jun) decreased from 0.1% to -1.5%
France:
French Reserve Assets Total (Jul) increased from 163,902.0M to 173,491.0M
French Current Account (Jun) decreased from 0.30B to -0.80B
French Exports (Jun) decreased from 44.3B to 41.9B
French Imports (Jun) decreased from 47.5B to 47.1B
French Trade Balance (Jun) decreased from -3.3B to -5.2B
UK:
Halifax House Price Index (MoM) (Jul) increased from -0.4% to -0.2%
Halifax House Price Index (YoY) (Jul) decreased from 5.7% to 4.1%
U.S./AMERICAS:
James Bullard, president of the St. Louis Federal Reserve and self-proclaimed "most dovish member" of the FOMC stated in an interview this Tuesday that he would like to see the impact of the most recent rate cut before deciding on further action. "Responding to each additional trade threat would destabilize the monetary policy and create more problems than it solved," Bullard noted. China's recent retaliation against the America's tariff hike spooked investors and resulted in a panic sell off this Monday. However, Bullard said that trade negotiations have long been "tit for tat" and that he has known that "trade uncertainty is high and going to remain high."
Meanwhile, President Trump stated this Wednesday, "Our problem is not China…Our problem is the Federal Reserve is too proud to admit their mistake of acting too fast and tightening too much." The president urged, yet again, the Fed to lower interest rates and cease quantitative tightening. India, New Zealand, and Thailand have all recently reduced their interest rates.
Chicago Federal Reserve President Charles Evans stated this Wednesday that lowering interest rates further "would require additional accommodations." Evans noted that increasingly hostile international trade "created more headwinds" and hinted that there may be reason for the Fed to consider further lowering interest rates. "We are going to be digesting everything that's going on," Evans assured. The next Federal Reserve meeting will be held September 17-18.
China's recent decision to cease purchasing U.S. agriculture may hurt American farmers. China's reliance on U.S. agriculture has waned in recent years. According to the American Farm Bureau, U.S. agricultural exports to China decreased by over 50% between 2017-2018 after falling from $19.5 in 2017 to $9.1 billion the following year. Yet, China was still the fourth-largest importer of U.S. agricultural goods in 2018. The U.S. government announced in July that it would increase aid to farmers affected by the trade war by $16 billion and may have to provide more aid if the situation continues.
U.S. Market Closings:
The Dow declined by 22.45 points or -0.09% to 26,007.07
S&P 500 advanced 2.21 points or 0.08% to 2,883.98
Nasdaq advanced 29.56 points or 0.38% to 7,862.83
Russell 2000 declined 1.40 points or -0.09% to 1,500.69
Canada Market Closings:
TSX Composite advanced 115.73 points or 0.72% to 16,265.22
TSX 60 advanced 8.15 points or 0.85% to 969.46
Brazil Market Closing:
Bovespa advanced 618.68 points or 0.61% to 102,782.37
ENERGY:
Global cues are causing downward pressure on the price of oil, with the progress and current trajectory of the U.S. and Chinese trade deal the main culprit. Oil slipped to a 7-month low today as there was a surprisingly large build in crude from the US.
Bank of America Merrill Lynch warned that oil prices could slip sharply and reach as low as 30 dollars if China opens up and increases its purchasing of Iranian oil by defying the U.S. sanctions.
The oil markets had a negative day today:
Crude Oil decreased 1.99 USD/BBL or -3.71% to 51.7356
Brent decreased 2.24 USD/BBL or -3.80% to 56.7283
Natural gas decreased 0.032 USD/MMBtu or -1.52% to 2.0832
Gasoline decreased 0.0548 USD/GAL or -3.25% to 1.6345
Heating oil decreased 0.0603 USD/GAL or -3.31% to 1.7604
Top commodity gainers: Silver (3.69%), Platinum (2.18%), Gold (1.59%), and Copper (1.25%)
Top commodity losers: Sugar (-3.32 %), Brent (-3.80%), Gasoline (-3.25%), and Crude Oil (-3.71%)
The above data was collected around 15:45 EST on Wednesday.
BONDS:
Japan -0.19%(-1bp), US 2's 1.55% (-6bps), US 10's 1.65%(-9bps), US 30's 2.16%(-11bps), Bunds -0.60% (-6bp), France -0.33% (-7bp), Italy 1.43% (-8bp), Turkey 14.80% (-30bp), Greece 2.00% (-5bp), Portugal 0.19% (-7bp), Spain 0.17% (-7bp) and UK Gilts 0.48% (-4bp).
US 10-Year Note Auction decreased from 2.064% to 1.670%
German 5-Year Bobl Auction decreased from -0.660% to -0.790%