Blog/Market Talk
Posted Aug 5, 2020 by Martin Armstrong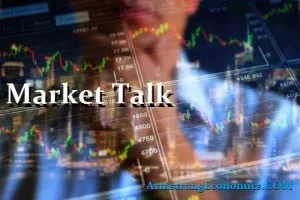 ASIA:
Senior US and Chinese officials will review the implementation of their Phase 1 trade deal and likely air mutual grievances in an increasingly tense relationship during an August 15 video conference, two people familiar with the plans said. US Trade Representative Robert Lighthizer and Chinese Vice Premier Liu He, the principal negotiators for the two countries, will participate in the meeting, the Wall Street Journal reported.
International banks in Hong Kong are caught in the crossfire of competing laws enacted by the United States and China as the superpowers clash over the city's future, with analysts warning businesses are being forced to pick a side. Leading banks in Hong Kong are alarmed by two pieces of legislation that came into effect last month that could radically alter how they do business in the semi-autonomous city. The first is a bipartisan US Bill sanctioning Chinese and Hong Kong officials responsible for the current crackdown on political freedoms in the city. The second is a sweeping security law Beijing imposed on the finance hub that includes a ban on businesses complying with foreign sanctions. Beijing's security law targets secession, subversion, terrorism and colluding with foreign forces.
India on Wednesday told China "not to comment on the internal affairs" of other countries, in response to China describing the dilution of Article 370, on the one-year anniversary of the move, as being "illegal and invalid." China had "no locus standi" on the matter, the Ministry of External Affairs said.
India's gold imports in July fell 24 percent from a year earlier as a rally in local prices to a record high curtailed retail purchases amid lockdown in many towns to curb the spread of the coronavirus, a government source said on Tuesday. The world's second-biggest consumer of the precious metal imported around 30 tonnes of gold in July, down from 39.66 tonnes a year ago, the source said.
The major Asian stock markets had a mixed day today:
NIKKEI 225 decreased 58.81 points or -0.26% to 22,514.85
Shanghai increased 5.88 points or 0.17% to 3,377.56
Hang Seng increased 155.91 points or 0.62% to 25,102.54
ASX 200 decreased 36.30 points or -0.60% to 6,001.30
Kospi increased 31.89 points or 1.40% to 2,311.86
SENSEX decreased 24.58 points or -0.07% to 37,663.33
Nifty50 increased 6.40 points or 0.06% to 11,101.65
The major Asian currency markets had a mixed day today:
AUDUSD increased 0.0027 or 0.38% to 0.71935
NZDUSD increased 0.0010 or 0.15% to 0.66478
USDJPY decreased 0.1510 or -0.14% to 105.56
USDCNY decreased 0.0323 or -0.46% to 6.94133
Precious Metals:
Gold increased 10.1 USD/t oz. or 0.50% to 2,036.90
Silver increased 0.674 USD/t. oz or 2.58% to 26.801
Some economic news from last night:
China:
Caixin Services PMI (Jul) decreased from 58.4 to 54.1
Chinese Composite PMI (Jul) increased from 54.2 to 54.5
Japan:
Services PMI (Jul) increased from 45.0 to 45.4
South Korea:
FX Reserves – USD (Jul) increased from 410.75B to 416.53B
Australia:
AIG Construction Index (Jul) increased from 35.5 to 42.7
Services PMI increased from 53.1 to 58.2
Home Loans (MoM) increased from -10.2% to 5.5%
Invest Housing Finance (MoM) increased from -15.6% to 8.1%
New Zealand:
ANZ Commodity Price Index (MoM) increased from -0.8% to 2.3%
Employment Change (QoQ) (Q2) decreased from 0.7% to -0.4%
Labor Cost Index (YoY) (Q2) decreased from 2.4% to 1.8%
Labor Cost Index (QoQ) (Q2) decreased from 0.3% to 0.2%
Participation Rate (Q2) decreased from 70.50% to 69.70%
Unemployment Rate (Q2) decreased from 4.2% to 4.0%
Hong Kong:
Manufacturing PMI (Jul) decreased from 49.6 to 44.5
Some economic news from today:
India:
Nikkei Services PMI (Jul) increased from 33.7 to 34.2
Indonesia:
GDP (YoY) (Q2) decreased from 2.97% to -5.32%
GDP (QoQ) (Q2) decreased from -2.41% to -4.19%
Singapore:
Retail Sales (YoY) (Jun) increased from -52.0% to -27.8%
Retail Sales (MoM) (Jun) increased from -21.4% to 51.1%
EUROPE/EMEA:
The spread of coronavirus in the UK could have been slowed with earlier quarantine restrictions on arrivals, a group of MPs has said.
Analysts are expecting UK may enter in the worst recession in three centuries as investors will stay away from investment in UK due to the coronavirus outbreak and Brexit terms still not finalized. Rock-bottom interest rates squeezing profit margins of UK's big lenders. Shares in Britain's "big four" — HSBC Holdings Plc, Barclays Plc, Lloyds Banking Group Plc and the recently rebranded NatWest Group Plc — have all performed worse than their European peers this year. Lloyds and NatWest, the most exposed to the UK economy, have seen more than half of their market values wiped out, leaving them not far off the lows of the financial crisis. Banco Santander SA, which runs Britain's fifth-largest bank, last week wrote $7.2 billion off the value of its UK offshoot.
Germany's Chancellor Angela Merkel reacted to the blast in Beirut, by saying the federal government was shattered by the reports and photos coming out of Beirut. "Our thoughts are with those who have lost loved ones," she stated. "We wish the injured a speedy recovery." Mrs. Merkel announced Germany would offer Lebanon help.
In a bid to prevent the import of new coronavirus infections by travellers coming from outside, France has undertaken new measures at its borders. Since August 1, those traveling to France from 16 countries with high viral circulation are subject to the requirement of COVID-19 negative test results taken less than 72 hours before the flight. Those aged 11 and under are exempt from this requirement.
The major Europe stock markets had a green day:
CAC 40 increased 43.82 points or 0.90% to 4,933.34
FTSE 100 increased 68.72 points or 1.14% to 6,104.72
DAX 30 increased 59.38 points or 0.47% to 12,660.25
The major Europe currency markets had a mixed day today:
EURUSD increased 0.0069 or 0.58% to 1.18689
GBPUSD increased 0.0043 or 0.33% to 1.31180
USDCHF decreased 0.0055 or -0.60% to 0.90776
Some economic news from Europe today:
Spain:
Spanish Services PMI (Jul) increased from 50.2 to 51.9
Spanish Consumer Confidence decreased from 60.7 to 53.1
Italy:
Italian Composite PMI (Jul) increased from 47.6 to 52.5
Italian Services PMI (Jul) increased from 46.4 to 51.6
France:
French Markit Composite PMI (Jul) increased from 51.7 to 57.3
French Services PMI (Jul) increased from 50.7 to 573
Germany:
German Composite PMI (Jul) increased from 47.0 to 55.3
German Services PMI (Jul) increased from 47.3 to 55.6
Euro Zone:
Markit Composite PMI (Jul) increased from 48.5 to 54.9
Services PMI (Jul) increased from 48.3 to 54.7
Retail Sales (YoY) (Jun) increased from -3.1% to 1.3%
Retail Sales (MoM) (Jun) decreased from 20.3% to 5.7%
UK:
Composite PMI (Jul) increased from 47.7 to 57.0
Services PMI (Jul) increased from 47.1 to 56.5
Norway:
House Price Index (YoY) (Jul) increased from 3.50% to 5.00%
US/AMERICAS:
Federal Reserve Vice Chairman Richard Clarida optimistically sees the US economy recovering during Q3. "My own personal forecast is that we'll see a rebound in economic activity in the third-quarter data. The course of the economy is going to depend on the course of the virus, and it's a complex picture," Clarida told reporters at CNBC. The vice chair warned that the economic downturn would "drag on" for as long as the lockdown and stringent coronavirus measures are in place. "My baseline view is that we could get back to the level of activity perhaps towards the end of 2021. There are a lot of moving parts with the virus and the global outlook," he stated.
The Centers for Disease Control (CDC) is urging Congress to reopen school this fall to avoid "significant public health consequences" that could likely outweigh the concerns regarding the coronavirus. CDC Director Dr. Robert Redfield stressed the importance of "face-to-face learning" and social interaction for children. "[Students] get their nutritional support from their schools. We're seeing an increase in drug use disorder as well as suicide in adolescent individuals. I do think that it's really important to realize it's not public health versus the economy about school reopening," Redfield stressed. Furthermore, the CDC director is suggesting five methods for safely reopening schools: social distancing, face masks, hand washing, minimizing public gatherings, and avoiding crowded drinking and dining establishments.
Private payrolls in the US advanced 167,000 positions in July, falling short of analysts' expectations of one million. Larger corporations seem to be recovering at a faster speed, and reported an increase of 129,000 jobs; small businesses added only 63,000 positions. Although 4.314 jobs were created in June, along with 3.34 million positions in May, the US job market is still far from the 19.7 million jobs that vanished between March and April at the beginning of the pandemic.
Mortgages in the US are continually dropping to new lows, with 30-year fixed-rates declining to 3.14% compared to 3.2% the week prior. Yet, buyers are beginning to relinquish from the marketplace and mortgage applications declined -2% for the week, or -22% YoY.
US Market Closings:
Dow advanced 373.05 points or 1.39% to 27,201.52
S&P 500 advanced 21.26 points or 0.64% to 3,327.77
Nasdaq advanced 57.23 points or 0.52% to 10,998.4
Russell 2000 advanced 29.02 points or 1.91% to 1,546.24
Canada Market Closings:
TSX Composite advanced 133.58 points or 0.82% to 16,501.61
TSX 60 advanced 7.74 points or 0.79% to 988.62
Brazil Market Closing:
Bovespa advanced 1,585.89 points or 1.57% to 102,801.76
ENERGY:
The oil markets had a green day today:
Crude Oil increased 0.46 USD/BBL or 1.10% to 42.1600
Brent increased 0.76 USD/BBL or 1.71% to 45.1900
Natural gas increased 0.021 USD/MMBtu or 0.96% to 2.1990
Gasoline increased 0.0112 USD/GAL or 0.92% to 1.2233
Heating oil increased 0.0107 USD/GAL or 0.85% to 1.2643
The above data was collected around 14:40 EST on Wednesday.
Top commodity gainers: Silver (2.58%), Ethanol (5.83%), Zinc (2.97%), and Platinum (2.36%)
Top commodity losers: Cheese (-20.98%), Bitumen (-1.98%), Milk (-22.38%), and Orange Juice (-3.50%)
The above data was collected around 14:46 EST on Wednesday.
BONDS:
Japan 0.01%(-0bp), US 2's 0.12% (+1bps), US 10's 0.55%(+4bps); US 30's 1.23%(+4bps), Bunds -0.50% (+8bp), France -0.19% (+4bp), Italy 1.05% (+3bp), Turkey 13.69% (+57bp), Greece 1.04% (-5bp), Portugal 0.34% (+3bp); Spain 0.32% (+10bp) and UK Gilts 0.13% (+5bp).
German 5-Year Bobl Auction decreased from -0.660% to -0.720%
UK 10-Year Treasury Gilt Auction decreased from 0.197% to 0.138%