Blog/Market Talk
Posted Aug 3, 2017 by Martin Armstrong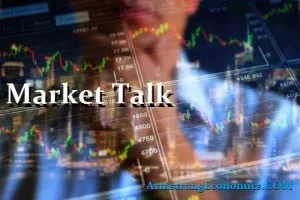 Asia loved the idea that the DOW had closed above the 22k level but many were questioning why is it only the DOW that is soaring? Other core indices (S+O, NASDAQ and even the Russell) had all closed unchanged but for the Russell which fell 1% yesterday. Markets feel like they are treading water, was the typical comment we heard today from many centers. All Asia closed lower but with only the KOSPI under heavy pressure falling -1.7%. In Shanghai the market closed down -0.35% whilst the Hang Seng down -0.3%. It was financials that again weighed on core especially HSBC which lost 1.3% in Thursday trading. The yen is still seeing the flight to safety and in late US trading is flirting with the 110 handle as US stocks and Asian futures start to trade heavy on the grand jury Mueller Russia probe.
In Europe it was mostly about the BOE decision and the eventual surprise voting. Last month we saw a 5-3 split in holding rates steady but this time we saw a 6-2 vote. GBP fell (-0.9%) on the news and q+a session whilst the FTSE balanced that move with a 0.85% rally. BOE also downgraded the inflation forecast. The CAC and IBEX closed better by around 0.4% but the DAX again suffered closing down -0.2%. Energy prices fell today with losses of around 1.5% as we rejected yet again the $50 level.
After the BOE comments and the mismatch between rhetoric and market the US markets played pretty much mixed ahead of tomorrow NFP's release. The DOW again performed the best of the bunch whilst NASDAQ and S+P remained under-pressure for much of the session. Markets still keep talking a global recovery and the more they talk-it the heavier the DXY becomes. Again the Euro traded well but remains under the 1.19 level but did see another +0.2% gain today. GBP hit a nine month low against the Euro today. in the final minutes, end of day buy orders managed a record close for the DOW.
2's closed 1.34% (-2BP), 10's 2.22% (-5bp), 30's 2.79% (-7bp), Bunds 0.45% (-4bp) which closes the US/Germany spread at +177bp (-1bp). France 0.71% (-3bp), Italy 1.97% (-3bp), Greece 5.41% (+6bp), Turkey 10.36% (+5bp), Portugal 2.78% (u/c) and Gilts 1.15% (-8bp).