Blog/Market Talk
Posted Aug 31, 2017 by Martin Armstrong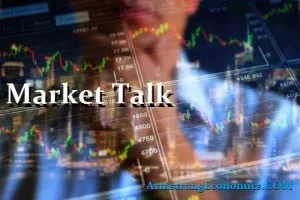 A solid day for the Nikkei today closing up +0.7% but have watched yen trade comfortably with a 110 handle all day. Talk in Japan is very much concentrated on Theresa Mays three day visit and the possible speculation surrounding Japan/UK trade deal. There was a sense that todays session seemed a rebalancing after the North Korea event especially with so much economic data due later in the day and that we might hear news upon the conclusion of BREXIT talks. Very interesting that the final day of the month we watch as GBP trades back towards the month end bearish reversal number (1.2811). The Australian ASX bounced 0.8% but did see the A$ lose -0.4% following release of China's PMI numbers. Although the manufacturing index beat we saw a larger decline in the services (53.4 compared to 54.5 previously released. Both the Hang Seng and Shanghai closed lower just that large caps having performed better recently gave back more today. SENSEX traded well today following a slower growth rate than forecast. Releasing at 5.7% is lower than the previous 6.1% quarter – manufacturing was a key disappointment. .
Early data from the Eurozone helped markets recover lost momentum. Inflation printed 1.5% in August which was the highest in four months. Retailers helped push all indices firmer in a day when markets were ready for some good news. Unfortunately, the German engine of growth saw conflicting domestic data after its released Retail Sales for July weaker than expected. Today is the last of the third round days and it does not sound as though there is much meeting of minds! GBP was sold on headlines that much is still to be discussed and no significant headway is being made. It does look as though Europe is starting to believe the UK when it says that 'no deal' for them is better than a bad deal. Sterling declined 0.5% intraday but could well have been helped by Draghi's comments surrounding the strength of the Euro, only top bounce into the close. . Oil also saw joined the euphoria jumping 2.4%.
US market seemed to be living off of the refreshing data from yesterdays strong ADP report with optimism for Fridays release. Stocks held steady for most of the day with again the broader S+P and NASDAQ leading the way. As we have seen a fairly narrow trading range recently, the $10 rally in gold found a bit of attention but probably because it reversed yesterdays decline but also we approached the $1225 level again.
2's closed 1.33 (+1bp), 10's 2.13% (u/c), 30's 2.74% (u/c), Bunds 0.38% (+2bp) closes the US/Germany spread at +175bp (-2bp). France 0.67% (+0bp), Italy 2.09% (+1bp), Greece 5.44% (+2bp), Turkey 10.35% (+2bp), Portugal 2.82% (+1bp) and Gilts 1.04% (+1bp)