Blog/Market Talk
Posted Aug 31, 2018 by Martin Armstrong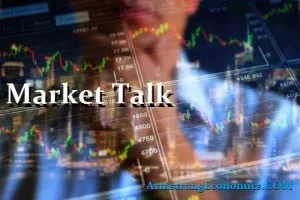 Rumours that US President Donald Trump favours additional tariffs on China, has hit Asian stocks again, as we enter the long weekend liquidation. Weakness seems to be growing for emerging markets across the globe and that is having a knock-on effect on core markets. The Yen has blipped again, into a 110 handle, as the safe-haven bid returns. Fortunately for the Nikkei, the lows were hit early on and spent the balance of the day clambering back to unchanged. Shanghai (-0.5%) and the Hang Seng (-1%) were not so fortunate, although the mainland held better than HSI. Many are expressing concerns that there remains an underlying 'worry' across many regions and the fear is that one sudden headline could hit the screens and there's just no bid for paper. This was heard when speaking with players in the bond market and all continue to remark that volumes are non-existent. That's not to say there are no bids, there are plenty of buyers but nowhere near where paper is offered. Much comes from balance sheets that are prohibited from taking a loss, despite the intention to liquidate. The SENSEX lost early gains but managed to remain close to unchanged. The INR was as quiet as the SENSEX and in thin volume closed at 71.
Europe just traded heavy all day as everyone remains fearful of the events in the emerging markets space. There is lots of talk that the demand for cash is everywhere and that buyers are few and far between. Core CAC and DAX were heavy eventually closing down over 1%. It will be interesting how we trade next week as most people will be back at their desk by Tuesday. Obviously, we have the long weekend in the States, but now we enter September the Q3 portfolio balancing will be in play. In late trading we hear that the US/Canada deal may not be as was expected and so values started to drift yet again. Month end has seen bids hit and makes prices vulnerable for quarter end. The Turkish Lira did manage a small 1.1% bounce for month end, but the 10yr bond remains worrying close to the 21% level.
Ahead of a long weekend we always expect light volumes and a little profit-taking and that was what we saw today. Obviously, the news of Canadian deal initially hit values, but these seemed of little interest ahead of the holidays. The NADAQ has seen support for much of the day and week and closely mirrored by the Russell. The S+P has performed well with the DOW Industrials lagging the bunch. It will be interesting to see how values behave upon the next rate increase, but maybe that is why we are seeing the treasury curve continue to flatten over the month.
Japan 0.09%, US 2's closed 2.63% (-2bp), US 10's closed 2.86%, US 30's 3.03% (+3bp), Bunds 0.32% (-2bp), France 0.68% (-1bp), Italy 3.22% (+2bp), Turkey 20.80% (+11bp), Greece 4.33% (+1bp), Portugal 1.91% (u/c), Spain 1.46% (u/c) and Gilts 1.42% (-3bp).