Blog/Market Talk
Posted Aug 3, 2020 by Martin Armstrong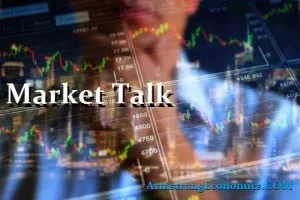 ASIA:
China said on Monday it was firmly opposed to any US actions against Chinese software companies, responding to remarks by US Secretary of State Mike Pompeo that Washington will take action shortly against Chinese firms feeding data to Beijing's government. Chinese foreign ministry spokesman Wang Wenbin told reporters during a daily briefing that China hopes the US can stop its discriminatory policies.
Three leading vaccines from China against COVID-19 are now in Phase 3 of human trials. The World Health Organization's vaccine "landscape" document (updated as of July 31, 2020), list three Chinese vaccine makers among the front-runners.
India's federal fiscal deficit touched a record $88.5 billion in the April-June quarter, 83.2% of the target for the whole of the current fiscal year, reflecting the impact of the coronavirus pandemic on tax collections and as the government front-loaded its spending. The deficit is predicted by private economists to cross 7.5% of GDP in the 2020/21 fiscal year beginning April, from initial government estimates of 3.5%, due to a sharp economic contraction caused by the COVID-19 outbreak. The economy is forecast to shrink 5.1% in the current fiscal year, and 9.1% under a worst-case scenario, according to analysts in a Reuters poll, its weakest performance since 1979.
Apple Incorporations Taiwan contract manufacturers Foxconn, Wistron Corp and Pegatron Corp have applied for funds from India's $6.65 billion scheme to boost smartphone manufacturing, the technology minister said on Saturday. The production-linked incentive (PLI) plan offers companies cash incentives on additional sales of devices made locally over five years, with 2019-2020 as the base year. India wants to become a global smartphone export hub like China.
The major Asian stock markets had a mixed day today:
NIKKEI 225 increased 485.38 points or 2.24% to 22,195.38
Shanghai increased 57.96 points or 1.75% to 3,367.97
Hang Seng decreased 137.22 points or -0.56% to 24,458.13
ASX 200 decreased 1.70 points or -0.03% to 5,926.10
Kospi increased 1.67 points or 0.07% to 2,251.04
SENSEX decreased 667.29 points or -1.77% to 36,939.60
Nifty50 decreased 181.85 points or -1.64% to 10,891.60
The major Asian currency markets had a mixed day today:
AUDUSD decreased 0.0027 or -0.38% to 0.71160
NZDUSD decreased 0.0020 or -0.30% to 0.66101
USDJPY increased 0.2350 or 0.22% to 106.08
USDCNY decreased 0.0035 or -0.05% to 6.98395
Precious Metals:
Gold increased 0.40 USD/t oz. or 0.02% to 1,975.10
Silver decreased 0.01 USD/t. oz or -0.02% to 24.340
Some economic news from last night:
China:
Caixin Manufacturing PMI (Jul) increased from 51.2 to 52.8
Japan:
GDP (QoQ) remain the same at -0.6%
GDP (YoY) remain the same at -2.2%
GDP Capital Expenditure (QoQ) decreased from 1.9% to 1.7%
GDP External Demand (QoQ) remain the same at -0.2%
GDP Price Index (YoY) remain the same at 0.9%
GDP Private Consumption (QoQ) remain the same at -0.8%
Manufacturing PMI (Jul) increased from 40.1 to 45.2
South Korea:
Nikkei Manufacturing PMI (Jul) increased from 43.4 to 46.9
Australia:
AIG Manufacturing Index (Jul) increased from 51.5 to 53.5
MI Inflation Gauge (MoM) increased from 0.6% to 0.9%
ANZ Job Advertisements (MoM) decreased from 41.4% to 16.7%
Indonesia:
Nikkei Manufacturing PMI (Jul) increased from 39.1 to 46.9
Some economic news from today:
India:
Nikkei Markit Manufacturing PMI (Jul) decreased from 47.2 to 46.0
Indonesia:
Inflation (YoY) (Jul) decreased from 1.96% to 1.54%
Core Inflation (YoY) (Jul) decreased from 2.26% to 2.07%
Inflation (MoM) (Jul) decreased from 0.18% to -0.10%
Singapore:
Manufacturing PMI (Jul) increased from 48.0 to 50.2
EUROPE/EMEA:
The UK is implementing a Canadian-style points-based immigration system, but there are some notable differences. In changing its immigration system, the UK will give priority to highly skilled individuals, such as those with scientific, academic and technology-related qualifications. The UK's latest immigration system guidelines were published on Monday, July 13, and are set to change the country's existing points-based immigration system starting in the new year.
Diners across the UK will be able to enjoy half-price meals throughout August from Monday, as part of a government scheme aimed at boosting restaurants and pubs post-lockdown. "Eat out to help out" applies to eat-in food and drink on Monday to Wednesdays at more than 72,000 venues. The discount is capped at £10 per person and does not apply to alcohol.
The UK bond market is flashing warning signals to Bank of England Governor Andrew Bailey ahead of the central bank's meeting next week. Citigroup Inc. argues the BOE could pave the way for negative territory by removing the guidance that the lower bound is "close to, but a little above, zero" at its decision. The Monetary Policy Committee "will be debating whether the recovery is V-shaped or turning pear-shaped," Jamie Searle, a strategist at Citigroup, wrote in a note to clients.
Thousands of people in the German capital Berlin have taken part in a protest against the country's coronavirus restrictions. Demonstrators said measures including the wearing of facemasks violated their rights and freedoms. Police broke up the protest, saying organizers had not respected coronavirus hygiene regulations.
The major Europe stock markets had a green day:
CAC 40 increased 92.24 points or 1.93% to 4,875.93
FTSE 100 increased 135.09 points or 2.29% to 6,032.85
DAX 30 increased 333.62 points or 2.71% to 12,646.98
The major Europe currency markets had a mixed day today:
EURUSD decreased 0.0022 or -0.19% to 1.17557
GBPUSD decreased 0.0017 or -0.13% to 1.30675
USDCHF increased 0.0070 or 0.76% to 0.91859
Some economic news from Europe today:
Swiss:
CPI (YoY) (Jul) increased from -1.3% to -0.9%
CPI (MoM) (Jul) decreased from 0.0% to -0.2%
procure.ch PMI (Jul) increased from 41.9 to 49.2
Spain:
Spanish Manufacturing PMI (Jul) increased from 49.0 to 53.5
Italy:
Italian Manufacturing PMI (Jul) increased from 47.5 to 51.9
France:
French Manufacturing PMI (Jul) increased from 52.0 to 52.4
Germany:
German Manufacturing PMI (Jul) increased from 45.2 to 51.0
Norway:
Manufacturing PMI (Jul) decreased from 48.8 to 43.3
Euro Zone:
Manufacturing PMI (Jul) increased from 47.4 to 51.8
UK:
Manufacturing PMI (Jul) increased from 50.1 to 53.3
US/AMERICAS:
The Treasury Department's Committee on Foreign Investment has given Microsoft a 45-day deadline to decide whether it would like to acquire TikTok, otherwise, the platform will be banned in the US. The Trump administration originally threatened to shut down the social media platform over the weekend due to national security concerns as the company may be providing personal user data to the Chinese government. In a statement, Microsoft said they are "committed to acquiring TikTok subject to a complete security review and providing proper economic benefits to the United States, including the United States Treasury." The acquisition discussions are expected to make headway by September 15. TikTok maintains that US user data is stored within the US, and denies any claims that is has provided a backdoor to the Chinese government.
White House trade adviser Peter Navarro suggested that Microsoft should consider stripping its Chinese holdings if the company were to acquire TikTok. "So the question is, is Microsoft going to be compromised?" Navarro proposed in a CNN interview on Monday. "Maybe Microsoft could divest its Chinese holdings?" In a separate interview with Fox, Navarro criticized Microsoft's Skype video conferencing platform and Bing search engine for acting as "enablers of Chinese censorship, surveillance and monitoring."
The Trudeau administration plans to extend unemployment benefits, however, the Canadian Emergency Response benefit (CERB) will begin to phase out at the end of the month. At least 40% of the Canadian workforce (8.5 million people) have received at least one C$2,000 monthly CERB payout, which has cost the government over C$63 billion. "Here's the bottom line: we intend to cover every Canadian looking for work with a better 21st-century employment insurance system. That is our goal," Prime Minister Justin Trudeau delicately stated.
The Canada Revenue Agency (CRA) is reminding citizens that CERB benefits are taxable. Anyone earning less than the basic personal amount (C$13,229 in Ottawa) will not be taxed on CERB payouts. However, anyone earning more than the basic personal amount but under $C48,536 will be taxed 15% in Ottawa. Ontario and BC residents earning under C$44,741 or C$41,725 will owe C$600 on a C$12,000 benefit; Albertans earning under C$131,220 must pay C$1,200; Quebecers must pay CC$1,800. The CRA is reminding individuals to monitor their tax bracket, especially if rejoining the workforce.
US Market Closings:
Dow advanced 236.08 points or 0.89% to 26,664.4 points
S&P 500 advanced 23.49 points or 0.72% to 3,294.61
Nasdaq advanced 157.52 points or 1.47% to 10,902.8
Russell 2000 advanced 26.238 points or 1.78% to 1,506.8
Canada Market Closings:
TSX Composite declined 130.09 points or -0.8% to 16,169.2
TSX 60 declined 9.64 points or -0.99% to 968.67
Brazil Market Closing:
Bovespa declined 82.28 points or -0.08% to 102,829.96
ENERGY:
The oil markets had a green day today:
Crude Oil increased 0.55 USD/BBL or 1.37% to 40.8200
Brent increased 0.61 USD/BBL or 1.41% to 43.9100
Natural gas increased 0.284 USD/MMBtu or 15.66% to 2.0980
Gasoline increased 0.034 USD/GAL or 2.89% to 1.2116
Heating oil increased 0.0077 USD/GAL or 0.63% to 1.2371
The above data was collected around 15:12 EST on Monday.
Top commodity gainers: Natural Gas (15.66%), Coal (7.78%), Soda Ash (6.41%), and Cocoa (3.29%)
Top commodity losers: Ethanol (-8.20%), Wheat (-1.98%), Coffee (-1.89%), and Lean Hogs (-4.09%)
The above data was collected around 15:19 EST on Monday.
BONDS:
Japan 0.03%(+1bp), US 2's 0.11% (+0bps), US 10's 0.56%(+2bps); US 30's 1.24%(+4bps), Bunds -0.52% (+4bp), France -0.20% (+0bp), Italy 1.08% (+0bp), Turkey 12.70% (+12bp), Greece 1.10% (+0bp), Portugal 0.36% (+1bp); Spain 0.36% (+9bp) and UK Gilts 0.10% (-1bp).
US 3-Month Bill Auction decreased from 0.105% to 0.100%
US 6-Month Bill Auction decreaseed from 0.130% to 0.105%
French 12-Month BTF Auction decreased from -0.556% to -0.560%
Freench 3-Month BTF Auction decreased from -0.565% to -0.574%
French 6-Month BTF Auction decreased from -0.562% to -0.590%