Blog/Market Talk
Posted Aug 3, 2018 by Martin Armstrong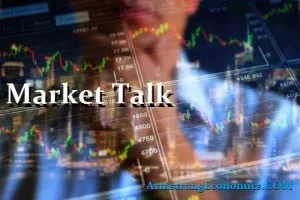 After witnessing the strength the US markets demonstrated, Asia opened on a positive note but couldn't hold it. Interesting that although the opening appeared strong, for the balance of the day prices were hit across the region affecting both core and peripheral markets. The Shanghai and hang Seng both found it difficult making any headway, closing close to their days lows still trend heavy for the week and the YTD. Worth noting that Shanghai is off around 17% YTD. News that China put a 20% levy on FX Forwards turned the Yuan and also lent a supporting hand to the Yen. However, last seen still trading with a 111 handle, we will have to wait until Mondays trading to see the extent of China's move. The SENSEX (+1%) has responded to the revival of Tech stocks and that helped it recover some much needed lost ground. INR quiet still trading mid 68's but remains in a weak trend.
European markets were happy waiting for the US numbers and not sure that was entirely worth it. Despite everyone waiting for the jobs report, the release was anything but spectacular. The headline number of +157k against an expected +190k did warrant a second glance and the rate dipping to 3.9%, but is that a game changer? Given the revisions brings us back to within the markets expectation does averages the last six months at 224k. In the cold light of day, the stock market is still at all-time highs, GDP above 4%, wages remain contained despite bubbling stock market whilst we remain close to 'full employment'. It is still baffling why indirect costs are not being associated with the end game. Having a pay increase whilst your indirect costs also increase is similar to a zero-sum game. US futures were trading firmer ahead of the data release and did retreat into the cash open. During Asian and European trading session, the USD maintained overnight gains and saw the Euro dip to its lowest level in over three months. The technical level most people appear to be watching is the 1.155 (recent low).
By the close of day, all core had recovered and closed positive, although the Russell 2k did return -0.5%.
Japan 0.11%, US 2's closed 2.65% (-1bp), US 10's 2.95% (-3bp), US 30's 3.09% (-3bp) – the flattening returns. Bunds 0.40% (-6bp), France 0.73% (-5bp), Italy 2.92% (+2bp), Greece 4.02% (-1bp), Turkey 18.50% (+22bp), Portugal 1.76% (-3bp), Spain 1.42% (-3bp) and Gilts 1.33%.