Blog/Market Talk
Posted Aug 29, 2017 by Martin Armstrong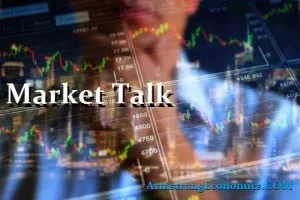 Back to geopolitical risks again today after North Korea spooked markets with yet more missile test, but this time flying over Japan. All Asia markets were hit as a result of this, with a rush into safe-haven assets such as gold, oil and treasuries. Interesting that oil traded heavy even as the news hit the screens. Core markets did bounce from their intraday lows but the nerves certainly flowed into European trading. The Nikkei ended the day around -0.5% lower but the currency remains bid even into late US trading. We haven't yet seen the 107 handle print but we did come close earlier this morning. Earlier in the day gold pushed to $1327 but has tended to drift as the trading day progresses. The Australian ASX was the worst hit in Asia closing down -0.7% as miners were worse hit, but interesting that the A$ has hardly moved playing comfortably around 0.7950.
European futures markets were well down even before the cash indices opened. The majority of core were soon printing declines of 1% with little sign of fresh buying, increased volume or renewed confidence even at lower prices! We saw some economic data in Europe French Consumer Spending and GDP and German Confidence but none managed a real impact on prices as investors continue to watch from the side-lines. BREXIT again a hot topic with todays comment coming from Jean-Claude Junker saying there are still an enormous number of issues to be settled and calling the British government's differences unsatisfactory. GBP reversed earlier positivity and was even closing down on the day. The Euro did breach the psychological 1.20 level but backed-off by the close of US trading. The DAX was worse hit today, returning to its recent negative trend closing down 1.5% on the day. The Italian FTSE MIB was equally 1.5% lower whilst the CAC and UK FTSE both just under a 1% decline.
Initially, we saw the US market follow the global theme but interestingly, by the close, this was reversed and we managed a positive close. From the opening weakness, market participants realised the flight to safety – is probably the US Dollar. This was market talk for many traders across asset classes – as investors asked questions of just where is the safety play! This move was also supported after we saw some positive US data (Home Index rising and Consumer Confidence printing 122.9 much higher than the 120.4 number expected).
2's closed 1.32% (-1bp), 10's 2.13% (-3bp), 30's 2.74% (-2bp), Bunds 0.34% (-3bp) spread unchanged at +181bp. France 0.65% (-4bp), Italy 2.05% (-3bp), Greece 5.42% (-2bp), Turkey 10.33% (+5bp), Portugal 2.79% (+1bp) and Gilts 1.00% (-5bp).