Blog/Market Talk
Posted Aug 29, 2019 by Martin Armstrong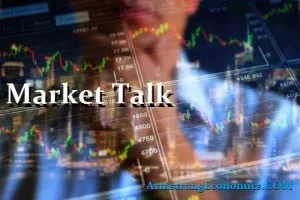 ASIA:
Chinese military vehicles today have been seen moving into Hong Kong according to reports. However, according to the state run news agency Xinhua, this was just an annual exercise to make a schedule rotation. Of course, due to the tensions this could be seen as Chinese steps to military control of the region.
Chinese company Huawei said today that their next smartphone will not have Google apps after the US company was not allowed to deal with them due to US sanctions imposed earlier this year.
US President Trump said US and China will resume talks at a "different level," whether that means the US will be less on the offensive in future talks will remain to be seen. Chinese Spokesman Gao Feng, said today that he rejects the escalation of the trade war and that he is willing to negotiate and collaborate in order to solve the problem with a "calm" attitude. This news helped spur global equity markets.
Recent news emerging that US companies in China are willing to relocate to India. Apple and Amazon have announced plans to shift production of the iPhone and Echo products to India. Other countries profiting from the US-Chinese sanctions are Vietnam and Malaysia who are often running as middle men to cut out the tariffs.
The major Asian stock markets had a mixed day today:
Shanghai decreased 2.84 points or -0.10% to 2,890.92
Kospi decreased 7.68 points or -0.40% to 1933.41
ASX 200 increased 6.80 points or 0.10% to 6,507.40
NIKKEI 225 decreased 18.49 points or -0.09% to 20,460.93
Hang Seng increased 88.02 points or 0.34% to 25,703.50
SENSEX decreased 382.91 points or -1.02% to 37,068.93
The major Asian currency markets had a mixed day today:
AUDUSD decreased 0.0006 or 0.09% to 0.6727
NZDUSD decreased 0.0024 or 0.38% to 0.6312
USDJPY increased 0.4820 or 0.45% to 106.5920
USDCNY decreased 0.0235 or 0.33% to 7.1451
Precious Metals:
Gold decreased 14.35 USD/t oz. or -0.93% to 1,521.45
Silver decreased 0.142 USD/t. oz or -0.77%% to 18.1592
Some economic news from last night:
Australia:
Building Capital Expenditure (MoM) (Q2) decreased from -1.9% to -3.3%
Plant/Machinery Capital Expenditure (QoQ) (Q2) increased from -0.5% to 2.5%
Private New Capital Expenditure (QoQ) (Q2) increased from -1.3% to -0.5%
New Zealand:
ANZ Business Confidence (Aug) decreased from -44.3 to -52.3
NBNZ Own Activity (Aug) decreased from 5.0% to -0.5%
Japan:
Foreign Bonds Buying decreased from 499.8B to -911.9B
Foreign Investments in Japanese Stocks increased from -359.6B to 3.9B
South Korea:
Manufacturing BSI Index (Sep) decreased from 74 to 71
Some economic news from today:
Japan:
Household Confidence (Aug) decreased from 37.8 to 37.1
EUROPE/EMEA:
UK ministers have expressed that next week could be the only shot at stopping  a no-deal Brexit after the Queen granted PM Boris Johnson permission to dismiss parliament. Meanwhile, a few ex-ministers and people of note have questioned the practice. Italian MEP David Sassoli has criticized PM Boris Johnson via a tweet accusing him of anti-democratic practice. "Listening to parliaments is always good for democracy. For this reason, it is better to keep them open," Sassoli said. The former Prime Minister of Finland also expressed concerns.
Iran has told the EU that there are still ways to keep the nuclear deal alive. One is by trying to force the US to reinstate sanction wavers, allowing Iran to export oil, or for the EU to buy the oil from Iran themselves.
Iranian Foreign Minister Zarif reiterated what President Rouhani stated yesterday, drop the "economic terrorism" and then they will talk. Meanwhile, a rocket which was supposed to be pushing a satellite in orbit has exploded on the launchpad in Iran today. This is the third failed launch this year.
The major Europe stock markets had a green day today:
CAC 40 increased 81.17 points or 1.51% to 5,449.97
FTSE 100 increased 69.61 points, or 0.98% to 7,184.32
DAX increased 137.86 points or 1.18% to 11,838.88
The major Europe currency markets had a mixed day today:
EURUSD decreased 0.0021 or 0.19% to 1.1056
GBPUSD decreased 0.0030 or 0.24% to 1.2180
USDCHF increased 0.0055 or 0.56% to 0.9870
Some economic news from Europe today:
Germany:
German CPI (MoM) (Aug) decreased from 0.5% to -0.2%
German CPI (YoY) (Aug) decreased from 1.7% to 1.4%
German HICP (MoM) (Aug) decreased from 0.4% to -0.1%
German HICP (YoY) (Aug) decreased from 1.1% to 1.0%
German Unemployment Change (Aug) increased from 1k to 4k
German Unemployment Rate (Aug) remain the same at 5.0%
German Unemployment (Aug) increased from 2.283M to 2.289M
German Unemployment n.s.a. (Aug) increased from 2.275M to 2.319M
Norway:
GDP (QoQ) (Q2) increased from -0.1% to 0.3%
GDP Mainland (QoQ) (Q2) increased from 0.5% to 0.7%
Italy:
Italian Industrial New Orders (MoM) (Jun) decreased from 2.8% to -0.9%
Italian Industrial New Orders (YoY) (Jun) decreased from -2.3% to -4.8%
Italian Industrial Sales (MoM) (Jun) decreased from 1.50% to -0.50%
Italian Industrial Sales (YoY) (Jun) decreased from 0.30% to -0.80%
Italian PPI (YoY) (Jul) decreased from 0.90% to -0.5%
Italian PPI (MoM) (Jul) increased from -0.3% to 0.0%
Swiss:
Employment Level (Q2) increased from 5.071M to 5.109M
Eurozone:
Business and Consumer Survey (Aug) increased from 102.7 to 103.1
Business Climate (Aug) increased from -0.11 to 0.11
Consumer Confidence (Aug) decreased from -6.6 to -7.1
Consumer Inflation Expectation (Aug) increased from 20.6 to 20.7
Selling Price Expectations (Aug) increased from 1.4 to 2.2
Services Sentiment (Aug) decreased from 10.6 to 9.3
Industrial Sentiment (Aug) increased from -7.3 to -5.9
Spain:
Spanish Business Confidence increased from -2.8 to 1.4
Spanish CPI (YoY) decreased from 0.5% to 0.3%
Spanish CPI (MoM) increased from -0.6% to -0.1%
Spanish HICP (YoY) (Aug) decreased from 0.6% to 0.4%
Spanish HICP (MoM) increased from -1.1% to -0.1%
France:
French Consumer Spending (MoM) (Jul) increased from -0.2% to 0.4%
French GDP (QoQ) (Q1) increased from 0.2% to 0.3%
US/AMERICAS:
The Trump administration announced plans this Thursday to loosen regulations for methane. The Environmental Protection Agency estimates that the relaxed regulation will help the oil and natural gas industry save $17-19 million annually. Numerous environmental groups have voiced concerns that this effort could create more greenhouse gases that are hazardous to the environment. However, the White House believes that the industry has incentives in place to prevent methane leaks. "Since 1990, natural gas production in the United States has almost doubled while methane emissions across the natural gas industry have fallen by nearly 15%. Our regulations should not stifle this innovation and progress," a spokesman commented.
The list of Democratic contenders for the 2020 US presidential election has been cut in half. The next debate, set for September 12, will include only ten contenders. Former Vice President Joe Biden is leading most political polls and the current favorite. Here's who made the cut: Senator Bernie Sanders, Senator Elizabeth Warren, Senator Kamala Harris, Mayor Pete Buttigieg, Andrew Yang, Senator Cory Booker, Former Rep. Beto O'Rourke, Former House and Urban Development Secretary Julian Castro, and Senator Amy Klobuchar. Kirsten Gillibrand dropped out of the race earlier in the week after scoring low at the polls. President Trump later admitted that Gillibrand was the only potential candidate he was "really afraid of."
Hasbro is one of many US companies fleeing China in light of the trade war. Hasbro CEO Brian Goldner announced that by the end of 2020, less than 50% of their business will take part in China. Goldner admitted that costs have gone up for the company and will ultimately be passed on to the consumer over time. "With time, you can redesign and redevelop your product lines with those tariffs in mind but in the short term, you do need to pass along those costs," Goldner candidly stated.
US Market Closings:
Dow advanced 36.15 points or 1.25% to 26,362.25
S&P 500 advances 36.64 points or 1.27% to 2,924.58
Nasdaq advanced 116.51 points or 1.48% to 7,973.39
Russell 2000 advanced 24.01 points or 1.63% to 1,496.72
Canada Market Closings:
TSX Composite advanced 112.84 points or 0.69% to 16,384.49
TSX 60 advanced 8.38 points or 0.86% to 979.20
Brazil Market Closing:
Bovespa advanced 2,330.90 points or 2.37% to 100,524.43
ENERGY:
Oil prices maintained its bullish run after yesterday found a significant unexpected draw in crude and gasoline. A recent report also suggests that the US hacked Iran to prevent oil tanker attacks; perhaps putting pressure on potential supply.
The oil markets had a green day today:
Crude Oil increased 0.72 USD/BBL or 1.29% to 56.4693
Brent increased 0.46 USD/BBL or 0.76% to 60.8468
Natural gas increased 0.04 USD/MMBtu or 1.78% to 2.2930
Gasoline increased 0.0006 USD/GAL or 0.04% to 1.6853
Heating oil increased 0.0108 USD/GAL or 0.58% to 1.8604
Top commodity gainers: Oat (11.12%), Lean Hogs (2.20%), Rice(1.76%), and Orange Juice (6.11%)
Top commodity losers: Feeder Cattle (-3.93 %), Lumber (-1.74%), Coffee (-2.76%), and Cocoa (-4.19%)
The above data was collected around 15:40 EST on Thursday.
BONDS:
Japan -0.28%(-1bp), US 2's 1.53% (+3bps), US 10's 1.52%(+5bps), US 30's 1.98%(+4bps), Bunds -0.69% (+3bp), France -0.41% (+3bp), Italy 0.99% (-4bp), Turkey 15.69% (-15bp), Greece 1.57% (-15bp), Portugal 0.13% (+4bp), Spain 0.12% (+5bp) and UK Gilts 0.44% (-1bp).
US 4-Week Bill Auction remain the same at 2.060%
US 8-Week Bill Auction increased from 1.985% to 1.990%
US 7-Year Note Auction decreased from 1.967% to 1.489%
Italian 5-Year BTP Auction decreased from 0.80% to 0.32%
Italian 10-Year BTP Auction decreased from 1.56% to 0.96%