Blog/Market Talk
Posted Aug 29, 2018 by Martin Armstrong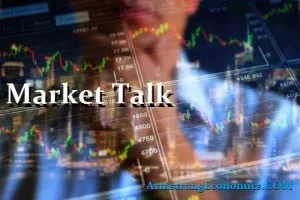 Similar to yesterdays session, many had expected a stronger Asian opening than we saw, following fresh historic highs, but sentiment failed to follow through. Even though core indices opened stronger, through the day they tended to decline through the lack of volume and commitment. The Hang Seng did perform better than Shanghai but by the close their really wasn't that much in it. The Hang Seng +0.25% was off-set by the Shanghai's -0.3% decline. Where we did see a return to the trend was in Japan with the Nikkei, which rose +0.1% whilst the Yen fell -0.1%. Now trading with a mid 111 handle, this opens up possibilities for a weakening theme going into next month. The SENSEX was beaten back from contract highs and lost -0.5% today. Keep in mind that the INR is set in a trend that does not look to be changing anytime soon. Today we closed at 70.60 and looks to be heading north of recent lows. The US/Mexico talks are done and now the US/Canada look close to be settled. Now, we all focus on the US/China deal and hope that too will be over before the headlines escalate.
Europe was full of the joys of spring after Michel Barnier made aware that the UK could be offer a rather exclusive deal, unlike any other. This certainly bid a bid under GBP, which managed to add +0.6% today, but had the adverse effect on the UK's FTSE (-0.7%). This really is not offering any clarification as still Gilts yields weigh on prices and stocks fall. 10yr Gilts have now rallied almost 30bp in two days as concerns mount on the potential level of debt that may have to be raised. Turkey was in the headlines again after the Lira lost almost 5% today, whilst the 10yr Bond rallied 17bp to close at 20.69%.
The US session reminds us that the US is close to completing a deal with Canada and so now we see money coming off of the side liens and finally entering the market. Technology stocks were much the main drivers today and all else just jumped on the back of momentum. US data continues to support this move as today we see GDP edging better to 4.2% from the previous 4.1%. Confidence is gaining and the capital flow towards the US Dollar remains unabated.
Japan 0.09%, US 2's closed 2.68% (+2bp), US 10's closed 2.88% (u/c), 3.02% (-1bp), Bunds 0.40% (+2bp), France 0.73% (+1bp), Italy 3.12% (-4bp), Turkey 20.69% (-17bp), Portugal 1.89% (+3bp), Spain 1.46% (+1bp) and UK Gilts 1.49% (+4bp) through fears of greater debt issuance.