Blog/Market Talk
Posted Aug 28, 2019 by Martin Armstrong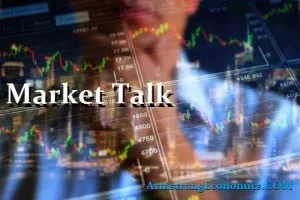 ASIA:
Tensions are rising between the US and China as one US Navy warship was denied to dock in the port city of Qingdao. This is the second event in the space of a month where China denied the US; the previous being when two naval ships denied permission to dock in Hong Kong. Little news in regards to progress of the tariffs today as both sides seem to be standing firm with the latest rounds of retaliation.
Hong Kong officials have told the city that they are on the brink of "grave danger" after the weekend of violence. Last weekend was the first time a live bullet was used, albeit as a warning shot.
Tensions are still surmounting between Japan and South Korea as they have been taken off the preferred trading list. Meanwhile, North Korea is apparently building warheads that are capable of penetrating Japanese defenses according to intel from the Japanese defense Chief.
The major Asian stock markets had a mixed day today:
Shanghai decreased 8.44 points or -0.29% to 2,893.76
Kospi increased 16.49 points or 0.86% to 1941.09
ASX 200 increased 29.40 points or 0.45% to 6,500.60
NIKKEI 225 increased 23.34 points or 0.11% to 20,479.42
Hang Seng decreased 48.59 points or -0.19% to 25,615.48
SENSEX decreased 189.43 points or -0.50% to 37,451.84
The major Asian currency markets had a mixed day today:
AUDUSD decreased 0.0014 or 0.21% to 0.6737
NZDUSD decreased 0.0022 or 0.34% to 0.6337
USDJPY increased 0.3970 or 0.38% to 106.1170
USDCNY increased 0.0033 or 0.05% to 7.1689
Precious Metals:
Gold decreased 1.79 USD/t oz. or -0.12% to 1,543.69
Silver increased 0.19 USD/t. oz or 1.05%% to 18.3260
Some economic news from last night:
Australia:
Construction Work Done (QoQ) (Q2) decreased from -2.2% to -3.8%
Some economic news from today:
Indonesia:
Loans (YoY) (Jul) decreased from 9.92% to 9.58%
India:
M3 Money Supply increased from 10.1% to 10.2%
EUROPE/EMEA:
In the UK, PM Boris Johnson address the Queen today and asked for permission to suspend parliament ahead of Brexit. As perhaps as a surprise to the markets, she agreed. This gives Boris Johnson's team basically full control between the 9th and 12th of September and the 14th of October to push for a Brexit withdrawal without the pushback of a pro-European parliament. The parliament will adjourn after that in which there will be a meeting with the EU on the 17th with Brexit date occurring on the 31st October.
In what is an unthinkable event, perhaps as close as a few years ago, the headlined today read that the US and Taliban are close to peace terms. The two parties met in Doha, the Qatari capital. "The talks continue today [Wednesday] and we have reached the last point of the agreement," Taliban's Political spokesman Suhail Shaheen told Al Jazeera. "The final point is the implementation and the mechanism of the deal which is being discussed," he said. The agreement states that Taliban should not use Afghanistan as a country for global attacks.
The Iranian President has asked President Donald Trump to first lift the sanctions and then they are open for talks. Meanwhile, Iranian Foreign minister Javad Zarif has visited Japan in search of support within Asia.
The major Europe stock markets had a mixed day today:
CAC 40 decreased 18.29 points or -0.34% to 5,368.80
FTSE 100 increased 25.13 points, or 0.35% to 7,114.71
DAX decreased 29.00 points or -0.25% to 11,701.02
The major Europe currency markets had a mixed day today:
EURUSD decreased 0.0011 or 0.10% to 1.1079
GBPUSD decreased 0.00739 or -0.60% to 1.22131
USDCHF increased 0.0006 or 0.06% to 0.9818
Some economic news from Europe today:
Germany:
German Import Price Index (MoM) (Jul) increased from -1.4% to -0.2%
German Import Price Index (YoY) (Jul) decreased from -2.0% to -2.1%
GfK German Consumer Climate (Sep) remain the same at 9.7%
Norway:
Credit Indicator (YoY) (Jul) decreased from 5.7% to 5.6%
Italy:
Italian Business Confidence (Aug) decreased from 100.1 to 99.7
Italian Consumer Confidence (Aug) decreased from 113.3 to 111.9
Swiss:
ZEW Expectations (Aug) decreased from -24.0 to -37.5
Euro Zone:
M3 Money Supply (YoY) (Jul) increased from 4.5% to 5.2%
Loans to Non Financial Corporations (Jul) increased from 3.8% to 3.9%
Private Sector Loans (YoY) increased from 3.3% to 3.4%
US/AMERICAS:
Facebook announced plans this Wednesday to implement greater political ad transparency ahead of the 2020 US presidential election. During the last US presidential election, the social media giant was accused of posting misleading ads with vague or missing disclaimers. Facebook will now require political ads to obtain "Confirmed Organization" status and will place the corresponding title beneath the ad if the company or organization has been verified. A spokesperson for Facebook commented that these measures "will help us confirm the legitimacy of an organization and provide people with more details about who's behind the ads they are seeing."
Tropical storm Dorian is expected to reach Puerto Rico as a category 1 hurricane this Wednesday before gaining traction and hitting Florida as a possible category 3 storm over the weekend. FEMA is prepared to offer help to the regions impacted by the hurricane, however, President Trump warned that Puerto Rico should not expect the same level of financial support that was provided after hurricane Maria. After sending billions in aid, much of that money went unaccounted for and many believe it was pocketed by crooked politicians. Hurricane Maria was one of the costliest hurricanes in recent years, according to the National Centers for Environmental Information, as it caused over $94 billion in damages.
The Canadian government announced plans this Wednesday to implement the First-Time Home Buyer Incentive (FTHBI), which is aimed at making inflated home prices more affordable to potential buyers. The program will offer equity loans of 5% for the down payment of a resale home, and 5% or 10% for new properties. To qualify, at least one person in the household must be a first-time home buyer and have the minimum 5% ready for payment. Somewhat controversial, however, is that this measure will disqualify households that earn in excess of $120,000 annually.
US Market Closings:
Dow advanced 258.20 points or 1% to 26,036.10
S&P 500 advanced 18.78 points or 0.65% to 2,887.94
Nasdaq advanced 29.94 points or 0.38% to 7,856.88
Russell 2000 advanced 16.67 points or 1.15% to 1,472.71
Canada Market Closings:
TSX Composite 88.06 0.54% 16,271.65
TSX 60 advanced 4.75 points or 0.49% to 970.82
Brazil Market Closings:
Bovespa advanced 917.34 points or 0.94% to 98,193.53
ENERGY:
Crude oil was sent higher today, as the EIA report showed a huge draw of around 11.1 million barrels from the inventory. In addition, gasoline and distillate fuels also had a draw for 2.1 million barrels each. The EIA report also showed that refineries were processing more barrels than usual, 17.4 million bpd compared to around the average of 10 million bpd.
The oil markets had a green day today:
Crude Oil increased 0.98 USD/BBL or 1.78% to 55.8389
Brent increased 0.95 USD/BBL or 1.60% to 60.5526
Natural gas increased 0.02 USD/MMBtu or 1.09% to 2.2223
Gasoline increased 0.0378 USD/GAL or 2.29% to 1.6849
Heating oil increased 0.0345 USD/GAL or 1.90% to 1.8494
Top commodity gainers: Platinum (3.89%), Lumber (3.23%), Gasoline (2.38%), and Orange Juice (3.02%)
Top commodity losers: Feeder Cattle (-4.01 %), Oat (-2.63%), Coal (-1.81%), and Cocoa (-1.77%)
The above data was collected around 15:40 EST on Wednesday.
BONDS:
Japan -0.27%(-0bp), US 2's 1.50% (-4bps), US 10's 1.47%(-2bps), US 30's 1.93%(-4bps), Bunds -0.72% (-2bp), France -0.44% (-3bp), Italy 1.05% (-8bp), Turkey 15.88% (-37bp), Greece 1.73% (-10bp), Portugal 0.10% (-2bp), Spain 0.08% (-0bp) and UK Gilts 0.45% (-6bp).
US 5-Year Note Auction decreased from 1.824% to 1.365%
German 10-Year Bund Auction decreased from -0.410% to -0.700%
Italian 6-Month BOT Auction decreased from -0.210% to -0.217%