Blog/Market Talk
Posted Aug 28, 2018 by Martin Armstrong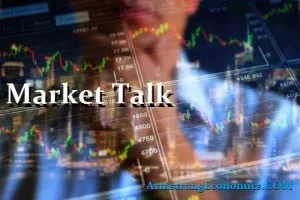 New fresh highs established in the US helped drive sentiment in todays Asian trading. However, this was not to last and most core indices tended to drift lower for the remainder of the day. The Shanghai index actually spent much of its day trading in negative territory. The PBOC also set mid point for the Yuan at 6.805, the highest in over a year. The Hang Seng did a little better and closed up 0.3%. Performance in energy, technology and real estate helped to produce this return. The Nikkei, worryingly, closed on its days low price. Having seen a strong open, values were just eroded for the balance of the day. The Yen plays remains with a 111 handle, bit only just, with the fear that a reset of stocks would produce a dash for the Yen again. Bothe the ASX and the SENSEX managed a strong +0.5% return today, but whilst the A$ held its ground we saw the INR trade all day with the 70 handle. The weakness here looks to be set in its trend, with very little on the horizon to alter this flow further weakness looks to be expected. 10yr rates appear to be moving higher again across the region.
Markets are usually quiet after a major bank holiday and so today was as expected. The Gilt market took note of Hammond's comment in the press and is fearful of greater debt issuance. The 10yr Gilt gained (higher yield, lower price) 20bp to 1.47%, after the Chancellor estimated an addition £80bn requirement in the long weekend press. The cash flow looks to be leaving the bond market in favour of equities in the UK, but looks isolated as far as Europe is concerned. Obviously, prices and spreads are camouflaged by the QE, but today price action sees it as limited for sure. Europe continues to wait for direction from the US markets, but if you need confirmation just look at core and peripheral bonds movement. Wobbles are again appearing in Italy where today the FTSE MIB lost almost 1%, with 10yr BTP's also gaining another 4bp.
The bull market roll continues today when we saw the S+P break above the psychological 2900 level for the first time. Having heard of news that the US and Mexico are agreeing terms, today we hear that Canada may not be that far behind also! If they can get that squared away soon, that just leaves China to concentrate on and judging by Mnuchin's comments that may not be far away either! This move was also supported by todays economic data after we saw the highest Consumer Confidence number in almost 20 years. Core indices are treading water today, but we have come a long way in a short space of time. It will be interesting to watch month end numbers for signs of consolidation and leave room for the US Dollar to take centre stage. In late trading we are seeing GBP trade lower as concerns over a possible 'no deal' BREXIT wobbles the market.
Japan 0.09%, US 2's closed 2.66% (+2bp), US 10's closed 2.88% (+4bp), US 30's 3.03% (+5bp), Bunds 0.38% (+2bp), France 0.72% (+1bp), Italy 3.18% (+4bp), Turkey 20.86% (-17bp), Portugal 1.86% (+4bp), Spain 1.45% (+5bp) and UK Gilts 1.45% (+18bp).