Blog/Market Talk
Posted Aug 27, 2019 by Martin Armstrong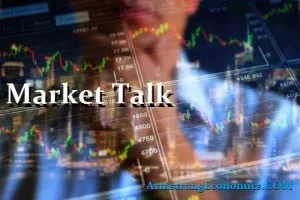 ASIA:
Contrary to US comments that two calls were made over the weekend, Chinese foreign ministry spokesman Geng Shuang said that he did not hear of any call being made. He also expressed that the increase in tariffs are putting huge pressure on both sides and are not constructive at all. "We hope that the US can maintain calm, return to rationality, stop wrong practices, and create conditions for the two sides to conduct consultations on the basis of mutual respect, equality and mutual benefit," Geng said today. Meanwhile, the Chinese Yuan has hit a 11-year low, 7.16 to the USD, for the first time since 2008.
Yesterday, Japan agreed in principle to a trade deal with the US and an official Japanese spokesman denied that the country gave too much up to the US. He described the agreement as very "valuable." The deal is expected to be signed in New York by Prime Minister Abe next month. According to the FT, Japan is set to legalize casinos after banning them 20 years ago. The revenue from such sector will be around 20 billion USD per annum.
Japan is set to officially downgrade South Korea's trade status on Wednesday – this will require South Korean goods to have extra screenings and could have extra controls. Meanwhile, there have been many military exercises around Japanese disputed islands in the region. South Korean forces are into their second day of a two-day exercise, which is occurring after the South Korea told Japan they will no longer share military intelligence.
The major Asian stock markets had a mixed day today:
Shanghai increased 38.63 points or 1.35% to 2,902.19
Kospi increased 8.29 points or 0.43% to 1924.60
ASX 200 increased 31.10 points or 0.48% to 6,471.20
NIKKEI 225 increased 195.04 points or 0.96% to 20,456.08
Hang Seng decreased 16.26 points or -0.06% to 25,664.07
SENSEX increased 147.15 points or 0.39% to 37,641.27
The major Asian currency markets had a negative day today:
AUDUSD decreased 0.0021 or 0.32% to 0.6753
NZDUSD decreased 0.0031 or 0.49% to 0.6362
USDJPY decreased 0.3380 or 0.32% to 105.7820
USDCNY decreased 0.0022 or 0.03% to 7.1648
Precious Metals:
Gold increased 14.3 USD/t oz. or 0.94% to 1,542.48
Silver increased 0.554 USD/t. oz or 3.14%% to 18.1880
Some economic news from last night:
South Korea:
Consumer Confidence (Aug) decreased from 95.9 to 92.5
Japan:
Corporate Services Price Index (CSPI) (YoY) decreased from 0.7% to 0.5%
China:
Chinese Industrial Profit (YoY) (Jul) increased from -3.10% to 2.60%
Chinese Industrial Profit YTD (Jul) increased from -2.4% to -1.7%
Some economic news from today:
Japan:
BoJ Core CPI (YoY) remain the same at 0.6%
EUROPE/EMEA:
The same tone of optimism remains surrounding a successful Brexit deal with the EU. The latest from Brussels is that they are willing to look at any realistic proposals but they are not optimistic of reaching a deal. There is now so much speculation as to whether the EU is willing to soften their stance on the withdrawal agreement, with some saying Merkel and Macron are open to new proposals. UK PM Boris Johnson is going to send his lead Brexit adviser David Frost to Brussels tomorrow to discuss any alternatives to the backstop agreement.
President Macron of France says that it is time for Europe to include Russia as part of Western Europe. He was very much against imposing new sanctions on Russia and stated, "Pushing Russia from Europe is a profound strategic error…The European continent will never be stable, will never be in security, if we don't pacify and clarify our relations with Russia."
The conclusion of the G7 event touched on many topics such as trade, Iran, Ukraine, Libya, and Hong Kong. The G7 said they are committed to global fair trade and promotion of the global economy. They did, however, say they are pressing for a change to the WTO agreement to be more effective in protecting IP rights. Interestingly, they touched on international taxation and how they wish to modernize it in the context of the OECD. With regards to Hong Kong, they pushed for the importance of the 1984 declaration from the Sino-British accord, or in other words supporting the local Hong Kong population.
The G7 also included a surprise visit from Iranian Foreign minister Javad Zarif, with President Trump stating that a meeting could occur within two weeks.
The major Europe stock markets had a mixed day today:
CAC 40 increased 36.07 points or 0.67% to 5,387.09
FTSE 100 decreased 5.40 points, or -0.08% to 7,089.58
DAX increased 71.98 points or 0.62% to 11,730.02
The major Europe currency markets had a mixed day today:
EURUSD decreased 0.0009 or 0.08% to 1.1091
GBPUSD increased 0.00724 or 0.59% to 1.22874
USDCHF increased 0.0024 or 0.25% to 0.9811
Some economic news from Europe today:
Germany:
German GDP (YoY) (Q2) decreased from 0.7% to 0.0%
German GDP (QoQ) (Q2) decreased from 0.4% to -0.1%
France:
French Business Survey (Aug) increased from 101 to 102
French Consumer Confidence (Aug) remain the same at 102
French Industrial Investments (Q3) decreased from 11.0% to 6.0%
France Jobseekers Total increased from 3,382.6K to 3,393.4K
UK:
Gross Mortgage Approvals increased from 42.8K to 43.3K
Steel Production (metric ton) (Jul) increased from 605.50K to 644.90K
US/AMERICAS:
The yield curve sank to a low this Tuesday not seen since 2007. The 3-month to 10-year spread widened to 52 basis points. The 10-year note slipped to 1.474%, not far from its all-time low of 1.32%. At the time of this writing, the 2-year note fell to 1.524%. The Treasury Department plans to sell $41 billion worth of five-year notes and $18 billion in floating reserve notes on Wednesday. Additionally, the Treasury plans to sell off $32 billion in seven-year debt on Thursday.
Former Dallas Fed President Richard Fisher told CNBC this Tuesday that the Federal Reserve would be wise not to respond to President Trump's demands to lower interest rates. The former Fed president stated that a September rate cut would undermine the public's confidence in the US economy. "I think it would scare the hell out of the market," Fisher replied in response to why he believes the Fed should not cut rates next month. Meanwhile, President Trump took to Twitter this Tuesday to accuse the Federal Reserve of allowing US manufacturing to struggle.
With over 2,000 outstanding lawsuits, Perdue Pharmaceuticals and owners, the Sackler family, agreed to pay out up to $12 billion dollars to help those struggling with opiate addiction. A spokesman for Perdue said that "the company has made clear that it sees little good coming from years of wasteful litigation and appeals." As the maker of the powerful drug oxycontin, many have accused Perdue of profiting on addiction. Although the Sackler family and Perdue Pharma have declined to take full responsibility for America's opiate epidemic, they have acknowledged that "the people and communities effected by the opiate crisis need help now."
Brazilian President Bolsonaro rejected $20 million dollars in aid proposed by the G7 to combat the rapidly burning Amazon. Bolsonaro was offended by the aid proposal, stating that it made his country seem akin to "a colony or a no man's land." Bolsonaro accused French President Macron, who hosted this year's G7 event, of using the Amazon wildfire aid as a disguise to insult Brazil. Worsening relations, Bolsonaro mocked Macron's wife on social media. President Trump came out in favor of Bolsonaro's current policies this Tuesday, stating that he is doing his best to combat the wildfires and doing what's best for the Brazilian people.
US Market Closings:
Dow declined 120.93 points or -0.47% to 25,777.90
S&P 500 declined 9.22 points or -0.32% to 2,869.16
Nasdaq declined 26.79 points or -0.34% to 7,826.95
Russell 2000 declined 19.96 points or -1.35% to 1,456.04
Canada Market Closings:
TSX Composite advanced 84.80 points or 0.53% to 16,183.59
TSX 60 advanced 4.21 points or 0.44% to 966.07
Brazil Market Closing:
Bovespa advanced 846.59 points or 0.88% to 97,276.19
ENERGY:
Kenya today shipped its first Crude export, becoming the first country in east Africa to export oil.
The oil markets had a mixed day today:
Crude Oil increased 1.32 USD/BBL or 2.46% to 54.8741
Brent increased 0.82 USD/BBL or 1.40% to 59.5982
Natural gas decreased 0.029 USD/MMBtu or -1.30% to 2.1966
Gasoline increased 0.0343 USD/GAL or 2.12% to 1.6541
Heating oil increased 0.0241 USD/GAL or 1.34% to 1.8182
Top commodity gainers: Silver (3.14%), Crude oil (2.44%), Gasoline (2.08%), and Orange Juice (3.30%)
Top commodity losers: Feeder Cattle (-3.43 %), Oat (-3.14%), Steel (-2.53%), and Sugar (-1.57%)
The above data was collected around 15:40 EST on Tuesday.
BONDS:
Japan -0.27%(+1bp), US 2's 1.53% (-2bps), US 10's 1.48%(-6bps), US 30's 1.96%(-8bps), Bunds -0.70% (-3bp), France -0.41% (-4bp), Italy 1.12% (-22bp), Turkey 16.25% (-8bp), Greece 1.82% (-16bp), Portugal 0.12% (-6bp), Spain 0.09% (-5bp) and UK Gilts 0.50% (-8bp).
US 2-Year Note Auction decreased from 1.825% to 1.516%
German 2-Year Schatz Auction decreased from -0.760% to -0.890%