Blog/Market Talk
Posted Aug 26, 2019 by Martin Armstrong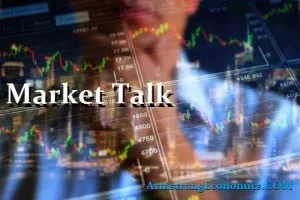 ASIA:
Over the weekend, the Hong Kong protests began to turn violent with the police stating 100 rioters were armed with weapons. Police fired a live warning shot at a protesting crowd as well as using water cannons to disburse the crowds. Overall, 86 people were arrested including one twelve-year-old. It was said that around 20 police officials sustained injuries; 215 tear gas canisters, 72 rubber bullets and 44 sponge rounds were used during the weekend. Still there seems to be no reason why the protests will calm in the coming days.
US President Trump has said today that the US and China will get back to the table and resume the trade talks, this comes about after escalating tensions between the two countries. "China called last night… said let's get back to the table. So we'll be getting back to the table," he said.
Meanwhile, Vice President Liu He said "China is willing to resolve its trade dispute with the United States through calm negotiations and resolutely opposes the escalation of the conflict." President Trump later told reports that VP Liu He's comments were good.
Over the weekend, Treasury Secretary Steven Mnuchin commented on the trade war, saying about China, "It's a one way street: They have free entrance into our markets, our investments, our companies and we do not have the same thing there. That's the only reason why we are in this situation with China. If China would agree to a fair and balanced relationship, we would sign that deal in a second."
Indian Prime Minister Modi and President Trump sat with each other to discuss the Kashmir situation ahead of the G7 meeting in France, the two leaders believe the situation is under control. "We spoke last night about Kashmir, Prime Minister [Modi] really feels he has it under control. They speak with Pakistan and I'm sure that they will be able to do something that will be very good."
The major Asian stock markets had a mixed day today:
Shanghai decreased 33.86 points or -1.17% to 2,863.57
Kospi decreased 31.99 points or -1.64% to 1916.31
ASX 200 decreased 83.00 points or -1.27% to 6,440.10
NIKKEI 225 decreased 449.87 points or -2.17% to 20,261.04
Hang Seng decreased 499.00 points or -1.91% to 25,680.33
SENSEX increased 792.96 points or 2.16% to 37,494.12
The major Asian currency markets had a mixed day today:
AUDUSD increased 0.0019 or 0.29% to 0.6773
NZDUSD decreased 0.0018 or 0.27% to 0.6384
USDJPY increased 0.7490 or 0.71% to 106.1390
USDCNY increased 0.03608 or 0.51% to 7.16918
Precious Metals:
Gold increased 2.5 USD/t oz. or 0.16% to 1,530.37
Silver increased 0.27 USD/t. oz or 1.55%% to 17.6524
Some economic news from last night:
New Zealand:
Exports (Jul) increased from 4.97B to 5.03B
Imports (Jul) increased from 4.63B to 5.71B
Trade Balance (MoM) (Jul) decreased from 331M to -685M
Trade Balance (YoY) (Jul) decreased from -4,980M to -5,460M
Some economic news from today:
Singapore:
Industrial Production (YoY) (Jul) increased from -8.1% to -0.4%
Industrial Production (MoM) (Jul) increased from -0.3% to 3.6%
Japan:
Leading Index decreased from 94.9 to 93.3
HongKong:
Exports (MoM) (Jul) increased from -9.0% to -5.7%
Imports (MoM) (Jul) decreased from -7.5% to -8.7%
Trade Balance increased from -55.2B to -32.2B
EUROPE/EMEA:
The end of the G7 Summit today in France, UK Prime Minister Boris Johnson spoke about how it is "the job" of everybody in Parliament to deliver a successful Brexit. "I think it's what the people want, I also think, by the way, it's what our friends and partners on the other side of the Channel want – they want it over." Still there is no clear direction as to where there will be progress between the two sides, as PM Johnson stated that the backstop agreement has to go.
Iranian Foreign Minister Javad Zarif said the crisis over the nuclear deal raises questions over how independent Europe is from the US which is "imposing its will" on Europe. He also expressed he was pleased with the way French President Macron was dealing with the situation in trying to take the lead in Europe. "President Macron has been trying to do his best," he said. "Our partners in Europe have to make a decision, not about Iran but about how they want to deal with the US — whether they want to have independence or whether the US can impose its will."
The Israeli PM Benjamin Netanyahu on social media said that the Global community should come together to take action to prevent Iran from carrying out attacks against Israel. In recent weeks Israel has attacked Iranian backed groups in Lebanon, Syria and Iraq. In fear of some retaliation, PM Netanyahu said that Israel will defend itself however it feels necessary. Meanwhile, Iran's navy says it has deployed two warships to the Gulf of Aden aimed at providing security to the country's commercial shipping.
The major Europe stock markets had a green day today:
CAC 40 increased 24.15 points or 0.45% to 5,351.02
FTSE 100 market closed (public holiday)
DAX increased 46.53 points or 0.40% to 11,658.04
The major Europe currency markets had a mixed day today:
EURUSD decreased 0.0045 or 0.40% to 1.1099
GBPUSD decreased 0.0059 or 0.48% to 1.2218
USDCHF increased 0.0048 or 0.49% to 0.9793
Some economic news from Europe today:
Spain:
Spanish PPI (YoY) remain the same at -0.8%
Germany:
German Business Expectations (Aug) decreased from 92.1 to 91.3
German Current Assessment (Aug) decreased from 99.6 to 97.3
German Ifo Business Climate Index (Aug) decreased from 95.8 to 94.3
US/AMERICAS:
The G7 was held over the weekend and it appears progress was made between world leaders. Most notably, the US and China seem to be on better terms and reopening trade talks seems plausible. "We are willing to resolve the issue through consultations and cooperation in a calm attitude and resolutely oppose the escalation of the trade war," Vice Premiere Liu commented on Monday. This is especially assuring as only days ago President Trump deemed President Xi an "enemy." President Trump responded to Liu's comment earlier in the day: "Great respect for the fact that President Xi & his Representatives want 'calm resolution.' So impressed that they are willing to come out & state the facts so accurately. This is why he is a great leader & representing a great country. Talks are continuing!"
President Emmanuel Macron of France also commented on positive discussions during the G7 meeting. Despite criticisms, Macron hinted that he understands Trump's "America First" policy, noting that Trump "very rightly wants to defend the interests of his country."
Furthermore, Macron suggested that the US and Iran meet to discuss a new nuclear agreement. Although he did not directly agree to a meeting, Trump said he would consider meeting with President Hassan Rouhani under the right circumstances, and remained adamant that Iran cannot be in the possession of any nuclear weapons. Macron agreed with Trump, stating that stability in the region could be disrupted if Iran became a nuclear power.
Russia was notably absent from the meeting after being banned from attending in 2014 for violating agreements through the annexation of Crimea. However, a few world leaders, including President Trump, stated that they would welcome Russia back into the fold. "A lot of people say having Russia, which is a power, having them inside the room is better than having them outside the room," Trump noted. Other leaders, including Germany's Angela Merkel, were less enthusiastic about welcoming Russia back.
US Market Closings
Dow advanced 269.93 points or 1.05% to 25,898.83
S&P 500 advanced 31.27 points or 1.10% to 2,878.38
Nasdaq advanced 101.97 points or 1.32% to 7,853.73
Russell 2000 advanced 16.52 points or 1.13% to 1,476.00
Canada Market Closings:
TSX Composite advanced 61.21 points or 0.38% to 16,098.79
TSX 60 advanced 5.18 points or 0.54% to 961.86
Brazil Market Closing:
Bovespa declined 1,237.89 points or -1.27% to 96,429.60
ENERGY:
Still much volatility in the energy markets as the direction for global growth is still uncertain. The US-Chinese trade deal is providing much of this volatility with a look ahead to the 1st of September when the new US imposed tariffs are due to be introduced.
The oil markets had a mixed day today:
Crude Oil decreased 0.34 USD/BBL or -0.63% to 53.8886
Brent decreased 0.45 USD/BBL or -0.76% to 58.9188
Natural gas increased 0.079 USD/MMBtu or 3.67% to 2.2282
Gasoline decreased 0.0196 USD/GAL or -1.19% to 1.6261
Heating oil decreased 0.0158 USD/GAL or -0.87% to 1.8017
Top commodity gainers: Lean Hogs (7.30%), Natural gas (3.58%), Soda Ash(2.98%), and Orange Juice (2.55%)
Top commodity losers: Oat (-1.89 %), Ethanol (-1.59%), Steel (-1.54%), and Gasoline (-1.22%)
The above data was collected around 15:55 EST on Monday.
BONDS:
Japan -0.27%(-3bp), US 2's 1.56% (+9bps), US 10's 1.54%(+1bps), US 30's 2.04%(+6bps), Bunds -0.66% (+1bp), France -0.38% (-1bp), Italy 1.22% (-10bp), Turkey 16.33% (+21bp), Greece 1.95% (-0bp), Portugal 0.18% (+2bp), Spain 0.14% (+1bp) and UK Gilts 0.57% (+9bp).
US 3-Month Bill Auction increased from 1.900% to 1.950%
US 6-Month Bill Auction remain the same at 1.840%
French 3-Month BTF Auction increased from -0.612% to -0.589%
French 6-Month BTF Auction increased -0.730% to -0.701%
French 12-Month BTF Auction increased -0.728% to -0.717%