Blog/Market Talk
Posted Aug 25, 2017 by Brittany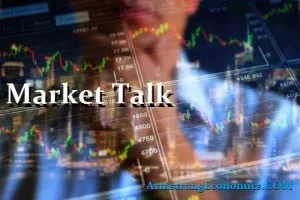 Main talking point out of Asia this morning were the continued strong earnings reports and the subsequent buying conviction. In Hong Kong the Hang Seng gained over 1.2% whilst the domestic Shanghai index rallied near 2% after earnings beat expectations to finish the week well bid. We saw solid gains in Financials, energy, communications and even retailers even before waiting for central bankers at Jackson Hole. The Nikkei added a little positivity to the region (+0.5%) but is obviously still wary as the currency remains clued to the 109 level, even after we saw the Jly CPI data rise +0.5%. Australia's ASX was unable to join the party, closing small down whilst the Indian SENSEX was closed for holidays.
Europe tended to drift in lifeless trade while waiting all the headlines expected from Jackson Hole. All indices closed small down so lets jus jump ahead to the US session and check some details. Janet Yellen was first to speak and was clear to keep things by the book. Unlike last year when a few headlines were thrown-in to provide some direction, this year she remained on topic (unfortunately). US stocks were strong into Mario Draghi's speech and remains so until he finished. However, it was his comment on the Euro that traders focused on and took the currency 140 points (+1.1%) higher. Saying the global recovery is underway will probably have its effect on European government paper on Monday (although much of the market will be closed due to the UK holidays). The euro made ground against most other currencies but was better by +0.6% against sterling. DXY -10% YTD. Draghi commented also on global trade and that openness is essential and even warned of protectionism and risks associated. A couple of remarks alluding to the quality difference between US and European banks and also warnings about returning to over stretched conditions too soon. Interesting that the European inflation swaps are still lower than where we were three years ago and the spread between US and core European bonds remains distorted, especially as Draghi reiterated that "a significant amount of accommodation is still necessary". Guess we have to wait for September 7th for the conclusion of those remarks.
US core indices lost much of their earlier gains into the close but we still ended positive on the day. The Russell seeing its best week in a couple of months. NASDAQ closed small down on the day with the VIX losing near 9% closing 11.16, but probably not a surprise given the volume decline yet again.
2's closed 1.33% (u/c), 10's 2.17% (-2bp), 30's 2.75% (-2bp), Bunds 0.38% (+1bp) closes the spread +179bp (-3bp). France 0.69% (+1bp), Italy 2.09% (-1bp), Greece 5.44% (-1bp), Turkey 10.34% (-5bp), Portugal 2.82% (u/c) and Gilts 1.05% (u/c).