Blog/Market Talk
Posted Aug 24, 2018 by Martin Armstrong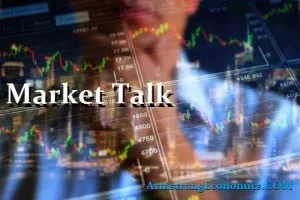 No conclusion, as the US/China trade talks finish, a new PM in Australia, unchanged +0.7% release for Japanese inflation and a rally in oil and gold as the USD turned. All this ahead of Jerome Powell's Jackson Hole speech and still no volatility. This all goes to show that traditional summer months are difficult to trade because most people are away at the beach. The inflation rate seen on Japan is way off the BOJ 2% target and consequently saw the Yen trade comfortably in the 111's. Japans 10yr JGB only managed to move 1bp up to 0.09% on the day. The Nikkei did respond to the currency weakness as Exporters and financials led the rally. A mixed bag of tricks between the Shanghai and Hang Seng upon the Talks news. The A$ responded well on the PM news and reversed yesterdays 1.3% decline with a similar rally today. After a brief rally in the SENSEX, the index spent the rest of the day in negative territory, but just managing a close off of the days lows. Also in late trading the INR managed to slip back to a 69 handle for the weekends close.
Not much of an improvement in the European session either, although prices did spend the day trading positive, if only to close with narrow improvements. It was the FTSE MIB that performed the best closing up +0.65%, but was just bouncing after yesterdays beating. Good growth figures released in Germany were lost as the Euro rallied and saw the 10yr Bund gain just 1bp. We saw similar advances for the UK's FTSE (+0.19%) and the CAC (+0.24%) even as Powell's spoke. 10yr Italian BTP's remain heavy, gaining another 6bp today to close 3.14%. This is a gain of nearly 50bp on the month and over 100bp over the year.
Records were set again today for the S+P and NASDAQ after Jerome Powell's address as pent-up demand is finally being released. Key wording was probably the 'further and gradual' remarks which gave the markets confidence the FED is comfortably in control of this market. Its the front end that is reacting, whilst the demand for long paper sits pretty with supply. As we hear mainstream press talking about the large amount of short players in gold, so we see a 1.6% rally today to clear the $1200 hurdle yet again.
Japan 0.09%, US 2's closed 2.62% (+1bp), US 10's closed 2.82% (u/c), US 30's 2.97% (u/c), Bunds 0.35% (+1bp), France 0.68% (+1bp), Italy 3.14% (+6bp), Greece 4.13% (+2bp), Turkey 2.90%, Portugal 1.81% (+2bp), Spain 1.39% (+2bp) and UK 1.28% (+1bp).