Blog/Market Talk
Posted Aug 24, 2017 by Martin Armstrong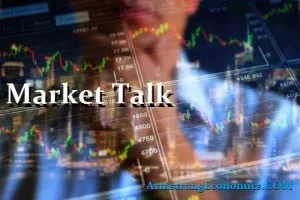 We have seen yet another weaker day with the Nikkei declining once more. It had the opportunity to perform but was dragged lower by Industrials, Metals and Manufacturing. The yens strength throughout the week has seen no retracement and remains close the 109 big figure. Core China and Hang Seng both off-set each other with a decline in Shanghai matching a similar paced appreciation for the HSI. Property and Financials were the lead sector today but did have to make-up for being closed yesterday. The ASX traded positively for the day but will be tested tomorrow especially as energy, commodities and gold lose ground in US trading hours. SENSEX closed small down but did see the INR close marginally stronger. Volumes were extremely light all around with everyone waiting the events from Jackson Hole on Friday.
Both volume and trade was extremely quiet in Europe but not surprising ahead of tomorrow fun and games. CAC and DAX off-set each other with minimal moves even though the Euro saw a brief morning decline – regained by the end of the day. GBP pushed ahead at one stage on better than expected data but had lost all gains by the end of US trading. We will be watching for month end numbers next week as we approach crucial levels. UK's net migration numbers released today have fallen to their lowest level in three years. A surge in the uncertainty surrounding BREXIT is a key reason but also the depreciation in sterling is also a dominant factor. However, late in the day all eyes and ears will be concentrated on Jackson Hole tomorrow when we hear from Draghi and Yellen.
We saw a bounce in the Retail sector (+3%) for US markets today but then, they have had a very difficult time for most of this year. Interesting that the Russell has outperformed the S+P this week, having suffered when the market thought tax reforms could be delayed. We did hear from Esther George (Kansas Fed President) that rates could rise as the economy is strong enough even despite the weaker data releases. Volume is normally low in August but this year is even lower. Lately we have even seen a 5 handle for dailies when historically we trade low 7's. However, the DOW has closed a little weaker and its all eyes down for the main event. It is interesting that the VIX has edged a little stronger on the day (+0.65%) whilst the calendar spread continues to narrow (12,32% then 12.70 then 13.10).
2's closed 1.33% (+2bp), 10's 2.19% (+2bp), 30's 2.77% (+2bp), Bunds 0.37% (u/c) closes the US/Germany spread at +182bp (+2bp). France 0.68% (u/c), Italy 2.10% (-1bp), Greece 5.45% (-1bp), Turkey 10.39% (-2bp), Portugal 2.82% (+6bp) and Gilts 1.05% (-1bp).