Blog/Market Talk
Posted Aug 23, 2019 by Martin Armstrong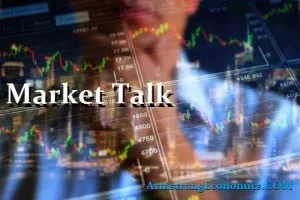 ASIA:
The US-Chinese trade war took another turn for the worse today as China unveiled another round of tariffs on about 75 billion USD worth of US goods. The tariffs will go ahead on the 1st of September and will consist of 5 to 10% additions on imports of US goods. The Chinese also plans to place tariffs on the automotive industry targeting the likes of Tesla and Ford, with tariffs as high as 25% on new vehicles and 5% on parts, which should take place in December.
US President Trump tweeted after the announcement, that he will be responding to China this afternoon and tweeted "We don't need China and, frankly, would be far better off without them," and asked for US companies "to immediately start looking for an alternative to China." The US markets expectedly took a decline following the tariffs.
The major Asian stock markets had a mixed day today:
Shanghai increased 13.99 points or 0.49% to 2,897.43
Kospi decreased 2.71 points or -0.14% to 1,948.30
ASX 200 increased 21.30 points or 0.33% to 6,523.10
NIKKEI 225 increased 82.90 points or 0.40% to 20,710.91
Hang Seng increased 130.61 points or 0.50% to 26,179.33
SENSEX increased 228.23 points or 0.63% to 36,701.16
The major Asian currency markets had a mixed day today:
AUDUSD decreased 0.0006 or -0.08% to 0.6751
NZDUSD increased 0.0028 or 0.44% to 0.6391
USDJPY decreased 1.1120 or -1.04% to 105.3080
USDCNY increased 0.04446 or 0.63% to 7.13326
Precious Metals:
Gold increased 29.75 USD/t oz. or 1.99% to 1,527.54
Silver increased 0.456 USD/t. oz or 2.68%% to 17.4743
Some economic news from last night:
New Zealand:
Core Retail Sales (QoQ) decreased from 0.7% to 0.2%
Retail Sales (QoQ) (Q2) decreased from 0.7% to 0.2%
Retail Sales Quarterly Vs. Year Ago (Q2) decreased from 3.3% to 2.9%
Japan:
CPI, n.s.a (MoM) (Jul) increased from -0.2% to 0.0%
National Core CPI (YoY) (Jul) remain the same at 0.6%
National CPI (MoM) increased from 0.0% to 0.1%
National CPI (YoY) (Jul) decreased from 0.7% to 0.5%
Some economic news from today:
Singapore:
CPI (YoY) (Jul) decreased from 0.6% to 0.4%
India:
FX Reserves, USD decreased from 430.57B to 430.50B
EUROPE/EMEA:
With the US and China in a difficult position, attention moves to Europe and US relations as the European commission released a 173-page report to counter US trade moves and encourage Europe to compete with US and Chinese tech giants. The idea for a 100 billion dollar sovereign wealth fund is being floated about which would help European companies help compete.
UK PM Boris Johnson stated that it would not be easy for the UK to change the minds of the EU regarding the withdrawal agreement and for the UK's population not to expect anything to change. He did mention that they were making progress but will have to prepare to come out without an agreement.
The Irish and French Prime ministers today announced they will block any form of trade deal between the South American bloc Mercosur unless Brazil takes further steps to protect the rainforest after the recent outbreak of fires.
The US has confirmed that Israel was behind the recent strikes in Iraq against the Iranian base in the region. Meanwhile, the Jerusalem Post printed that Iran has very accurate missiles, which is not published, coming from the mouth of the Defense minister General Qassem Taqizadeh.
The major Europe stock markets had a negative day today:
CAC 40 decreased 61.37 points or -1.14% to 5,326.87
FTSE 100 decreased 33.20 points, or -0.47% to 7,094.98
DAX decreased 135.53 points or -1.15% to 11,611.51
The major Europe currency markets had a mixed day today:
EURUSD increased 0.0063 or 0.56% to 1.1141
GBPUSD increased 0.0021 or 0.17% to 1.2271
USDCHF decreased 0.0088 or 0.90% to 0.9747
US/AMERICAS:
US markets fell early in the session and continued to decline after President Trump ordered US companies to look for an alternative to China. Trump declared that China has stolen trillions worth of intellectual property from the US. Formerly described as a respected friend, President Trump called Chinese President Xi an "enemy" and the prospect of an amicable trade agreement now seems unlikely. "My only question is, who is our bigger enemy, Jay Powell or Chairman Xi?" Trump questioned, juxtaposing the Federal Reserve Chairman to the Chinese president. "Our great American companies are hereby ordered to immediately start looking for an alternative to China, including bringing your companies HOME and making your products in the USA," the president announced. The details of this order have yet to be announced.
First Lady Melania Trump has campaigned to end, or at least decrease, America's rampant opioid epidemic. China has been previously accused of sending large quantities of fentanyl to America. Earlier in the year, President Xi and President Trump discussed the matter and an agreement was made to quell the amount of fentanyl entering the US. Today, President Trump ordered all US carriers to end all shipments of fentanyl to the US. FedEx voiced concerns earlier in the year noting that it may not be possible to scan the contents of each package. It is currently unclear how this order could be carried out effectively.
The yield curve inverted yet again this Friday, marking the third time the 2-year note surpassed the 10-year this week alone. Numerous analysts now fear that the trade war will be the spark that ignites a coming recession.
The Brazilian Amazon continues to burn with no end in sight, and now many are blaming the current government. Brazil is the largest exporter of beef in the world, and the practice of setting fires to clear way for cattle is a common practice. Deforestation and industrializing the Amazon has been encouraged by Jair Bolsonaro, who sees the practice as a method for building the country's economy. Bolsonaro recently stated that he believes some of the fires have been set by political rivals. The widespread fires have attracted the attention of governments across the world, and the issue will be on the table for discussion at the G7 meeting.
US Market Closings:
Dow decreased 623.34 points or -2.37% to 25,628.90
S&P 500 decreased 75.84 points or -2.59% to 2,847.11
Nasdaq decreased 239.62 points or -3.00% to 7,751.77
Russell 2000 decreased 46.48 points or -3.09% to 1,459.53
Canadian Market Closings:
TSX Composite decreased 215.88 points or -1.33% to 16,037.58
TSX 60 decreased 14.41 points or -1.48% to 956.68
Brazil Market Closing:
Bovespa declined 97,667.49 points or -2.34% to 97,391.53
ENERGY:
The recent Chinese tariffs helped push the price of Crude down today as global growth expectations take a tumble.
The oil markets had a negative day today:
Crude Oil decreased 1.64 USD/BBL or -2.96% to 53.6584
Brent decreased 1.09 USD/BBL or -1.82% to 58.7216
Natural gas decreased 0.009 USD/MMBtu or -0.42% to 2.1450
Gasoline decreased 0.0341 USD/GAL or -2.04% to 1.6327
Heating oil decreased 0.0357 USD/GAL or -1.94% to 1.8092
Top commodity gainers: Baltic Dry (2.36%), Silver (2.68%), Gold(1.99%), and Wheat (1.39%)
Top commodity losers: Feeder Cattle (-4.05 %), Crude Oil (-2.89%), Lean Hogs (-3.89%), and Rubber (-6.18%)
The above data was collected around 14:10 EST on Friday.
BONDS:
Japan -0.23%(+1bp), US 2's 1.51% (-9bps), US 10's 1.52%(-9bps), US 30's 2.02%(-8bps), Bunds -0.67% (-3bp), France -0.37% (-1bp), Italy 1.29% (-4bp), Turkey 16.12% (-8bp), Greece 1.95% (-2bp), Portugal 0.16% (-2bp), Spain 0.14% (-0bp) and UK Gilts 0.47% (-4bp).