Blog/Market Talk
Posted Aug 23, 2018 by Martin Armstrong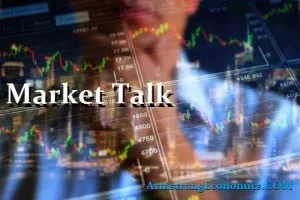 With core China and the Hang Seng indices trading near their 52week lows, this is the direct opposite to core US indices that are making historic highs! Todays price action almost seemed typical of what we have seen over this past year. US markets are treading water at their highs, whilst Shanghai, Hang Seng, STI and KOPSI all find any attempt to bounce is just too much of a struggle. However, where the currency is in play sees their stocks also hitting record levels – namely SENSEX, ASX and S+P/NZX. Currency is at play and that is what we saw today and have for the past 52weeks at least. INR, A$ and NZ$ are all around their 52week lows. Today in Asia stocks were pretty quiet and it wasn't until the US session did the USD Dollar start to show its strength again. Sometimes we just need a quiet summer market to show us the themes. We await trade talk headlines and the FED Powell's headlines from Fridays Jackson Hole. It appears, there is no reason to believe the trend for the past year is going to change anytime soon! The A$ lost 1.35 today, the Yuan is slipping yet again and the INR and the Yen are back with a 70 and 111 handles.
Key headline today in Europe was something that was out yesterday, but the markets simply ignored it until today. That was that the UK could depart with a 'No Deal' and the press and bureaucrats now say we should prepare for that outcome. GBP Sterling took the brunt of these concerns today and is currently trading around -0.8% weaker on the day. So far in the US session it has held the 1.28 handle but in late trading even that is being questioned. Back for the UK will equally be pain for the Euro and that has lost -0.5% today against the US Dollar. Most core indices closed a tad weaker, but it was Italy's FTSE MiB that lost -0.5% as uncertainty returns. In the bond market BTP's (+3bp) took another hit, although volumes and liquidity here are no better than current c=stock markets.
The cash flow continues to flow into the States and todays price action was possibly a classic example. After the initial opening flurry, stocks traded heavy and we drifted into negative territory. However, as the day wore-on cash flowed back into stocks, Treasuries saw a small flattening, the Dollar was bid and earnings convinces people back in for the close. The Dollar rebound is again hindering commodities both softs and metals. Gold lost over $10 as talk of liquidation just for the currency shortage bids. Next week we have month end and as we hear various FED members all insist that President Trump does not influence their votes.
US indices up 7% YTD, rest of the world (ex US) -6%.
Japan 0.08%, US 2's closed 2.61% (+2bp), US 10's closed 2.82% (u/c) US 30's 2.97% (-1bp), Bunds 0.34% (u/c), France 0.67% (-1bp), Italy 3.08% (+3bp), Greece 4.11% (-2bp), Turkey 20.90 closed, Portugal 1.79% (+1bp), Spain 1.37% (u/c) and UK Gilts 1.27% (u/c).