Blog/Market Talk
Posted Aug 23, 2017 by Martin Armstrong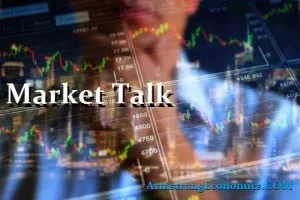 A quiet and mixed session for Asia as we watched the only real move and that was in the USD. Given all the uncertainty we are seeing a steadier run for the US Dollar, with possibly an arguable underlying bid for gold. The Nikkei did retrace a little of yesterdays decline, closing up +0.25% but worth mentioning that the JPY is a touch firmer again (109.05 last seen) demonstrating that the nerves remain present. This bid was probably in reaction to President Trump's government shutdown call surrounding the payment of the proposed Mexican Wall bill. Shanghai was quieter than usual – eventually closing almost unchanged. This was probably because due to weather conditions as tropical storm cancelled the Hang Seng exchange. SENSEX closed strong, up around 1% with the INR reasonably well behaved a little over 64 at 64.11.
Europe listened to Mario Draghi's Lindau speech earlier today, which helped the Euro rally especially against GBP. This pair (EUR/GBP) gained +0.65% today (in favour of Euros) reflecting the positive ECB spin whilst sterling lost due to possible softer BREXIT news. UK Prime Minister, Theresa May, suggested ECJ may have implications within the UK for a while to come. UK's FTSE closed almost unchanged whilst the core (DAX, CAC and IBEX) were all around -0.5% on the day. After yesterdays 1.4% DAX rally we saw the index give some back today as prices drifted throughout the day. Closing near the lows of the day, admittedly volumes remain low, but we watched Industrials, Telecom and Construction companies were worst hit leading the declines. Economic data was better than expected with PMI for France and Germany releasing above expectations.
US markets were all about the government shutdown threat coming from President Trump. The initial move was into treasuries and gold while sellers appeared in the US Dollar; however, that appeared short-lived as dealers pondered what that really meant. Probably because of the low summer volumes most moves were reasonably tame but we do have Jackson Hole later in the week and potentially big headlines. Economic data did not really help sentiment after we saw New Home Sales lost 610k while the expectations were for a 570k decline. We saw US markets hit just after the opening bell and spent most of the day attempting to recover. However, this wasn't to be and we made new lows in the final minutes of trading. Talking around dealers today it appears one of the most popular / crowded trades is being short the DXY/USD. Having been falling from the 102 area in January we are now around 9% lower (YTD) around 93.5. It is always difficult being short in thin summer volumes so maybe wise being cautious as we enter silly-season (Sept/Oct). Not a great close for equities could be an interesting few days.
2's closed 1.31% (-1bp), 10's 2.17% (-4bp), 30's 2.75% (-4bp), Bunds 0.37% (-3bp) closing the spread 1bp tighter at +180bp. France 0.68% (-2bp), Italy 2.11% (+2bp), Greece 5.46% (-1bp), Turkey 10.41% (+6bp), Portugal 2.76% (+4bp), Gilts 1.06% (-2bp).